I live in Nacton, which is close to Ipswich in England and I work at a local elementary school as a midday supervisor. I'm classed as a lunch lady but I don't actually serve the lunches, instead I'm outside supervising the children while they play during their lunch break. I've been married to my husband Jeff for 35 years and we have a son called Callum who is going to be 15 this year. Jeff and I met at a bacon factory, of all places!
March 13 was just an ordinary Saturday for us. I was doing chores and getting my washing done and then in the evening Jeff and I played board games and had a drink while Callum spent time on his XBox upstairs.
It got to about 9.30pm and I thought I would quickly check the lottery results on my cell phone. We have been playing the National Lottery since it first started in the U.K. and when Callum was born, Jeff picked a line of numbers with Callum's date and time of birth. I checked our numbers online and saw that we had matched five numbers and the bonus ball and won £1 million (US $1.3 million). I then got Jeff to take a look as well. He just said: "Are you kidding me?"
I remember joking to Jeff I'd had one glass too many and that we should get Callum to come downstairs and check the numbers too. When he looked he asked us if we were joking, before saying: "Oh my god, we've won a million pounds! Can I tell my friends?"
We really didn't believe it at first. We just didn't think it could be us who had won. But we kept checking the numbers again and again, and when it really sunk in we were ecstatic. We were crying and hugging each other and I was jumping around the room.
The lottery phone lines opened at 9am the next morning, so I called to confirm our win on Sunday March 14, which happened to be Mother's Day in the U.K. The man on the end of the line said that he could confirm we had matched five numbers and the bonus ball and that we had won £1 million. He then remarked that I was very calm. Well, I was in shock! I was sitting on the bed with the phone, while Jeff was still in bed and so it took a while for our win to sink in after I heard it confirmed.
I phoned my dad straight away and he was absolutely delighted for us. I also messaged my brothers and I told my cousin who relayed the news to the rest of the family. My dad said that the money couldn't have gone to better people. We've always had to scrimp and save for everything.
My colleagues at work are also over the moon. I have a couple of really close friends at the school and they have seen what I've been through in the past two years. They say it's now time for me to spoil myself.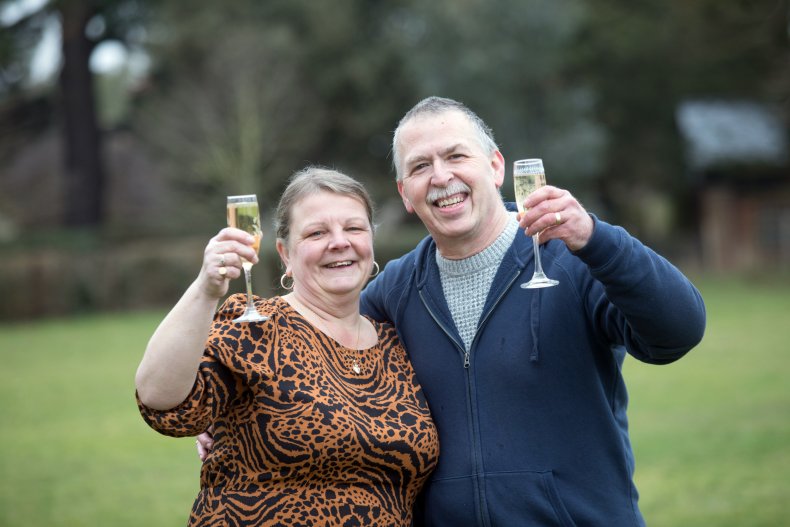 Back in November of 2018, Jeff went to work as normal, but he wasn't feeling too well. I've been told since that he was with his supervisor who asked if Jeff was alright. Jeff was pale and sweating and just shook his head before he collapsed. Callum had just gone to school when I got a phone call telling me what had happened. As I was getting ready to go to the hospital, I was called again to say Jeff had had a major stroke.
Because he works at a hospital in Ipswich, Jeff's supervisor was able to get him to the emergency room within five minutes, but it was touch and go. I was called on my way to the hospital and told to get there as soon as possible. Jeff was in hospital for a month, and so each day I would get Callum off to school, go to work and then go to the hospital to visit him. As he got treatment very quickly he has recovered well physically, but he can get tired and speaking can sometimes be a bit frustrating for him. So it has been a difficult few years for us.
But the money has now hit our account and we are officially millionaires. We keep checking every day to make sure the money is still there! There are two things at the top of our list: the first is to buy our own house so we don't have to rent anymore and we have a property to leave to Callum. But we're going to stay in Ipswich, we might just move to a different area.
We also want to put money away for Callum's future so he's comfortable. I'd hate to think that he will have to go through what Jeff and I have been through—always having to live hand-to-mouth.
But I'm not going to quit my job. I only work at the school a couple of hours a day and I get on well with the staff and the children so why not carry on? I worked throughout the COVID-19 pandemic, which was scary because you are thinking about whether you might pick anything up, but there were key workers whose children needed to be taught, so why shouldn't I work? It didn't cross my mind to say that I didn't want to come in and put myself at risk. They needed someone at lunchtime and I just thought: why not me?
It might get to the stage where I feel I can't do it anymore but at the moment, I want to stay. I don't want to leave them because they struggle to fill positions like mine. So I think I'll carry on. After all, the school and staff were there for me when Jeff had his stroke.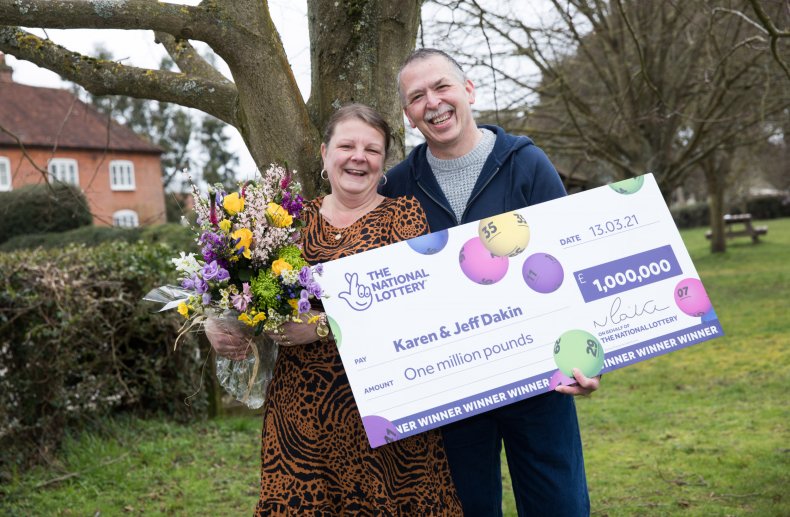 We're waiting for the lockdown restrictions to lift in the U.K. so our shopping spree can start, but so far we've treated ourselves to champagne. We want to wait until we're in a place of our own to buy new furniture, but we'll buy new clothes and when we're allowed to, we'll be taking some holidays. Callum has said that if he had the chance to go on an airplane for the first time, he'd want to go to New York.
We would also love to go to the Seychelles or the Maldives, somewhere you can lay on a beach drinking cocktails all day and swim in warm, crystal clear waters. I'm not sure if it would suit Callum, but if they have somewhere he can plug in an XBox at the resort, I'm sure he'll come!
Winning a million pounds has been life changing for us. It means we'll finally be able to live comfortably. And, we can leave Callum a legacy and give him a future that will be full of happy times spent with myself and his dad.
Karen Dakin is a lunchtime supervisor and lives in Nacton, Ipswich in England with her husband Jeff and their son, Callum.
All views expressed in this article are the author's own.
As told to Jenny Haward.