Kobe Bryant in Newsweek: 'We Never Know When Our Time Here Will Be Over'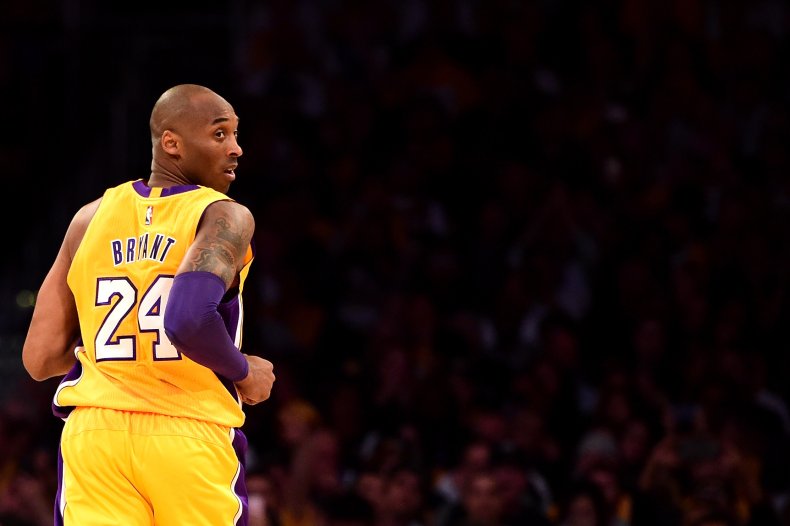 One of the things I always believed is that no matter how bad something is, you can take something positive out of it. The one time I wasn't sure of that was on September 11.
I usually wake up at 6:30 or 7 in the morning. That day, I happened to wake up earlier. I turned on the television and as I was flipping through channels, I saw that a plane had crashed into the North Tower of the World TradeCenter. My initial reaction was that it was a terrible accident. Then I saw another plane fly into the South Tower and I realized that I was witnessing an act of terrorism.
I woke up my wife, Vanessa. As we sat and viewed the tragic events, we grieved for the victims and their families; we prayed for the survivors; we watched with disbelief as our great country was attacked. We both knew things would never be the same--our country and our lives would be changed forever.
I had a commercial shoot that day. I called it off. Like the rest of America, my wife and I spent the day glued to the television, watching the horrific images over and over again. My heart ached as I watched family members searching the streets for their loved ones. The pain and fear in their eyes is something I will never forget. I sat on my couch overwhelmed with emotion. I was sad and angry and even a little bit confused. I could not understand how something this horrible could have happened. I wanted answers and explanations. Who was responsible for taking the lives of so many innocent people? What was their motivation? How could our leaders have let this happen?
As the day went on, my mind was flooded with so many thoughts. I kept thinking about the people on those planes and in those buildings, and about how their families had no idea that such horrible things were happening to them. There was no one to help the victims. They had nowhere to turn. I wanted so badly to be able to do something; the feeling of powerlessness was terrible.
I thought about all of the firefighters going into the burning buildings to rescue people and never coming out. It reminded me of my grandfather, who was a Philadelphia firefighter and captain of a firehouse. Growing up, I heard my grandfather tell stories about numerous rescues where he and his comrades put their lives on the line to save people they had never even met. As a child, I did not understand his job or why doing something that risked his life could bring him so much joy. Now I realize his happiness was derived from his devotion to helping people.
A lot of people say that athletes are heroes, but I know that's not really true. The real heroes are firefighters and police officers, the men and women willing to risk their lives to save others. I really like the new NBA public-service spots which show footage of those policemen and firefighters, and NBA stars such as Ray Allen of the Milwaukee Bucks saying, "We know who the real heroes are."
I hear older and wiser people talk about the attack on Pearl Harbor and the Kennedy assassination and how drastically those events affected them. For my generation, the tragedy of September 11 paralleled that of Pearl Harbor. We will be talking about the devastating effect this day had on our country, and our lives as individuals, for years to come.
It wasn't until a few weeks after September 11 that I began to see that perhaps some good did come from this tragedy. People seem different now, more understanding, more tolerant. We seem to have our priorities more in order and we're able to put things in perspective in a more constructive way. Little things that seemed to be such a bother before are no longer a big deal.
Personally, I am more patient than I was. I realize life is too short, and too precious, to let myself get upset over trivial things. Life is also too short to carry grudges and therefore I've become more forgiving and understanding. I've learned also that you can't take things for granted. You know how we always say "See you later"? One thing I've realized from September 11 is that you can't ever say that for sure. Things change in the blink of an eye. People go to work and don't come back. One minute they're living and the next minute they're not. And, it doesn't matter who you are, there is nothing you can do about it. Bill Cosby's son was killed. Michael Jordan's father was killed. We never know when our time here will be over, so we all need to make the most of every minute we have.
You try to learn from what happened. You can't be consumed by it. You can't live by it. All you can do is just live.