'I Work at an All-Male Nail Bar, This Is What I've Learned'
Growing up in Liverpool, England, my mom always wanted me to pursue a career in finance. Having emigrated to the U.K. from Vietnam, she had a set idea of what my path to success should look like, which included working in a white collar, professional field.
I studied economics at university and when I graduated, I got a job at a student loans company. I worked my way up over the course of three years, but I just felt nothing. It was so dull and I just didn't feel like it was right for me.
I was really lost. I tried out various jobs, including working in a prison and a hospital. I spent some time as a bit of a delinquent. I was lazy and working whatever crappy job I could find.
One of my cousins owns a local beauty bar called L1 Nails, where the majority of the staff are men. When I was 24, he approached me saying he thought I would have a knack for working in the beauty industry. He said I was a people person; that I was bubbly and would be good with the clients.
To be honest, initially I kind of looked down on the salon. I thought: "I'm not doing women's nails. I'm going to wear a suit, carry a briefcase and go to Starbucks with a laptop." I didn't know anything about beauty.
But, I was feeling lost and had no clue what I was going to do with my life. My cousin said he thought I could find some happiness by doing the job, so I agreed to give it a try.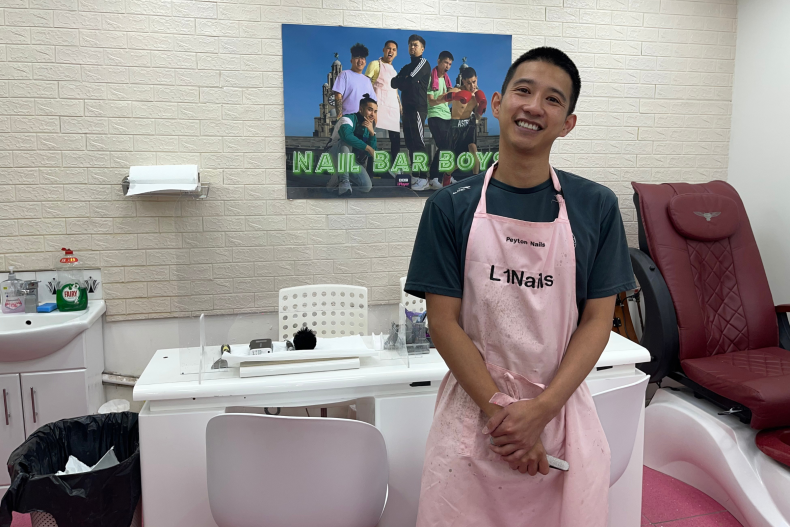 I was surprised by the atmosphere inside my cousin's shop. I'd visited other salons with previous girlfriends, and felt there was this deafening silence and tense undertone inside. But at L1, everything felt lighter. I didn't feel awkward at all. Everyone was chatting and joking openly.
On my very first day, my thought process was: "Oh my god, there are so many ladies." I was in my 20s and hadn't really had much experience speaking with women, so I spent most of the day just watching other staff members.
I remember vividly the first woman whose hand I touched. I was only cutting her nails, but she was so pretty and funny, while I was doing her nails I had to take ten minutes and walk outside the shop for some fresh air. I was so nervous.
Despite my nerves, after my first day I knew it was the job for me. Eleven years later, I'm helping to run a busy and successful salon and am so proud of the environment we've managed to create.
The atmosphere we've cultivated means everyone of our clients can be relaxed, happy and comfortable getting their nails done. There's no negativity or b*******; our mantra is essentially: "Don't be a d***." We may poke fun at people and have a bit of banter now and again, but there's never any judgment.
The core of our staff is male, currently all our nail technicians are men. We never planned for that, but our team just works so well together and the salon has a really low labor turnover. Of course, sometimes we argue and it can be pretty brutal; but once it's done, it's settled and we wipe our slate clean. We're like a family.
I think if I'd joined a different shop, I may not have stayed in the nail game. Of course, I have nothing against women or female-run businesses, it's just that to me, we had started something fresh and innovative.
As males in a predominantly female industry, I believe we're in a unique position which helps us understand and connect with women more than we would have been able to before. The people who come to our shop are incredible, they're the best clients I could ever ask for.
Our regular customers are so caring. Sometimes they buy us gifts or celebrate holidays with us. We've experienced some issues with harassment from members of the general public based on our race, but our clients have always had our back and supported us in those situations.
Our staff do work very hard and it can be difficult to find free time for yourself. My romantic life has suffered slightly because of my job, I am committed to the salon and don't have much time for dates.
Ideally, employees shouldn't become romantically involved with clients. We have a rule that employees can't flirt with customers, unless they think there's a real possibility they could fall in love with them. I have dated clients from the shop, but nothing has ever really worked out.
People forget how important your workplace is. We spend most of our time there it's essential to be happy with your job. I just want people to know it's a new world now; men and women can work anywhere and everywhere together.
I believe a situation like ours can give both men and women a better understanding of the opposite gender. Working at the salon has opened my eyes and forced me to lose any ignorance I had. I think if people want to do something different and new, despite what other people think, they should just do it.
Brandon Lang, 35, from Liverpool, England, is a nail technician who has worked at L1 Nails for over a decade.
All views expressed in this article are the author's own.
As told to Monica Greep.