I Work at McDonald's, Risking My Life Every Day. Don't Thank Me. Pass a $15 Minimum Wage | Opinion
Right now, so much of the news is focused on when restaurants or movie theaters are opening back up, or when kids are going back to school in person. But for millions of Americans like myself who are essential workers, we've been working at hospitals, grocery stores, pharmacies and fast-food restaurants like McDonald's — despite a deadly pandemic — for nearly a year.
I've been risking my life — and my son and mother's lives — every time I put on my McDonald's uniform because I can't afford to miss a paycheck. My son has sickle cell anemia, a pre-existing condition that requires a lot of doctor's visits and would put him at greater risk for COVID-19 complications if he got sick. My elderly mom lives with us, too. We rely on Medicaid and food stamps to get by.
I'm paid only $8.75 an hour after eight years of working at McDonald's. That's not even close to enough to support a family, which is why I've been speaking out to demand $15 an hour and a right to come together in a union with my coworkers.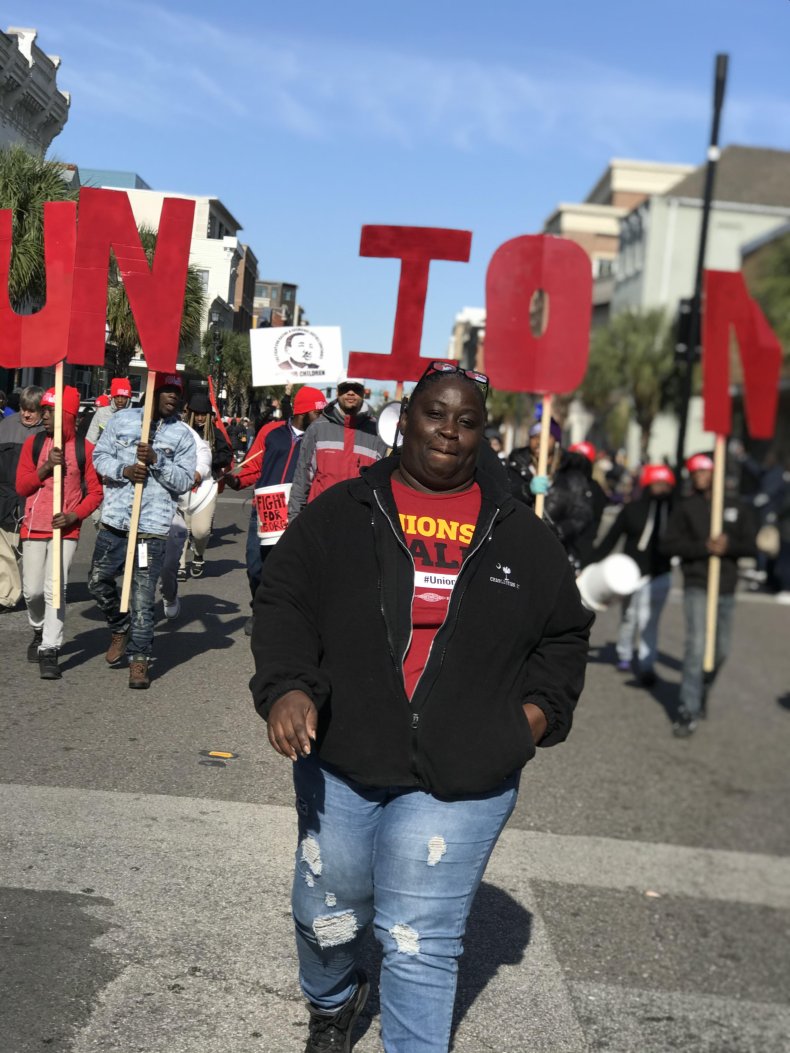 We can't truly rescue working people unless we address the root causes of why families like mine have been struggling for years. That's why a national $15 minimum wage has to be part of any Covid bill Congress passes.
We hear you out there applauding essential workers. We see the big show you make of thanking us. But to be honest, that hasn't translated into changes for my life. We were living on a razor's edge long before COVID-19 hit South Carolina. And we're living on it still.
Now is the time for our government to really show frontline workers — those of us who have gone to work to feed, clean, and take care of our communities throughout the pandemic — that we matter.
I was excited to see that President Joe Biden and Vice President Kamala Harris heard our calls and made a $15/hour wage a key part of their COVID-19 recovery plan. It's clear that the years of workers speaking out, going on strike and taking to the streets to raise our demands directly to candidates and leaders has really broken through.
I actually met then-Senator, now Vice President Harris when she was on the campaign trail in Charleston. It meant so much to me to speak to another Black woman, tell her my story and know that she could take my family's struggles into the White House.
My message to Vice President Harris then was the same message I have for leaders in Washington now: Our economy is not working for working people, and for Black communities in particular. The gap between wages for white and Black workers is getting wider. $15 as a wage floor is critical to making sure every worker across America has a fair shot at a good life.
With $15 an hour, I could support my son and my elderly mother with the things they need like food, school supplies and medicine. It wouldn't make us rich, but higher wages would make sure we didn't have to worry and suffer this much.
And $15 isn't only about the money in our pocket; it's also one of the best ways our government can make sure we reach our country's promise of racial equality. Experts estimate that a $15/hr minimum wage would boost incomes for nearly a third of Black workers and a quarter of Latino workers. Nearly one in four workers who would benefit from $15 is a Black or Latina woman.
Raising the wage would also save taxpayers money because right now companies like McDonald's pay starvation wages and force us to rely on public assistance like Medicaid and food stamps. Studies have shown that this costs taxpayers more than $100 billion every year. In other words, a $7.25 minimum wage shifts the weight onto taxpayers to help workers like me survive, while the billion-dollar corporations we work for can keep raking in profits.
This is America, the "land of the free and the home of the brave," as the song says.
To me, being free means being able to take care of yourself and your family, being safe and economically secure. And being brave means listening to working people and finding real, long term solutions to the huge crises we are facing.
I'm calling on our legislators in Congress to be brave and do what's needed to support families like mine and pass a rescue package that includes a national $15/hr minimum wage. That is the key to an equitable recovery.
Taiwanna Milligan works at McDonald's and lives in Charleston, South Carolina.
The views expressed in this article are the writer's own.