I Work to Stop Election Violence in Africa. Now I Am Worried for the U.S. | Opinion
Every day seems to bring a new challenge to democracy in the U.S. In the past few months, the president actively undermined the U.S. Post Office, made unsubstantiated claims that voting by mail leads to fraud and proposed delaying the election itself. The postmaster general ordered a slowdown of mail delivery and removal of post office equipment. The federal government sent armed agents to confront and arrest protesters.
I have spent the past 20 years working on governance, elections and peace-building internationally. In 2018, the American Friends Service Committee, a Quaker organization where I lead our international programs, released a study on the causes of electoral violence around the world and best practices for prevention. Our focus has largely been on preventing election violence in countries in Africa. But here in the U.S., this work is becoming increasingly relevant.
In our work, we use the definition of electoral violence put forward by scholars Sarah Birch and David Muchlinski, who describe it as "coercive force, directed towards electoral actors and/or objects, that occurs in the context of electoral competition." Such force, according to the scholars, "can occur before, during or after elections and it can target a variety of actors, including candidates, activists, poll workers, election observers, journalists and voters."
It is important to note that a perceived threat of violence can be enough to coerce voters. Such was the case in Liberia's presidential election in 1997. Charles Taylor won the presidential election with little physical violence because he used the implicit campaign message that if he lost, he would restart Liberia's civil war.
Through our research, we have identified five key criteria that make election violence most likely to occur: (1) politics based on patronage; (2) weak electoral management bodies; (3) ongoing conflict and division in the country; (4) repression of opposition, civil unrest and violence against protesters; and (5) lack of a multiparty effort for election integrity.
When scholars and practitioners measure electoral violence, they review newswires and governmental records, asking questions such as: "Is there evidence that the government harassed the opposition?" and "Were there riots and protests after the election? If yes, did the government use violence against the demonstrators?"
Since the outset of COVID-19 in the U.S., we have seen the distribution of life-saving equipment and resources used as a form of patronage. In the primaries, we saw massive voter suppression. In Kentucky, public officials closed polling sites and expected 700,000 mostly Black residents to vote in a single location. Our critical democratic institutions have been gutted, including the Federal Election Committee, the organization critical for maintaining election integrity. The FEC currently has three of the six commissioner positions filled. Without a quorum, their ability to act is limited. The postmaster general's reforms are leading to significant mail delays, sowing doubt in the legitimacy of November's elections.
During massive protests against systemic racism, armed white supremacist groups came out to harass, intimidate or instigate nonviolent protesters. In Portland, Oregon, against the wishes of state officials, President Donald Trump and the acting head of the Department of Homeland Security deployed an armed, unmarked federal military force. The troops were there to make "proactive arrests"—a type of militarized detention that is a common mark of authoritarianism.
Using the criteria developed from our research, there are clear warnings that the U.S. election may see disruptions in November, including possible violence. The good news is that we can use the same pro-democracy methods that have worked elsewhere.
In the short term, we can encourage international election observers, a common election violence prevention strategy that decreases the likelihood of voter intimidation and suppression. However, this will not decrease the chance of post-election violence if there are accusations or attempts at fraud. It also won't stop what happens before the election—partisan gerrymandering, closing of polling places and purges of voter rolls.
We need bipartisan efforts to protect the integrity of the U.S. Postal Service and the Federal Election Committee, and to help states plan safe processes that are vigilant against suppression and cognizant of pandemic safety—including mailing people ballots, allowing for early voting and clear communication from political leaders. Congress can hold public hearings on the gutting of the USPS and pass legislation to fund our postal service and mandate operations. Most importantly, election supervisors and civil society need to raise awareness about how and where to vote.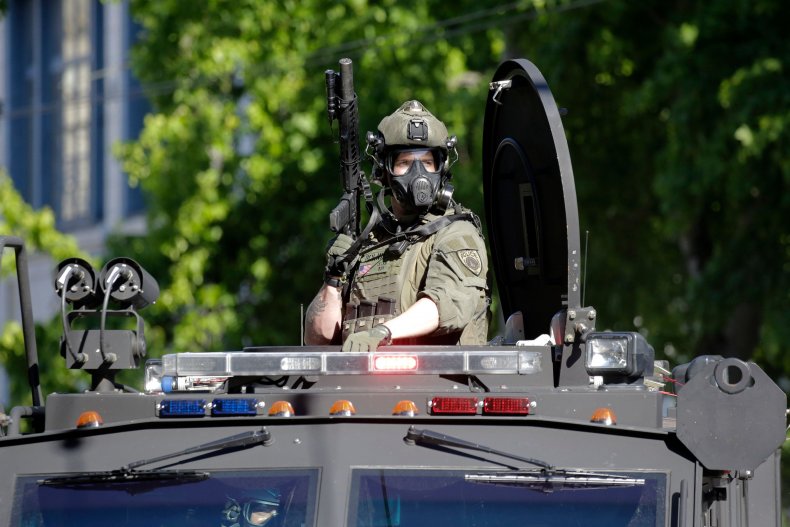 Longer term, our experience shows that improving election administration and management is one of the most effective ways to reduce violence. Building relations between election management bodies and the electorate is critical. In Burundi, for instance, we supported civil society organizations to establish an Early Warning Early Response platform for election monitoring. We also worked with community elders and religious leaders to learn mediation skills to prevent violence. When the elections resulted in a political stalemate, tensions were eased through working behind the scenes to calm the situation and bring mediators back to the negotiating table.
Most important, we need an engaged public who are ready to mobilize when democratic elections are undermined. Prominent researchers Erica Chenoweth and Maria Stephan have studied decades of civil resistance around the world. They found that nonviolent people power and civil resistance have immense capacity to make change, even against armed states. It is up to all of us to safeguard the integrity of our elections and ensure that everyone has access to the polls.
Kerri Kennedy is the associate general secretary for international programs at the American Friends Service Committee.
The views expressed in this article are the author's own.