'I Would Have Quit': Family's Viral TikTok Ice Cream Order Song Divides Internet
Sometimes, viral videos can divide viewers. The Sharpe family recently made headlines while singing their ice cream order in a now-viral TikTok video. Fans are split when it comes to the situation.
The Sharpe family, also known as The Sharpe Family Singers, are no strangers to singing and the spotlight. Ron and Barbra are the parents of their children Samantha, Logan, Aidan, and Connor. They have their own social media channels and a TikTok account showcasing their talents as singers with millions of fans.
Recently, the family shared a TikTok video that has since gone viral with 1.5 million views. In the video, a cashier at an ice cream store asked them what he could get them. The Sharpe family can be seen all dressed similarly in jackets. The two twins, Aidan and Connor, also wore matching hoodies with their last name emblazoned on the front.
Suddenly, Samantha belted out in song, "Can I have some..." and the whole family started singing background lyrics. "Ice cream," they sang, as Samantha started singing about different flavors including vanilla, chocolate, strawberry flavor, and caramel. She even included sprinkles, while the ice cream song continued. While this was all happening, the family danced along to the song as they sang in the memorable moment.
One of them added, "Pretty..."
"Please," they all sang in unison to complete the sentence.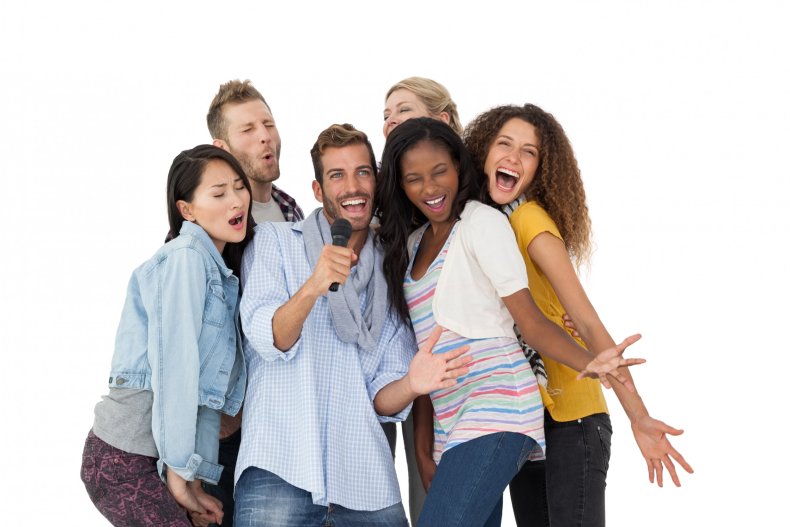 One of the Sharpes then asked if the cashier got all that, and he said, "I was like... so mesmerized. Can you like say it one more time?" There were even guests waiting in line behind them who witnessed the whole spectacle.
Samantha, the daughter of the family, previously auditioned for American Idol and her whole family sang during the audition as well. Samantha made it onto the show, but she didn't end up winning the season 19 competition.
Ron and Barbra are a pair of Broadway performers as well as producers according to the family's official website. The family even has their own Christmas album out with different content available from the talented family.
TikTokers had a lot of thoughts about the viral video, and they seem to have varying opinions on the subject.
Not everyone seemed to be on board with the whole situation. "I would've died of embarrassment," one TikTok user admitted.
Another viewer said they'd quit. "As talented as you are, I would literally quit my job if someone did this to me," they said.
While one viewer didn't mince words. "Lol sorry, but if I worked there, I would probably be annoyed...you guys sound good though," they said.
Other types of reactions included, "My man just tryna do his job," and "Bro doesn't get paid enough."
However, others seemed to appreciate the post and the viral singing moment. "Wow I totally understand the guy from the store was completely blown away," a commenter explained. "But wow wow wow that was some good stuff."
"Y'all just made his day with that," another commenter chimed in. "This is what it's all about. You all seem so kind and amazing. Hope you have a great weekend!"
"Love this so much," a viewer said while another likened the situation to the movie a classic Will Ferrell movie. "This is like that family from the movie Step Brothers," they said.
Newsweek reached out to the Sharpe family for comment.