Ian Schrager: Businessman on the Leading Edge of Design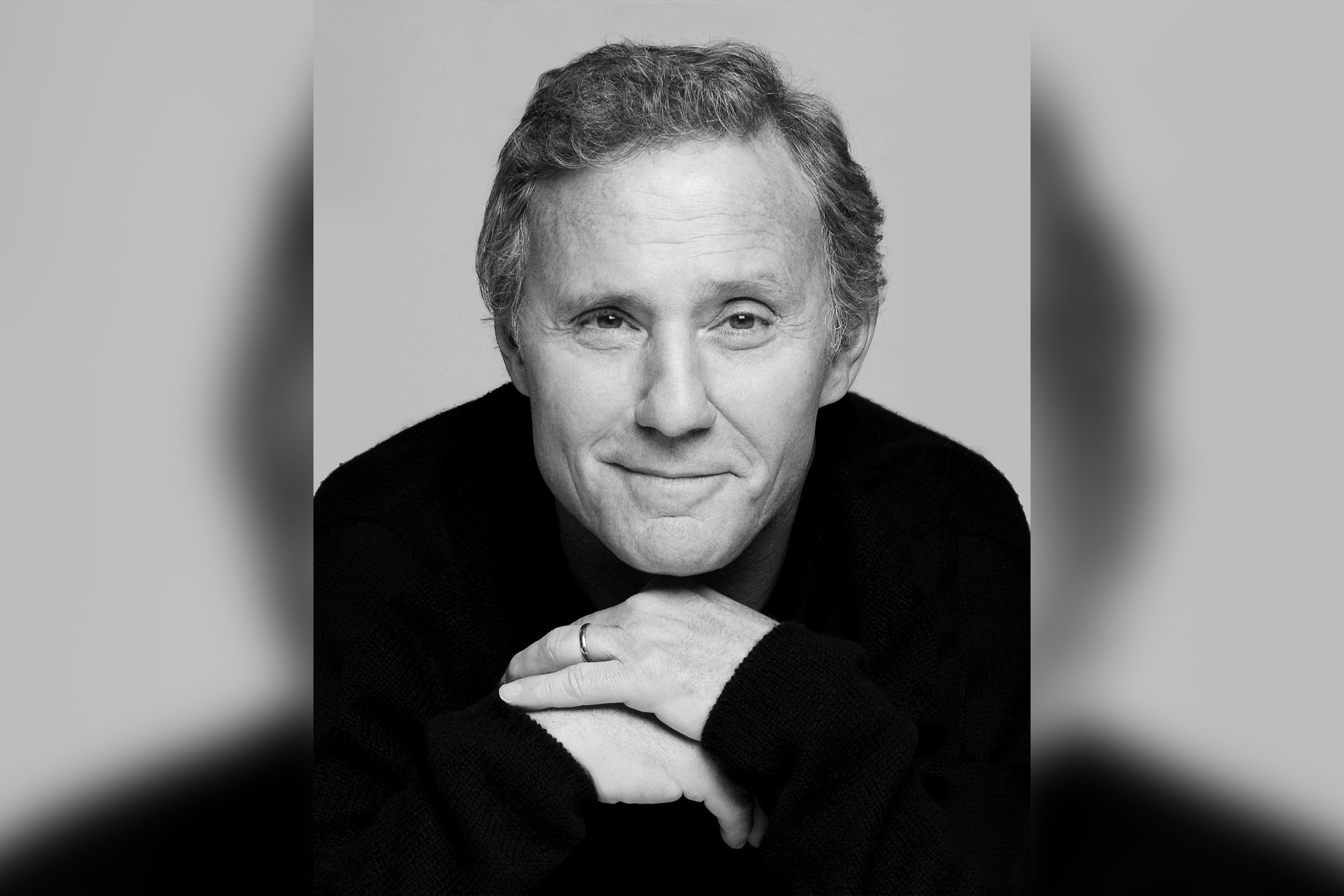 Ian Schrager senses something is off the moment the doorman welcomes him back to the New York Edition hotel. Dressed in blue jeans and a black T-shirt with its three buttons undone and a pen clipped between them, Schrager freezes. He twists his torso one way, then the other, then back again. He spots the aberration—a podium in the lobby bar left behind from an event—and promptly asks two different people to remove it. "I see everything," he says later. "Some people think it's a gift. I think it's a curse. When you see everything and you're a perfectionist, it's never ending."
The hotel, the fourth Edition in a collaboration between the Ian Schrager Company and Marriott, opened May 11 in the landmarked clock tower on Madison Square Park in New York City's Flatiron District. (Other Edition hotels are in London, Istanbul and Miami Beach, and Schrager plans to open nine more by the end of the decade, including one in Times Square.) The hotel occupies the entire tower and Schrager says nearly all of its 273 rooms were sold out for opening week.
At 68, Schrager has built his brand and reputation by sweating the small stuff such as misplaced podiums. Travel & Leisure once said Schrager "has done more to bring design to the travel experience than any other living person—single-handedly reinventing the hotel as a site of electrifying cultural significance." Perhaps best known for co-founding Studio 54 in the 1970s—and serving prison time for underreporting the nightclub's earnings—Schrager has opened some 20 hotels and residences. Hospitality industry leaders credit him with ushering in the era of the "boutique" hotel, a term that he and his late partner coined and that now applies to everything from law firms to universities. "I'm not trying to be trendy. I'm trying to be relevant," he tells Newsweek. "I want to do something very simple and very tasteful and very elegant. If that turns out to be a trend, it's luck."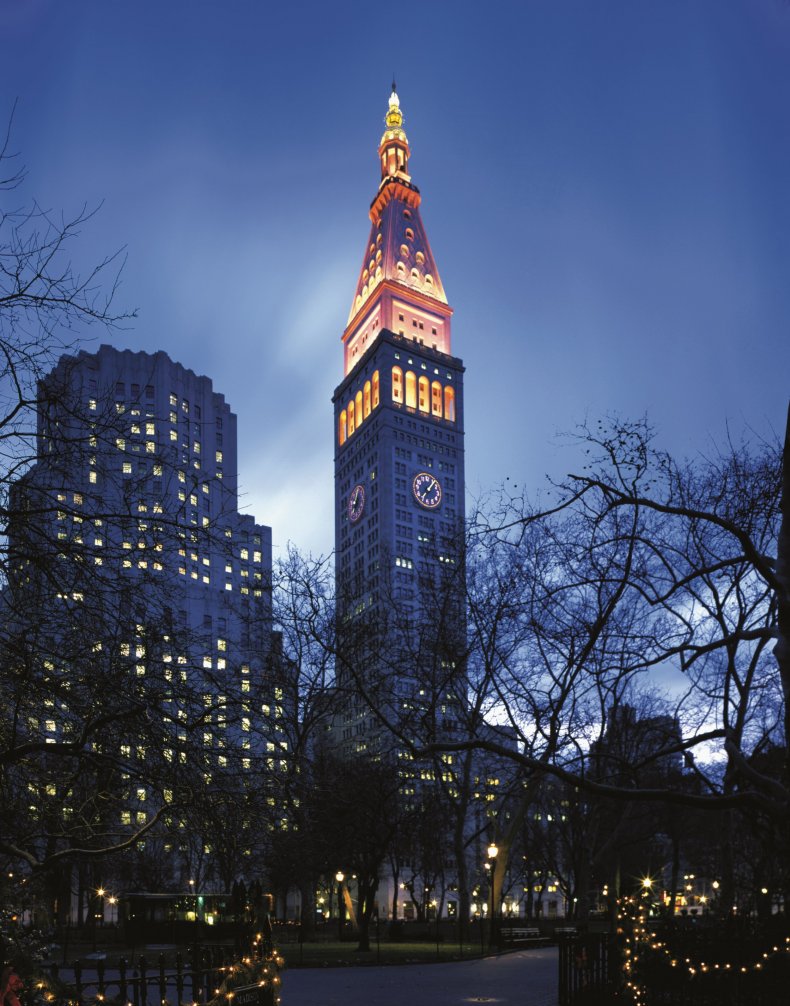 Three days after opening the New York Edition, Schrager settles down at a corner table in the hotel restaurant, the Clocktower. When he entered the dining room, breezing past the young hostess who giggled nervously, a woman greeted him with "buongiorno" and a developer from Bangkok stood and offered a slight bow. Schrager has been a constant presence at the hotel since its opening, though not as a guest; he says he rarely stays at his hotels, just as he almost never danced at Studio 54. He likens running a hotel to owning a big house and hosting hundreds of guests. "It's nerve-wracking," he says.
The restaurant has three dining rooms and a bar, each with its own color scheme ("inspired by the vibrant colors of Dutch Masters such as Vermeer and Rembrandt," the guest services packet says) and theme (New York street scenes, icons, musicians and artists), evident in photographs that hang above original dark mahogany walls. In the street scenes room, high above Schrager's head, is a photo of the clock tower he bought in 2005, sold in 2007 and now occupies. Born in the Bronx and raised in Brooklyn ("I have all the credentials," he quips), he grew up fantasizing about the hustle and bustle across the East River. One of the buildings that captivated him in his youth was the clock tower, officially the Metropolitan Life Insurance Company Tower. The 700-foot-tall Madison Avenue skyscraper was designed to resemble St. Mark's Campanile in Venice and was the tallest building in the world when it was built in 1909, a title it held until 1913. It now has landmark status.
MetLife officially left the building in 2005 and Schrager and SL Green Realty Corp. bought it. When they sold it two years later, developers and investors expressed interest in converting the space to condos, including fashion designer Tommy Hilfiger. But those years proved disastrous for real estate projects.
"You hate to lose a great building like that," says architecture critic Paul Goldberger, who wrote the foreword to a book out this month, Ian Schrager: Works. "At the same time, there's no reason it has to be preserved as an empty shell or forced into some function it doesn't really hold comfortably any longer." Because of its small floors, he adds, "it certainly isn't suited to contemporary office needs."
Around the time he sold the clock tower, Schrager began planning the Edition brand. When the market tanked, he says he lost 20 or 30 contracts.
Then, in 2011, when the market bounced back, Marriott purchased the tower and its deal with Schrager was on. "There's nothing better than seeing a wonderful old building have a new lease on life," Goldberger says.
Adapting a century-old office space for a contemporary hotel was like "trying to put a round peg in a square hole," Schrager says, especially because many of the rooms were windowless. Also, landmarking rules dictated what the hotelier could and could not do to certain parts, such as the second floor, where the restaurant is. Still, he didn't shy from the challenge. "If you can get outside the box, so that it's something really that people can't categorize, but that it's not too challenging so that you still feel comfortable about it, you can have a big hit," he says, sipping from an enormous Starbucks coffee cup with a stained lid. "If you run the risk of it not being tasteful, but you don't fall over, it's always spectacular."
He acquired such wisdom the hard way. Law enforcement raided Studio 54 after his partner, Steve Rubell, in 1977 famously told New York magazine: "The profits are astronomical....Only the Mafia does better." In 1980, a judge sentenced them to three and a half years in prison, later reduced to 20 months, for evading nearly half a million dollars in taxes.
"Our lives were stopped dead in their tracks. That's the most difficult part. Life is a road, it's a trip," Schrager says. "We got knocked off the road, and so getting started again was a very, very difficult thing."
But they did get started again. After prison, in 1982, Schrager and Rubell moved into the hotel business, first opening the Morgans in New York City in 1984. But in 1989, Schrager faced another type of misfortune, when Rubell died of complications related to AIDS. "We were two kids from Brooklyn and we didn't really have very much and we created something together. And it's great when you can share that with somebody," Schrager says. "He enjoyed being out there and taking the bows and being with people....[Now] I have to have a public presence, where before I didn't. And if I had my choice, I wouldn't."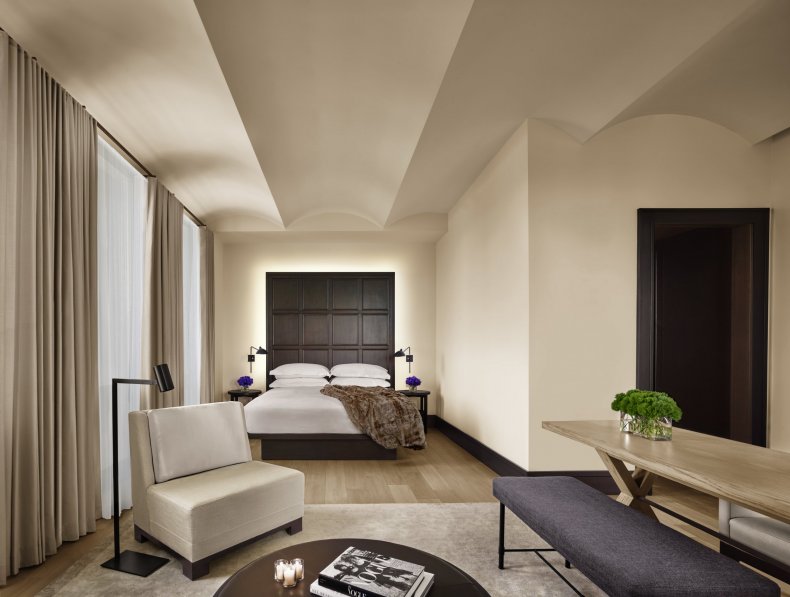 Room 2210 at the Edition (where Schrager's publicist arranged for Newsweek to stay one night, free of charge) overlooks Madison Square Park to the west and downtown Manhattan to the south. It goes for $1,200 per night. (The lowest standard rate for a room there is $675.) A faux fur blanket is draped over the king-size bed and a chocolate version of the clock tower is wrapped in a white box on a dining table.
Schrager takes credit for everything in the hotel, from the touch screens outside the elevators to the striped shirts and blazers worn by the front desk staff. Still, he insists he is not a designer. "I'm like a producer, a coach, a mother, a father," he says in his Brooklyn accent, dropping the last consonants. "I'm trying to get the best work out of people." With his raspy voice, he sounds as if he's giving away secrets, and he grabs and taps the listener's arm as he speaks. The only element he didn't touch, he concedes, was the minibar; it offers Dean & DeLuca gummi bears, "all-natural latex" condoms, designer lingerie and $188 Illesteva sunglasses.
"Most of the hotel industry has been following Ian for a long time," says Goldberger. "If you look at things like the W, that whole chain, and the Hyatt Andaz chain and several others now, they're all attempts to kind of follow what Ian started doing early on." (A spokesperson for Hyatt declined to comment; one for the W brand did not respond to a request for comment.)
"I've admired him for a long time both as a businessman who understands the role of design, but balances it with good business," Goldberger adds. "He just has a very, very good eye. Ian's one of the few business executives who you could sit down in front of three different designs by three different architects and say, 'Which one is the best?' and he'll go to the right one."
Before moving to a different dining room to "see a guy in there that wants to see me about something," Schrager breaks down his vision for Edition. "I'm thinking of this as a new kind of luxury hotel, because it's luxury, but it's not traditional luxury," he says. "It's a modern luxury for a new set of people that don't want the same kind of luxury that our parents had. Don't care about being served with white gloves, gold buttons, fine sterling silver or fine bone china. Don't care about that stuff. Care about your coffee being served quick and hot and by nice people." For Edition prices, guests can expect a coffee experience that lives up to those standards. Still, Schrager is drinking Starbucks.