IBM's Watson Is Going To The Grammys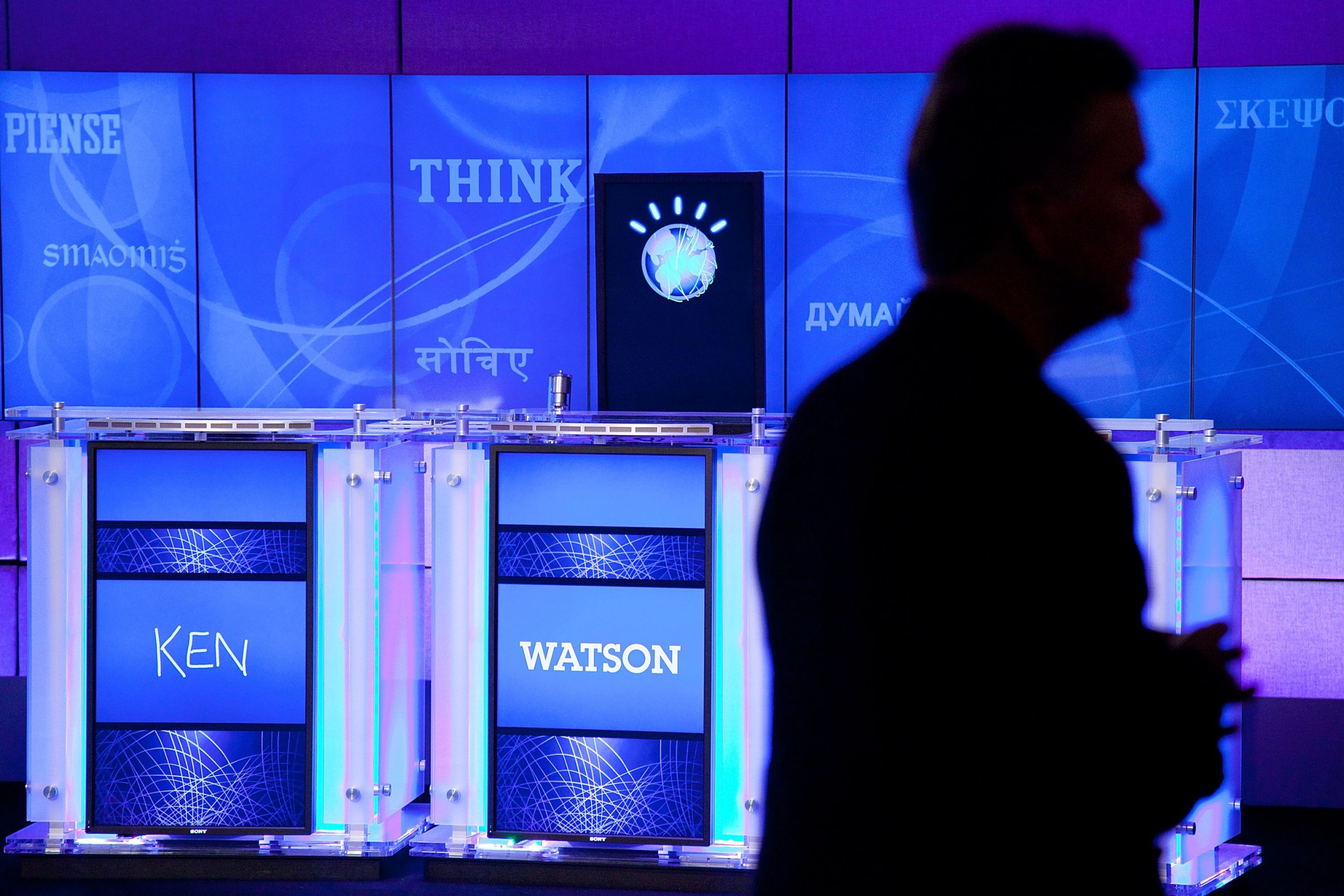 The 60th Annual Grammy Awards marks its return to New York City, and while we expect music's top stars, plenty of flashy outfits and great performances, there is an unexpected guest at this year's awards show. His name? Watson, IBM's artificial intelligence.
The last time we saw Watson make a major public appearance was at last year's U.S. Open. Watson was trained to identify tennis highlights and dramatic moments to make it easier for broadcasters to pick out compelling clips for coverage. Fans also had the ability to follow specific athletes and get all of their highlights, as well as use a virtual concierge to get recommendations on what to eat, see and do in the area. So what will Watson be doing at the Grammys? This time, it's all about fashion on the red carpet and creating more content for fans to enjoy.
"I think [the Grammys are] known the world over as the world's best music by some of the world's most progressive, captivating artists," Evan Greene, chief marketing officer at The Recording Academy, told Newsweek . "Every year, we try to deepen that fan experience, and try to deepen that connection with music lovers around the world. Clearly the way to do that these days is to give them greater access and greater engagement. What better way to do that then through technology? Our partnership with IBM really allows us to connect with those music fans in a way that, frankly, elevates and scales what we've been able to do previously."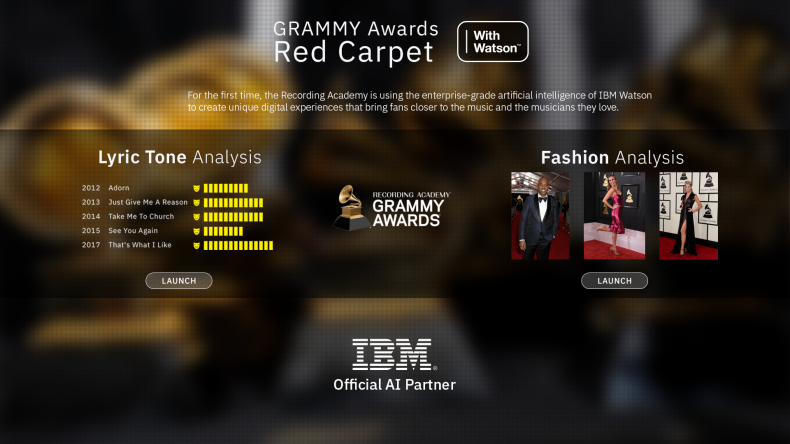 Like the U.S. Open, Watson has been specifically trained for the Grammys. It starts with fashion. Watson can analyze photos and look for a number of different factors faster than humans ever could.
"I think there's over 100,000 photos that get generated over the course of the Grammys," Noah Syken, the vice president of sports and entertainment partnerships at IBM, said. "Being able to understand what's in those photographs, is that a picture of a single person or of multiple people? Are they on the red carpet or not? Are they smiling? Is it a blurry picture or not? Being able to kind of segment out through all of that volume of content and find what that high-value content from the red carpet is. To quickly understand 'this is the good stuff, this is the stuff that's probably not so useful' and publish it in thoughtful ways."
From there, this information is applied to the picture's metadata. This process allows for the content team working on the Grammys to create new experiences for fans more efficiently.
"When the [Grammys] team is looking to create experiences or tell a story about an artist or nominee, they can more quickly find that content and more quickly engage with fans," John Kent, program manager for IBM's sports and entertainment partnerships division, said. "It's a similar thing with fashion. We're taking the fact that there's a lot of photos taken of the red carpet and improving their 'time to market' to those photos. They're more rapidly and quickly available to the team to publish."
This is thanks to a "photo picker" tool the IBM team created for the Grammys team. "It lets the team go in and find 'I want all of the red dresses' or 'I want all the photos of one particular artist' and the team can create galleries of photos around those experiences," Kent explained.
This streamlined workflow is great for the Grammys team, but Greene is more excited for fans to take advantage of the tech themselves. "Workflow is great, and coming up with a better process is great, but it's really meaningless to us unless it helps with the fan experience, unless it helps brings fans closer to the music and the stories and the artists they really love," he said. "That's what this is all about, it's allowing us to connect fans more deeper than ever before with Grammy Sunday."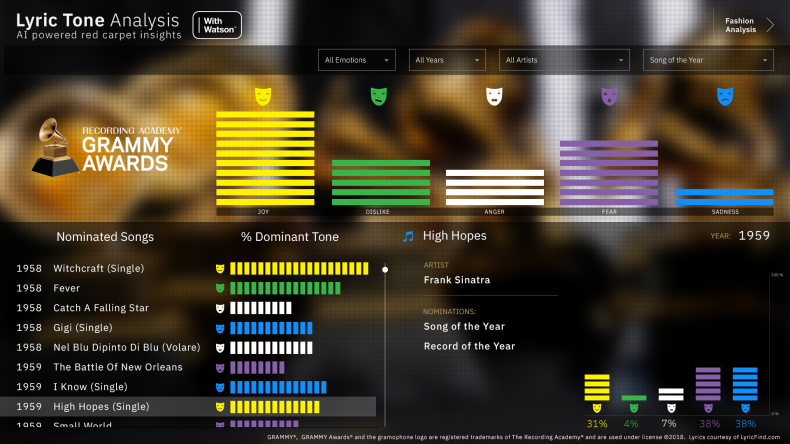 IBM is launching the Fashion Dashboard, a way for people to look at the different outfits at this year's Grammys and compare them to similar looks from previous years. "You'll be able to see the timeline of photos taken on the red carpet and you'll be able to select any one of them," Kent said. "The system will go into the archives of both the current red carpet as well as previous red carpets and match the color dominance and style and pattern of the dress so you get a sense for what people in the past have worn that's similar. Fashion is a big part of the conversation around the event."
How does Watson learn about fashion? The same way any of us do, someone teaches him. "We teach an AI the same way we taught Watson what a breakpoint was in tennis," Syken said. "We have to teach Watson what a plunging neckline is and all the different dimensions of fashion. There's a certain component of machine learning that goes into this, but there's also a component of teaching Watson with experts."
But what if something completely unexpected happens, like the infamous Jennifer Lopez dress or (while not at the Grammy Awards) Lady Gaga's meat dress makes an appearance? Whatever it is, Greene is confident Watson will still help out. "I think we all know the Grammy red carpet is one of the most unique, elegant and exciting fashion moments of the year and we are constantly surprised every year by what happens on our carpet," he said. "However, whatever happens, with the help of IBM and Watson, we'll be prepared."
To follow along, and check out all the special features IBM has created, be sure to check out www.grammy.com and www.grammy.com/watson.