How 'iCarly's' Cliffhanger Ending Was Inspired by Fyre Festival
iCarly Season 1 has sadly come to an end, but thankfully a second season is already on the cards, with filming beginning in Fall 2021.
The season finale of the reboot saw the gang attend Webicon. However, things did not quite go according to plan - from the convention's accommodation to the ceremony itself.
In conversation with Newsweek, iCarly showrunner and executive producer Ali Schouten revealed the writer's room took inspiration from the failed 2017 Fyre Festival for the iCarly season finale.
She said: "It's called iReturn to Webicon and there are things, even before they get into the mess that for Carly are not quite the same as it was back then and we were very inspired by the Fyre Festival scandal.
"Our characters were very excited to return to Webicon and but it's not exactly what they were expecting by any means and they find themselves in danger and complications with friendship, love triangles, and much more."
The episode in question begins with Carly and her crew sharing their excitement for the return of Webicon, where she has been nominated for the prestigious Webicon Web Icon of the Year Lifetime Achievement Award.
Fans of the original series will remember Webicon as the internet convention Carly, Sam (Jennette McCurdy), and Freddie attended in iStart a Fanwar in Season 3. Nine years later, the event is having a re-launch, and this time, it is in the form of a luxury camping retreat.
Carly, Harper (Laci Mosley), Spencer (Jerry Trainor), Freddie, Dutch (Nathan Kress), Wes (Josh Plasse), and Millicent (Jaidyn Triplett) all have plans to spend the weekend celebrating in luxury treehouses, where they can participate in yoga, drink wine from the vineyards and get out of the city for the weekend.
However, upon arrival they realize instantly Webicon's revamp did not go to the plan. They are the only ones in the forest (minus Carly's ex Beau) and everybody else fled the forest after realizing the reality of the situation.
The episode then sees the iCarly crew try to survive, panicking over where to sleep, what to eat, and how to get out of the hell hole they are in.
Thankfully, they were saved from the disaster that was Webicon via helicopter, the same ones that had flown all of the other attendees out of the campsite.
However, Carly has a dilemma of her own, after her ex-boyfriend Beau (Conor Husting) and current boyfriend Wes both said "I love you" at the same time.
It also looked like as soon as Carly heard the news, there was something she wanted to tell Freddie but whether it has anything to do with her boyfriend drama or something else entirely, fans will have to wait until Season 2 to find out.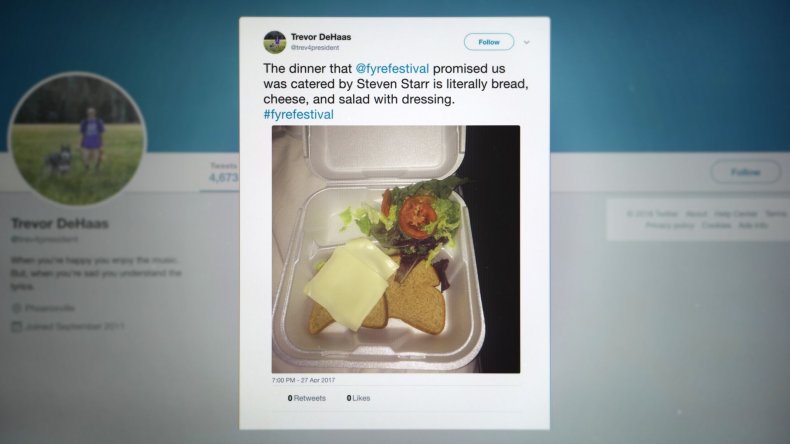 Fyre Festival was launched by Billy McFarland and rapper Ja Rule in 2017, with tickets costing up to $100,000 (£75,000).
Festival-goers were promised a weekend of luxury in the Bahamas, seeing acts such as Pusha T, Tyga, Desiigner, Blink-182, Major Lazer, Disclosure, Migos, and many more.
The festival itself was promoted by hundreds of influencers, including Bella Hadid, Kendall Jenner, Emily Ratajkowski, and Hailey Baldwin, who have all since expressed their regret.
When revelers arrived they arrived on the island of Great Exuma in the Bahamas they were greeted with rows of soaking wet tents instead of luxury villas, cheese sandwiches instead of the gourmet meals which they paid for, and in general a lack of security and medical services.
The festival was postponed indefinitely and eventually cancelled, despite ticket-holders having travelled to Great Exuma.
Fyre Festival organizer Billy McFarland is currently serving a six-year jail term for fraud after he defrauded investors of $27.4 million by marketing and selling tickets to the festival and other events.
The disastrous festival was the focus of two documentaries in 2019: Hulu's Fyre Fraud and Netflix's Fyre: The Greatest Party That Never Happened.
iCarly is streaming on Paramount+ now.