The iCarly revival premiered today (June 17) on Paramount+. The first three episodes are available to stream now with the remaining 10 airing weekly on the channel.
The show features some familiar faces but sadly, fans will be sad to hear Jenette McCurdy has not reprised her role as Freddie's (played by Nathan Kress) ex-girlfriend and Carly's (Miranda Cosgrove) sidekick. Newsweek has everything to know.
Why Jenette McCurdy did not return for the iCarly reboot
Jenette McCurdy starred in all six seasons of iCarly as Sam Puckett.
After the series ended in 2012, she also starred as the co-lead in the iCarly spin-off Sam & Kat alongside Ariana Grande.
The spin-off, which saw McCurdy's Sam and Grande's Kat set up their own babysitting business only aired for one season, ending in 2014.
When iCarly ended, McCurdy went on to star in the Netflix series Between as Wiley Day until 2016.
She also produced, wrote, and starred in her own web series titled What's Next for Sarah?
In 2017, McCurdy announced she had quit acting to pursue a career in writing and directing.
Most recently, she launched her one-woman theater show, I'm Glad My Mom Died which had a sold-out run in Los Angeles and New York City.
However, when the news was announced iCarly would be returning to Paramount+ at the end of December 2020, it became clear McCurdy would not be reprising her role as Sam.
In an exclusive statement to Newsweek, McCurdy's representatives confirmed McCurdy would not be returning to iCarly and why.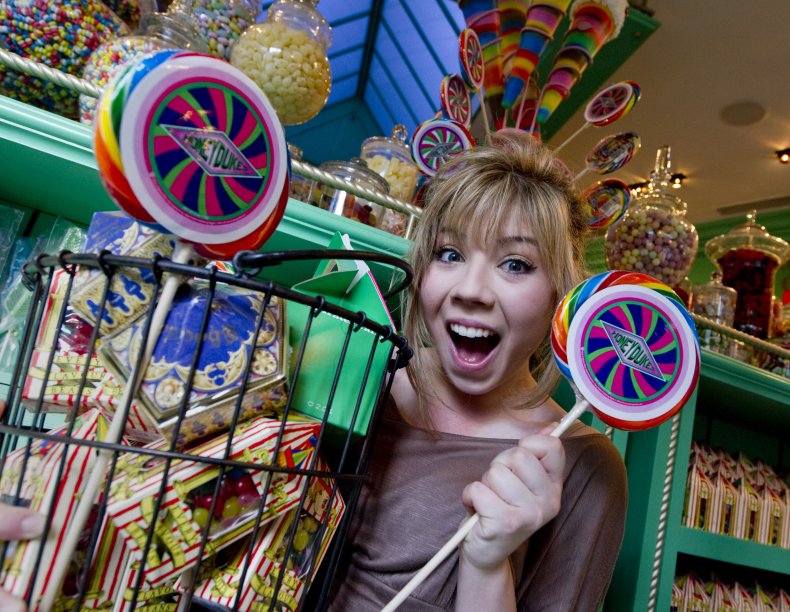 The statement read: "Jennette is busy working on her book which sold to Simon & Schuster as well as bringing her one-woman show back to the stage.
"She is also working on some other film & TV projects which have not yet been announced."
In the iCarly revival, McCurdy's absence was addressed head-on. In the first episode, it is revealed Sam is away traveling with a biker gang called the Oliberators.
As Carly and Freddie discuss relaunching their video channel in a bid to make Carly's ex-boyfriend jealous, Carly also said she wishes Sam could be there to work on the new show together.
Carly says: "I just want to make things again" to which Freddie responds: "You don't need a partner to do that."
"Yeah," Carly adds. "I don't need a partner, I need Sam."
In March 2021, McCurdy announced she was quitting acting after feeling "ashamed" by the majority of her work.
Speaking on the podcast Empty Inside with Mom star Anna Faris, McCurdy said: "I resent my career in a lot of ways.
"I feel so unfulfilled by the roles that I played and felt like it was the most just cheesy, embarrassing... I imagine there's a very different experience to be had with acting if you're proud of your roles."
She explained: "I quit a few years ago because I initially didn't want to do it.
"My family didn't have a lot of money, and this was the way out, which I actually think was helpful in driving me to some degree of success.
"With [my mother's] death kind of died a lot of her ideas for my life, and that was its own journey, and a difficult one for sure."
Fans have been sharing their sadness online about Sam's absence.
One fan tweeted: "Aw the explanation for Sam, God I miss her. Not what I was expecting but that's pretty on-brand for her. She's happy tho! #iCarly."
A second fan said: "I can't wait to watch the @iCarly reboot this weekend! I was 11 when the original aired and now I'm 25. So stoked @MirandaCosgrove@NathanKress @jerrytrainor will miss seeing Sam on the show, aka Jennette."
A third iCarly fan added: "iCarly without Sam (Jennette McCurdy) just ain't the same."
iCarly airs every Thursday on Paramount+.