The U.S. Immigration and Customs Enforcement (ICE) agency has been embroiled in hundreds of cases in which it has been accused of wrongfully detaining American citizens, forcing some to remain in detention for months or even years.
Since 2012, ICE has released more than 1,480 people from its custody, agency figures show. But a review of Department of Justice (DOJ) records by the Los Angeles Times found records of hundreds of additional cases in U.S. immigration courts in which citizens have been detained.
Davino Watson, an American citizen who was wrongly held by ICE for nearly three-and-a-half years over an administrative mistake, represents the more extreme side of the immigration agency's wrongful detentions.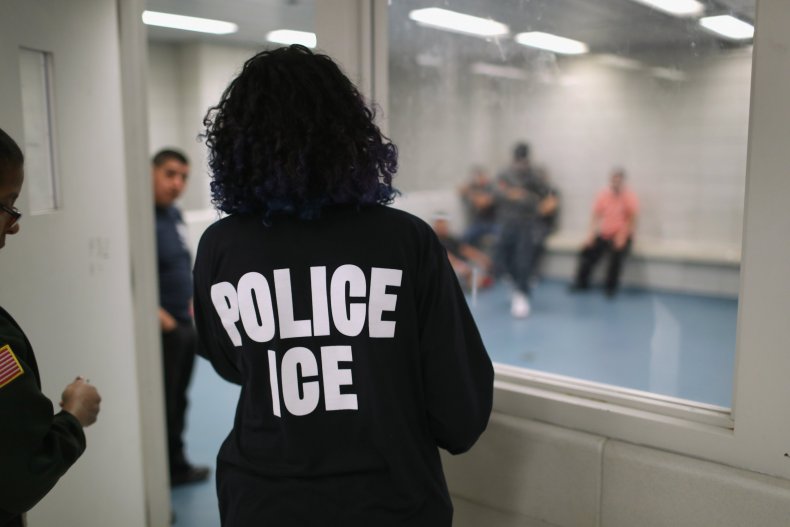 What spiraled into a nearly 1,273-day saga, which Newsweek previously covered, started when Watson, then 23, fell under ICE agents' radar while serving time in a New York State prison on a drug charge.
When immigration agents questioned him, Watson, who was born in Jamaica, told them he had become a U.S. citizen through his father, who had been naturalized.
The agents' inquiry might have stopped there, had one agent not pulled up the wrong person when doing a search for Watson's father in immigration databases.
Instead of pulling up the then-23-year-old's father, Hopeton Ulando Watson, a U.S. citizen living in New York, the agent found the file of Hopeton Livingston Watson, a man from Connecticut who was not a U.S. citizen.
After serving his sentence for selling cocaine, Watson was immediately taken into ICE custody, where he would remain for just under three-and-a-half years.
Even after ICE realized Watson had been wrongly detained, federal lawyers refused to release him, arguing that a new U.S. reading of Jamaican law suggested Watson should be deported because his father had not been his legal guardian when they left Jamaica.
"You feel like your rights are stripped from you. You feel hopeless," Watson told the Times, describing his time in detention. "It was very hard to understand. I spent many nights crying."
When an immigration judge ordered Watson's deportation, it seemed his fate was finally sealed after a years-long battle to prove his citizenship.
However, after making a final effort in the form of an appeal, Watson was granted freedom in the U.S. when a District Court found that the government had misinterpreted immigration law, forcing ICE to unceremoniously release him from a federal detention center in rural Alabama. He was freed—but left to find his own way back home to New York with no money and still wearing his prison clothes.
Watson has fought to receive compensation for his time in detention after an appeals court ruled that he was not eligible to receive $82,500 awarded to him by a district judge in New York in 2016.
ICE told Newsweek it "does not comment on issues/matters with pending litigation," in reference to Watson's case.
The Times found that Watson belonged to one of the two groups most vulnerable to being mistaken as ICE targets—people who are children of immigrants and citizens who were born outside the U.S.
The newspaper found that, in some cases, Americans had been arrested due to human error on the part of ICE agents, while others were repeatedly targeted because the government had not updated its records.
From 2008 to the start of 2018, removal proceedings against 880 people were terminated or suspended by judges who determined that their claims of being U.S. citizens should be investigated before being deported. At least two-thirds of those people had been forced to spend time in custody, including a 10-year-old boy from the San Francisco area who was reportedly held for two months in a Texas detention center.
In a statement sent to Newsweek, ICE Enforcement and Removal Operations Executive Associate Director Matthew Albence said ICE "takes very seriously any and all assertions that an individual detained in its custody may be a U.S. citizen.
"Under their civil immigration authorities, ICE officers and agents arrest only those individuals for whom the agency has probable cause of alienage and removability from the United States," Albence asserted. He added, "On a number of occasions, ICE has reviewed and enhanced its policies and procedures to ensure all appropriate measures are in place to address a claim to U.S. citizenship."
Albence noted, "In light of the complexity of U.S. citizenship and nationality law, some individuals don't even know that they are U.S. citizens until well after they are encountered by ICE, and, in fact, it is ICE that often identifies indicia of potential U.S. citizenship of which the person encountered was unaware.
"For that reason, it is ICE policy to carefully and expeditiously investigate and analyze the potential U.S. citizenship of individuals encountered by ICE, including those who make a claim to U.S. citizenship, as well as in cases in when certain indicia of potential U.S. citizenship are present," Albence said.
He added that ICE "strives to ensure" that its systems of records are up-to-date and accurate. Albence noted that while ICE does arrest and detain individuals suspected of being illegally in the country, "ICE does not make the ultimate determination regarding whether an individual is a U.S. citizen," underscoring that such final decisions are determined by U.S. Citizenship and Immigration Services, the U.S. Department of State and the federal district courts.