Viral Video Shows ICE Agents Smash Car Window, Drag Man Out During Arrest in Front of Family
The U.S. Immigration and Customs Enforcement (ICE) agency is facing fresh backlash after a video posted online showed an agent smashing a car window and dragging a father out in front of his partner and children during in an arrest in Kansas City, Missouri, on Monday.
Cheyenne Hoyt and her partner Florencio Millan-Vazquez had just gotten into their family vehicle with their months-old daughter and 11-year-old son to take their baby girl to a hospital appointment when ICE agents pulled up, blocking the family in.
In video shared on Facebook by Hoyt, who live-streamed the arrest, one of the unidentified agents can be seen standing outside the family's vehicle, as Hoyt and Millan-Vazquez, ask to see a warrant.
After the agent, who appears to be in plain clothes but wearing a badge, refuses to show an administrative warrant, he then asks Millan-Vazquez to show "proof" that he is in the country legally.
"He doesn't have to answer that sir," Hoyt responds. She adds, correctly: "He does not have to answer that. He has rights."
Hoyt then explains that the couple and their two young children are on the way to the hospital for an appointment for their infant child.
"My daughter needs therapy... She's a baby," Millan-Vazquez adds.
After making repeated requests to see a warrant, which the ICE agent never provides throughout the arrest, a Kansas City Police Department officer attending the scene then steps in, asking the family to cooperate with ICE.
"Is this the way you want it to go?" the officer asks. "They're gonna take you into custody this time... You're going to be placed under arrest."
"You're actually under arrest right now," he says. "You're just not in handcuffs yet."
Even if ICE agents do present an administrative warrant, which is not the same as a judicial warrant, the document does not require those targeted by the agency to open their doors to agents. In this case, the legality of an arrest is less clear given that Millan-Vazquez was in his vehicle.
While it is an ICE agent who eventually arrests the father, it initially appears to be one of the police officers attending the scene who starts to bang on the family's vehicle window, after telling Millan-Vazquez to "roll down" the window or "I'm gonna break it."
After the father says "I have a six-month-old in the back" the officer says: "I know you have a six-month there. That's why I don't want to break this window."
After Millan-Vazquez later asks again to see a warrant, another police officer says: "They identified themselves to you...You get to decide how all this goes...We really don't want to do this. We don't want to be a part of this. So, you get to decide how this works out."
Later, the officer tells the family, "I know it's scary... I know it's frightening...It's not a great situation for anybody."
"They're within their rights and enforcing the law," the officer maintains. "You step out here and no one's going to treat you bad or hurt you."
Moments later, the situation begins to escalate as Millan-Vazquez can be heard saying, "you guys just can't break my window."
"Cover your face, cover your eyes, okay?" the ICE agent can be heard saying.
As the father maintains that he "not able to do that," the agent repeats: "Yes we are," before asking, "are you gonna get out or not?"
Just as Millan-Vazquez begins to protest, the agent smashes his elbow into the window, sending shattered glass flying towards him—and potentially towards his partner and two children.
He then reaches in to unlock the door before pulling the father out of the vehicle with the help of another ICE agent, and bringing him to the ground as they arrest him.
The couple's children can be heard whimpering and crying in the background as the arrest unfolds before their eyes.
"They got him on the ground..." Hoyt can be heard saying.
At one point, the ICE agent who smashed the window of the family's vehicle approaches the mother and says "I apologize" for the incident.
But later, with the camera pointed to the ground, one of the agents tells Hoyt that they "documented the glass...especially since my partner got hurt."
"That's on you guys," Hoyt says. "That was your choice to break the glass."
"No, it was his choice," the agents assert.
In a statement sent to Newsweek, ICE spokesperson Shawn Neudauer said Millan-Vazquez was arrested during a "vehicle stop,"
In a statement to Newsweek, ICE spokesperson Shawn Neudauer said agents physically removed Millan-Vazquez from his vehicle after he "was uncooperative and refused to exit his vehicle or follow lawfully issued commands issued by ICE and local police."
"After attempting to negotiate with Millan-Vazquez for about 25 minutes, the ICE officers were left with no other choice," Neudauer said.
The spokesperson said that immigration officers and agents are not required to show an arrest warrant prior to arresting a subject.
He also added that Millan-Vazquez was "an immigration fugitive at the time of his ICE arrest."
"He has a prior criminal history that includes misdemeanor offenses," Neudauer said, without expanding on what those offenses were.
He did say that "in 2011, a federal immigration judge had granted the father voluntary departure. Millan-Vazquez complied with the judge's order by returning to Mexico. However, five days after he returned to Mexico, he was encountered by immigration officials after he illegally re-entered the United States under an assumed name. He was issued an expedited removal order and removed (deported) from the U.S."
Now, the ICE spokesperson said, the father remains in ICE custody "pending removal to Mexico."
The Kansas City Police Department did not immediately respond to a request for comment on the incident.
In a statement addressing the incident, Kansas City's Mayor Sly James condemned the "hate-filled ideologies of the current administration in Washington."
"Kansas City welcomes everyone. This is our city and these are our neighbors and friends," James said. "We look out for each other. We mourn together, and we celebrate together. And we must continue to stand together to demand equal justice under the law for all our residents, no matter where we come from or how we got here."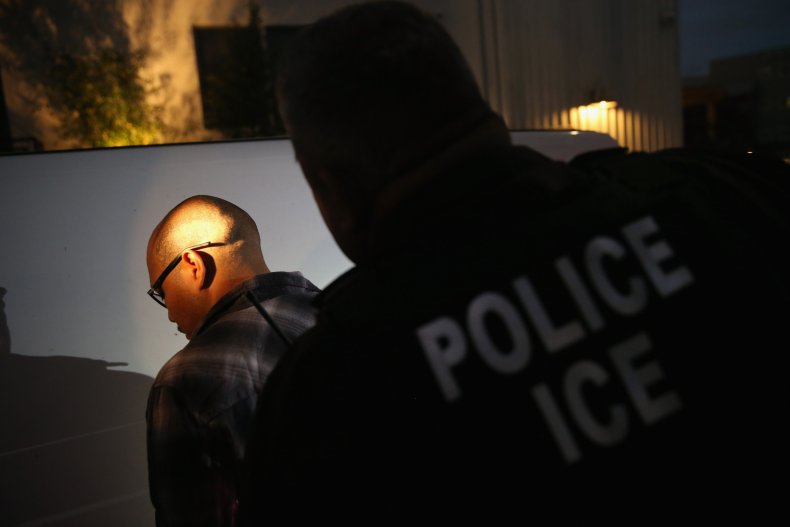 This article has been updated with a statement from ICE.