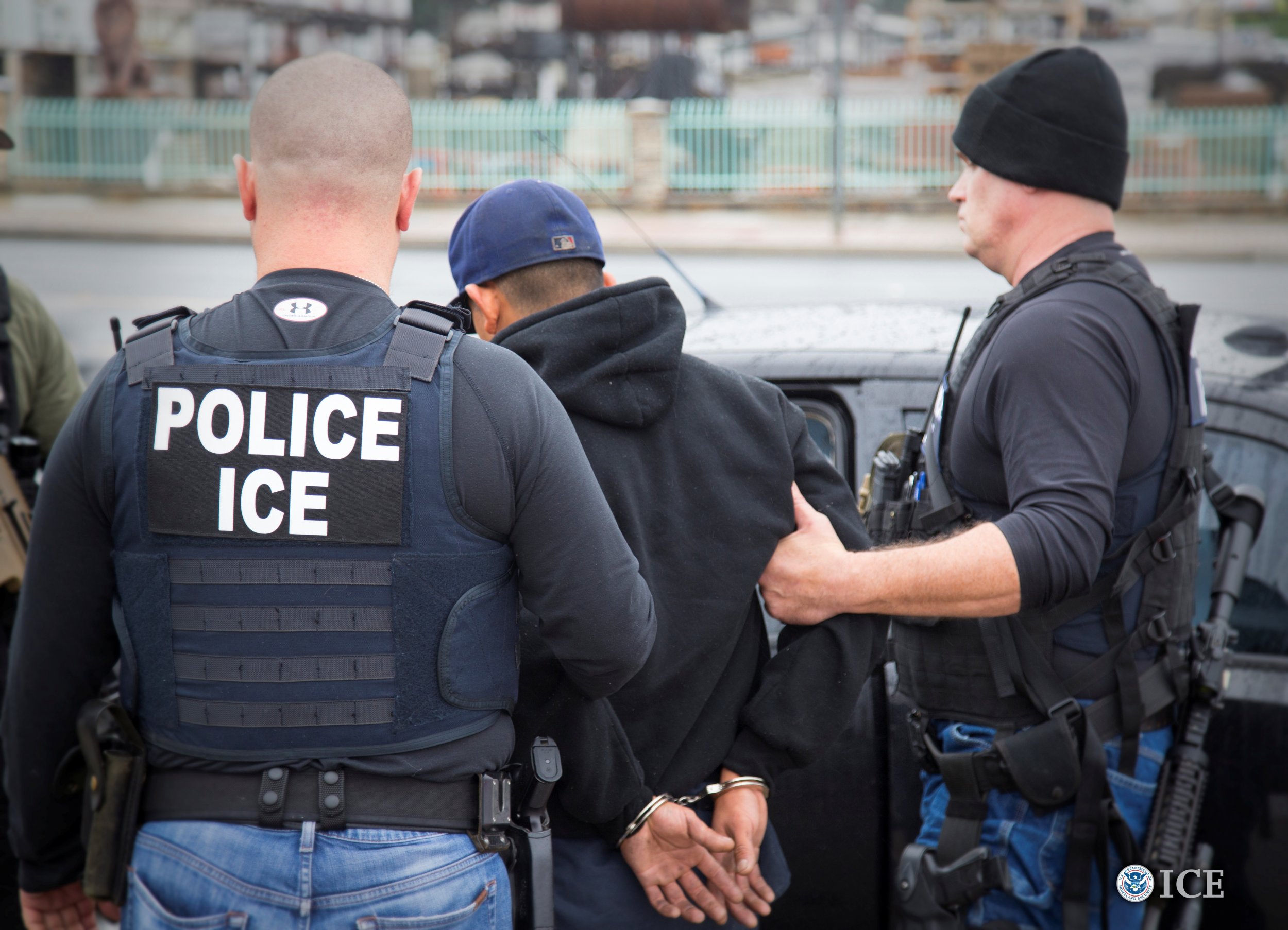 Immigration and Customs Enforcement's increase in MS-13 gang arrests—796 so far this year, up from 434 in 2016—should be taken with a grain of salt since it is likely agents inflated numbers by wrongfully cuffing people who are not part of the gang at all, experts say.
The exclusively Latino MS-13 gang, or "La Mara Salvatrucha," started in Los Angeles in the 1980s among Salvadoran immigrants and mainly recruits in migrant neighborhoods. This provides authorities with the perfect cover to justify the deportation of Central Americans who may have nothing to do with the gang, according to one lawyer.
"ICE is full of shit, they're applying that label to people who in no, way, shape, matter, or form have any connection to gangs. They're using it as a pretext to throw people out of the country," Howard Greenberg, a New York City attorney who has represented people accused of being gang members told Newsweek.
Of the 796 people arrested, 555 were arrested on criminal charges and 241 were seized for administrative reasons for the purpose of removal because they are illegally in the country, according to ICE, which announced the surge on Tuesday. The arrests marked an 83-percent increase from last year.
But identifying someone as a gang member is left open to interpretation. A person can be classified as such for meeting just two out of eight pieces of criteria, which include frequenting an area that is a known gang hangout, having a tattoo symbolizing a gang or wearing gang apparel. Someone can also be tagged a member if he or she is identified as being part of a gang "by a reliable source," according to ICE. And the subjective designation of members has meant that kids have been targeted after their teachers turned them in for simply saying or wearing the wrong item.
"We've seen young people labeled as gang members because they are wearing a t-shirt and a teacher at a school who is not a trained expert thought they overheard something," said Walter Barrientos, the organizing director of immigrant advocacy group Make The Road on Long Island, New York, where a large fraction of MS-13's members live.
"We've seen young people wearing a t-shirt that other young people are wearing and because they happen to be an immigrant or Central American, that has been used as evidence against them," Barrientos added.
He said dozens of kids in Long Island have been falsely accused of gang membership because policing on how loosely authorities are pegging someone as being a part of MS-13 is sparse and cops are given free rein.
Being a gang member alone is not a crime, but the name of each person flagged as one is put into a police database—which can often be accessed by ICE—depending on the city or suburb. Once an agent sees that a person is a gang member, they can then search for a reason to arrest them and cite offenses such as minor crimes or being in the country illegally to support deportation.
To make matters worse for immigrants living in neighborhoods with heavy populations of MS-13 members, Attorney General Jeff Sessions designated the gang as a priority in October, which allows prosecutors to target supposed members using any avenue available such as racketeering, gun and tax laws.
Trump has also vowed to crack down on MS-13, blaming the Obama administration for its spread across America and promising to "make America safe again."
Although ICE touted its number of MS-13 arrests on Tuesday, Barrientos said it's important people be wary of the statistic and be aware that many of those people have never committed the violent crimes the organization is known for.
"We would warn people to be extremely cautious of that because what we have seen at the local level is that this has become a witch-hunt which I think as a country we will become to be ashamed of," he told Newsweek.
The problem has gotten so bad that people are afraid to leave their homes or have left Long Island completely out of fear of arrest, Barrientos said.
And when people go missing, their families don't know whether they have been taken by ICE or MS-13, according to Barrientos, who said the law enforcement agency has become more of a threat than the criminal organization.
"It becomes another source of trauma in addition to and sometimes even more than what we have seen at the hands of the gang," he added.