Video: ICE Arrest Thwarted After Neighbors Form Human Chain Around Father and Son
Residents of one Tennessee community banded together Monday to thwart a U.S. Immigration and Customs Enforcement (ICE) arrest, forming a human chain around a father and son so they could safely make their way home.
The incident unfolded in the morning, as the father and son got into their family van outside their Hermitage home. An ICE vehicle then blocked their van in, according to CNN.
As the father and son refused to leave the vehicle, neighbors who saw what was going on came to the family's aid, with as many as 30 to 40 neighbors helping to bring the family water, gas and wet rags so they could remain in the van.
"We made sure they had water, they had food, we put gas back in the vehicle when they were getting low just to make sure they were okay," one neighbor, Felishadae Young, told the broadcaster.
After four hours passed, with the ICE agent refusing to leave, neighbors came up with a plan to create a human chain around the father and son, allowing them to run into their home.
Video shared online by Occupy Democrats shows neighbors clasping hands, forming a semi-circle around the van, as the father and son make their way into their home.
"I'm so grateful for everyone's support," a tearful mother says at the door, with her husband and son safely inside. "From the bottom of my heart, thank you...Thanks to all of you who had our back today."
After the community members successfully helped the family flee, the ICE agent gave up and left.
It is likely that the family and community were aware of their rights, given that while the ICE agent had an administrative warrant, such a warrant does not allow agents to remove someone from their home or vehicle.
That is why immigration advocacy groups have made a concerted effort to make undocumented immigrants and neighbors aware of the fact that they do not need to answer their doors, should an ICE agent come knocking.
Despite their rights being clear, Daniel Ayoadeyoon, a local lawyer who made his way to the scene to provide assistance, said that the ICE agent claimed that if the father did not come out "we're going to arrest you, we're going to arrest your 12-year-old son."
"That's just not legal, it's not the right law," Ayoadeyoon said.
Nashville police were present at the incident to keep the peace. However, they were not there to aid ICE in the attempted arrest.
Neighbors said that they suspected ICE would make a return, but if they did, the community would rise to the challenge once again.
"I know they're gonna come back, and when they come back, we're coming back," Young said.
"I could see if these people were bad criminals, but they're not, they're just trying to provide for their kids" Stacey Farley, a fellow neighbor said. "The family don't bother nobody, they work every day, they come home, the kids jump on their trampoline, it's just a community."
In a statement sent to Newsweek, ICE spokesperson Bryan Cox confirmed the incident, asserting that "ICE deportation officers were seeking a convicted criminal alien ICE fugitive with an outstanding removal order in metro Nashville July 22 when they were encountered by a small group of protesters."
"Out of an abundance of caution for the safety of all persons involved, ICE personnel subsequently made the decision to depart without making an arrest to deescalate the situation," Cox said.
"ICE conducts targeted enforcement of federal immigration law on a daily basis in accordance with our routine, ongoing operations," he said, adding: "In general, ICE continues to focus its enforcement efforts on criminal offenders as nearly 90 percent of persons arrested for violation of federal immigration law during the past year also had either a prior criminal conviction or a pending criminal charge. ICE does not conduct any type of random or indiscriminate enforcement that would encounter persons indiscriminately."
The story of the thwarted arrest has gained traction on social media, with one commenter saying it brought her to tears.
"My father just texted me to tell me an entire neighborhood in Nashville Tennessee formed a wall of people to keep out ICE and gave their neighbors time to escape," wrote one Twitter user with the handle Odette Roulette. "I can't help it. I'm crying. There are good people. There are good people."
"Love thy neighbor," another social media user, Anne Fuqua, wrote.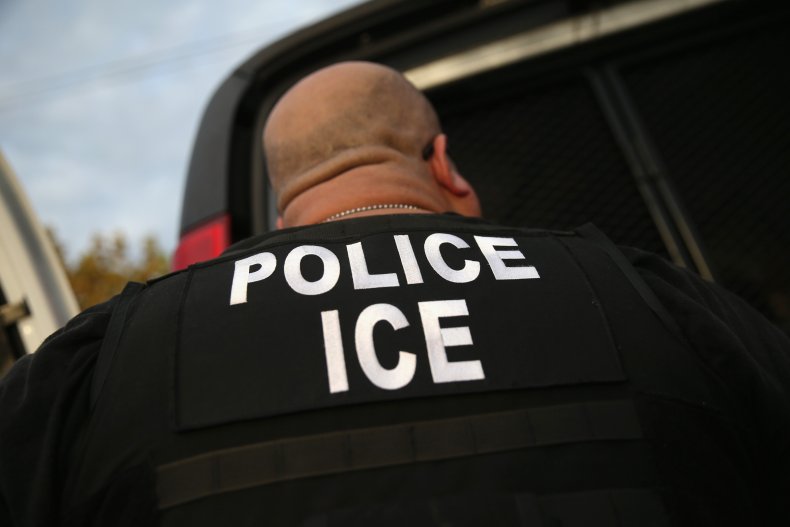 This article has been updated with a statement from ICE.