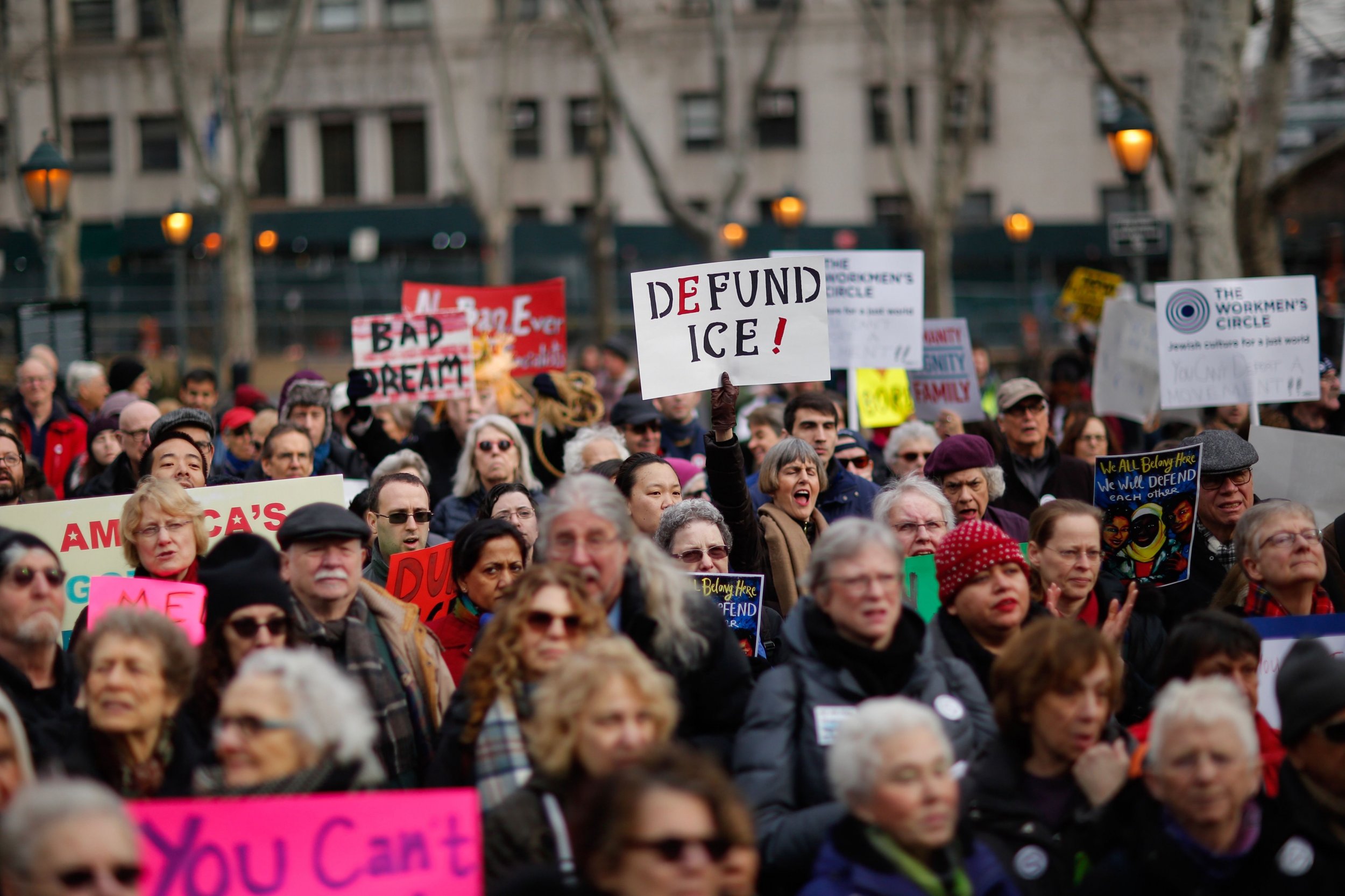 The Immigration and Customs Enforcement agency arrested more than 140,000 people in 2017 following the Trump administration's new push to target immigrants with known criminal charges and convictions. But more than a quarter of the undocumented immigrants' previous charges were related to traffic offenses, according to data released by the agency.
Data in the "Fiscal Year 2017 ICE Enforcement and Removal Operations Report" show that ICE served administrative arrests on 143,470 people between October 1, 2016, and September 30, 2017—that is, arrests for a civil violation of immigration laws. Of them, around 128,000 people (89 percent) had at least one prior conviction or had criminal charges pending, while around 15,000 people (11 percent) had a clean record.
The agency makes clear that a person "may have more than one criminal charge or criminal conviction in a fiscal year," and that the 143,470 people had faced 523,315 charges or convictions.
When the criminal backgrounds for the arrested people were broken down by offense, it emerged that around 80,000 of the total number of charges or convictions were for driving while impaired (DWI), while another 68,000 were for other unspecified traffic offenses.
Traffic violations represented 28 percent of all offenses. About 77,000, or 15 percent, of the charges or convictions were for dangerous drugs (second on the list).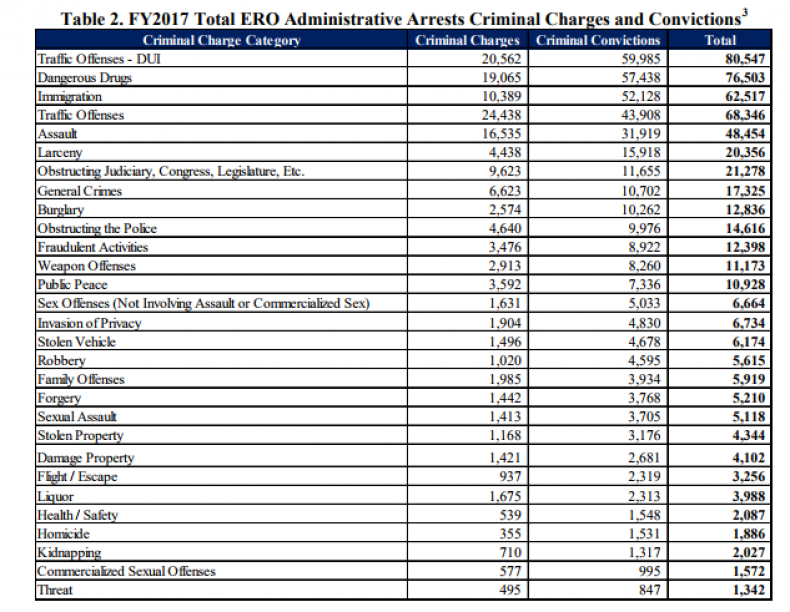 Of the DWI charges listed, nearly 74 percent (59,985) resulted in criminal convictions, while more than 63 percent (43,903) of general traffic offense charges resulted in conviction.
Legal experts and advocates had expressed concerns over immigrants being targeted over nonviolent offences after President Donald Trump signed his administration's "Enhancing Public Safety in the Interior of the United States" executive order on January 25, 2017, which cracks down on undocumented immigrants.
The executive order, as well as a memorandum from the Department of Homeland Security issued on February 20, 2017, expanded ICE's enforcement focus to include "removable" immigrants with criminal charges.
In its 2017 report, ICE says Trump's immigration executive order and the implementation memorandum highlight the role of interior enforcement in "protecting national security and public safety and upholding the rule of law."
However, critics say the blanket focus on all criminal offenses, rather than honing in on serious convictions, is concerning.
"Under President Obama, ICE was directed to prioritize the apprehension and detention of certain categories of immigrants. ICE was to focus its efforts on immigrants with more serious criminal convictions," Capital Area Immigrants' Rights Coalition senior attorney Azadeh Erfani wrote on the organization's website after Trump signed the executive order.
"Under President's Trump's Executive Orders, however, priorities are out the window," she said. "ICE is now directed to prioritize any immigrant who has been convicted of any criminal offense. This means an immigrant with minor traffic violation convictions is now a priority," she warned.
Minor traffic violations include everything from driving without a license to seat belt violations, invalid vehicle registration, failing to obey a stop sign, changing lanes without signaling and having a broken windshield.
DWI is a major traffic violation, along with being involved in a hit-and-run, reckless driving resulting in injury, and committing a violation that could cause serious injury or harm to the public.
Related: An immigrant who went to police for help was detained and handed over to ICE agents
Despites ICE's focus on undocumented immigrants with criminal charges, of the 143,470 arrests made in 2017, 15,478 of those arrested had "no known criminal charges or convictions," according to the agency's data.
The agency also saw a boost in removals—or the "compulsory and confirmed movement of an inadmissible or deportable alien out of the United States"—from fiscal year 2016 to 2017.
In 2017, removals tied to ICE arrests increased by 37 percent, from 44,512 in 2016 to 61,094, "especially from the start of the new administration," the agency said in its report.
It is unclear how many of those removed were initially arrested in connection with criminal charges.