ICE Arrests More Than 100 Undocumented Immigrants in Raid of Ohio Meat-Packing Plant
More than 100 undocumented immigrants were arrested Tuesday after U.S. Immigration and Customs Enforcement (ICE) conducted a raid at an Ohio meat-packing plant.
ICE and Homeland Security Investigations (HSI) agents carried out a criminal search warrant at Fresh Mark in Salem, Ohio, and a federal document search warrant a three other Fresh Mark locations, ICE said in a statement. Agents arrested 146 undocumented immigrants at the Salem location for immigration violations.
ICE spokesman Khaalid Walls told Newsweek that the operation was the largest workplace raid in the region in "at least a decade." Walls also confirmed that the majority of those arrested were from Guatemala.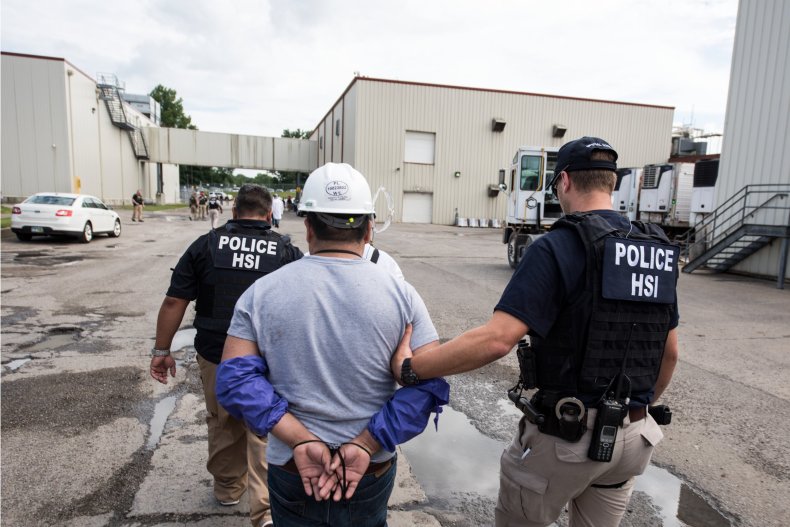 Authorities carried out document search warrants at two Fresh Mark locations in Massillon, Ohio, and one in Canton, Ohio. The raids came as part of a year-long investigation by HSI, officials said. According to the statement, evidence pointed to Fresh Mark "knowingly" hiring undocumented immigrants, who were reportedly using the identities of U.S. citizens.
"Unlawful employment is one of the key magnets drawing illegal aliens across our borders," Steve Frances, HSI special agent in charge of Michigan and Ohio, said in a statement. "Businesses who knowingly harbor and hire illegal aliens as a business model must be held accountable for their actions."
Those arrested will be detained in facilities in Michigan and Ohio while they wait to be deported, officials said. ICE said that several individuals were processed and released the day of the raid on humanitarian grounds. For those cases, workers will be given a notice to appear at an immigration court, KTLA reported.
Agents were seen escorting people from three white buses to a Brooklyn Heights ICE facility to be processed, according to Cleveland.com.
Fresh Mark participates in the ICE Mutual Agreement between Government and Employers (IMAGE) program. The federal program aims to ensure employees have proper documentation from their employees. The company said it participates in Homeland Security's E-Verify program and conducts an internal audit of its 1-9 forms each year, according to KTLA.
Fresh Mark did not immediately respond to Newsweek's request for comment.
In April, ICE conducted a similar workplace raid at a meat-packing plant in Tennessee. Nearly 100 undocumented immigrants, most from Mexico, were arrested during the raid, ICE spokeswoman Tammy Spicer told The Hill. Another 114 undocumented immigrants were arrested earlier this month at an Ohio gardening business, KTLA reported.