Black American Arrested by ICE, Told He'd Be Sent to 'Jamaican Prison,' but Everything Was 'Gonna Be Alright'
A U.S. citizen who says he was detained by the U.S. Immigration and Customs Enforcement (ICE) agency and threatened with deportation to Jamaica is now suing the county sheriff's office that held him in custody until ICE agents could arrive to arrest him.
Peter Sean Brown was born in Philadelphia and lived in the Florida Keys. He was not even aware of ICE's existence until his harrowing encounter with the immigration agency in April.
The 50-year-old, who is black, said that all changed when he was detained by the Monroe County Sheriff's Office in the Florida Keys so that ICE agents could pick him up and schedule him for deportation to Jamaica, a country he had only visited once on a cruise.
"I've been wrongly accused and threatened with deportation from ICE," Brown says in a video shared online by the American Civil Liberties Union, which has launched a lawsuit on his behalf. "I am and have always been a citizen of the United States."
Even after Brown explained that he was a U.S. citizen to officers of Sheriff Rick Ramsay's office, the American says he was "mocked," with personnel affecting a Jamaican accent and saying everything was "'gonna be alright," in an apparent reference to the lyrics of a song by Jamaican musician Bob Marley.
One officer also sang the theme song to the television show The Fresh Prince of Bel Air, which contains the lyrics "West Philadelphia, born and raised" after Brown repeatedly told them that he was from Philadelphia and "had no ties to Jamaica."
"He decides, rather than to do anything to help me, he thought that was funny and decided to mock me with that," Brown said in his video statement.
The 50-year-old's lawsuit accuses Sheriff Rick Ramsay's office of violating the Fourth Amendment, which prohibits "unreasonable searches and seizures," and carrying out false imprisonment under Florida law.
According to the ACLU, Brown had initially been reported to the Monroe County Sheriff's office for violating probation with a low-level marijuana-related offense.
Instead of processing Brown and releasing him, the Monroe County Sheriff's Office told the U.S. citizen they would be keeping him locked up to "facilitate his deportation," ACLU Immigrants' Rights Project Staff Attorney Spencer Amdur wrote in a press release on Monday.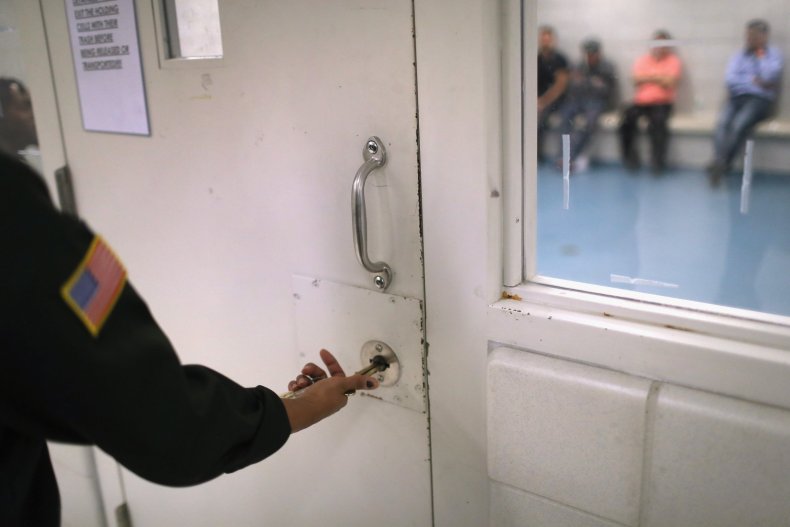 "ICE had faxed a request, known as a 'detainer,' asking the sheriff to lock Peter up, so it could deport him to Jamaica," Amdur wrote.
Unlike federal warrants, ICE's detainers are written requests with which local law enforcement are not obligated to comply.
In this case, however, the Monroe County Sheriff's Office chose to comply, ignoring Peter's "frantic" assertions that he was a U.S. citizen, according to Amdur.
"Peter was terrified. He knew almost nothing about Jamaica, having only visited the country once on a cruise. And yet Monroe County jail officers told him he was being sent to a Jamaican prison," the ACLU staff attorney said.
In addition to mocking Brown, Amdur said jail officers "ignored" his assertions of being American, with none of them helping him cancel the detainer or even looking into his claims, despite the jail's own records listing the 50-year-old as a U.S. citizen.
"The officers told Peter that their practice was to hold everyone that ICE asks for, no matter what," Amdur said.
ICE released news of its "enforcement partnership" with several Florida sheriffs, including in Ramsay, back in January this year.
The immigration agency asserted in its new release that the partnership was aimed at preventing "the release of criminal aliens back into the community."
"When an alien is arrested on a local criminal charge, all too often, they are subsequently released before ICE has the opportunity to pick them up from a local jail," ICE said in its January 17 statement.
Ramsay was among 16 other sheriffs to sign on to the agreement to hold people for ICE at the time.
In Brown's case, even after the 50-year-old filed a second written complaint, the sheriff's office "made it clear it was holding him regardless," according to Amdur.
A response to Brown's written request published by the ACLU appears to show a written response asserting: "It is not up to us to determine the validity of the ICE hold. That is between you, your attorney and ICE."
When Brown was eventually turned over to ICE, he was taken to a facility in Miami and was just days away from being deported out of his country of birth when ICE finally agreed to look at his birth certificate.
The ACLU says the immigration agency quickly released Brown when it realized that he was, in fact, a U.S. citizen, abandoning him in Miami without offering any means of returning home to Key West.
"Peter's frightening story should make sheriffs and police chiefs think twice before agreeing to hold people for ICE," Amdur wrote.
As with Brown's case, the ACLU staff attorney said that by "facilitating these efforts, local sheriffs are putting themselves on the hook for enormous financial liability."
"Dozens of them have faced costly litigation and been forced to pay six-figure settlements because of their collaboration with ICE," Amdur said.
"Monroe County is just the latest in a long string of counties that have violated people's rights at ICE's request. And ICE does not reimburse any of these expenses."
In its lawsuit, the ACLU says that in the wake of Brown's harrowing experience, Ramsay has failed to implement any policies or training to prevent a similar incident from happening again.
Instead, the Sheriff's Office's "policy and practice is to hold people on detainers, even when it lacks probable cause," the lawsuit states.