#ICEBae Trends After People Slam Selfies Taken by Female 'Customs Officer': 'Felt Cute, Might Destroy the Lives of Immigrant Families Later'
A U.S. Customs and Border Protection officer who became known on social media after being pictured providing security for Vice President Mike Pence during a recent border visit has gone viral under the hashtag "#ICEBae" after sharing a selfie on Twitter.
Despite her nickname, Kiara Cervantes, who tweeted out the selfie under the username "Kiara C." is not affiliated with the U.S. Immigration and Customs Enforcement agency.
In one of her tweets, Cervantes said she was in "awe" of "all the support" she has received on social media, with her account already attracting more than 29,500 followers since it was created earlier this month.
In a previous Twitter post, Cervantes said she had joined the social media site after a photo of her providing security for Pence went viral.
"I would like to say I was just doing my job… providing security for the visit of @VP," she wrote, adding: "It was an honor and I take a lot of pride in my job."
After some questioned whether Cervantes' account was real, she posted a video, according to The New York Post seeking to confirm that she is a "Customs officer based in Texas."
While the CBP officer has certainly received her share of supporters, she has also faced significant backlash after posting the selfie, with many condemning her for taking pride in her role in an agency tasked with enforcing the Trump administration's hardline immigration policies.
"Felt cute, might destroy the lives of immigrant families later," a social media user quipped, responding to Cervantes' selfie.
"Found a picture of you with your fellow officers!" another commenter replied to the post, sharing a photo appearing to show female guards in Nazi concentration camps.
"Who wore it better?" journalist Kit O'Connell wrote, sharing Cervantes' selfie alongside a similar photo of concentration camp guards.
"You really taking selfies while these people are being held captive? Okay dog," another said.
Another posted a Wikipedia page on "Jewish collaborators with Nazi Germany," appearing to take specific aim at Cervantes being Latina.
"How great that a petite Latina is front and center in what the left labeled a concentration camp run by Nazis?" one commenter wrote. "@kiarace24 is about to become the counter-protest poster girl for the GOP."
Another social media user called the apparent immigration worker "literal scum" and suggested that her parents would "disown" her over the post, to which Cervantes replied, saying: "I think that's really rude and naive of you to say."
"You have no idea who my parents are and no idea what goes into my job on a daily basis," she said.
"Before speaking on something you know nothing about... DON'T. Regardless I'm blessed and thankful for the career I have," she said.
While Cervantes had initially told Newsweek that she could not say which immigration agency she was a part of until she was able to speak with her employer, CBP later confirmed that she is an officer with the agency.
CBP spokesperson Richard Pauza also added that the agency "does not restrict employees from participating in social media for personal use, [however] CBP employees are held to the highest expectation of conduct, both on and off duty and must adhere to CBP's standards of conduct."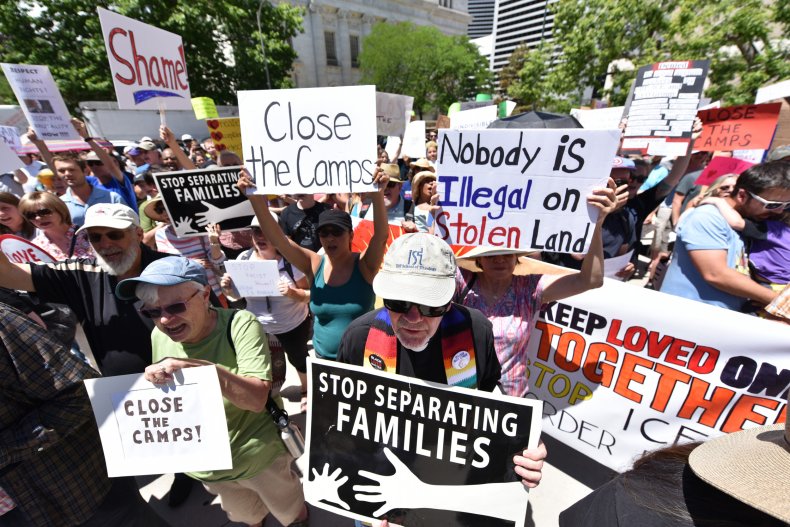 This article has been updated with a statement from the U.S. Customs and Border Protection agency.