ICE Blames New York's Sanctuary Policies For Crackdown That Led To 225 Arrests
Updated | In the wake of an immigration crackdown that saw 225 people detained by U.S. Immigration and Customs Enforcement's (ICE) removal operations team in New York over six days, the agency said municipal sanctuary policies across the state gave it "no choice" but to conduct "at-large" arrests.
ICE specifically called out local politicians in New York City, accusing them of having "shielded removable criminal aliens from immigration enforcement" by banning municipal employees from assisting in enforcing federal immigration laws, a move which solidified NYC's status as a "sanctuary city" last October.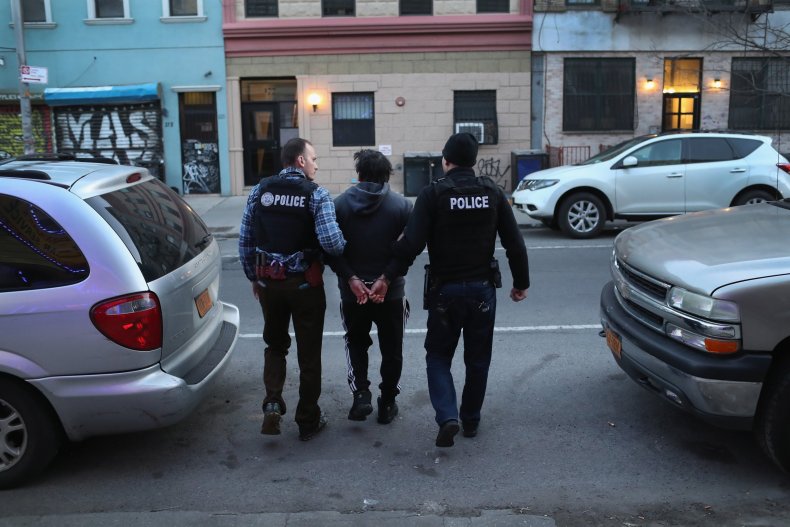 Dubbed "Operation Keep Safe" the recent raids, which occurred across New York City, Long Island and the Hudson Valley, saw people from more than 50 countries detained, 180 of which ICE said are convicted criminals or had criminal charges pending. The agency said "several" had prior felony convictions for serious or violent offenses, including child sex crimes, weapons charges and assault.
More than 80 of those arrested had been issued a final order of removal and failed to leave the U.S. or had been previously removed and returned illegally, ICE added.
In a statement announcing the arrests, the agency said that "in years past, most of these individuals would have been turned over to ICE by local authorities upon their release from jail based on ICE detainers."
"Now that many sanctuary cities, including New York City, do not honor ICE detainers, these individuals, who often have significant criminal histories, are released onto the street, presenting a potential public safety threat," ICE said.
The agency said more than 60 individuals arrested during the operation were previously released from local law enforcement, despite an "active detainer," being on their records. Local law enforcement is not required to act on such detainers, which state whether a person who has been arrested on local criminal charges is suspected of being "deportable" by immigration authorities.
"When law enforcement agencies fail to honor immigration detainers and release serious criminal offenders onto the streets, it undermines ICE's ability to protect public safety and carry out its mission," the agency said.
ICE said NYC, in particular, had "created another magnet for more illegal immigration, all at the expense of the safety and security of the very people it purports to protect."
As a result, ICE said it is left with "no choice but to continue to conduct at-large arrests in local neighborhoods and at worksites, which will inevitably result in additional collateral arrests, instead of focusing on arrests at jails and prisons where transfers are safer for ICE officers and the community."
Rosemary Boeglin, spokesperson for the New York City Mayor's Office of Immigrant Affairs asserted that "New York City will work with federal partners in the interest of public safety, but not to be an arm of immigration enforcement," in a statement sent to Newsweek.
The City's policy is to voluntarily cooperate with requests from federal immigration enforcement only when provided with proper documentation and if an individual has been convicted of a serious or violent felony within the last five years or is on the terrorist watch list.
Field Officer Director for ICE's Enforcement and Removal Operations team, Thomas R. Decker, said in a statement that the agency's operation in New York a "great success" despite the fact that "ICE continues to face significant obstacles with policies created by local officials which hinder cooperation between ICE and local law enforcement."
"The fact is that a so-called 'sanctuary city' does not only provide refuge to those who are here against immigration law, but also provides protections for criminal aliens who prey on the people in their own communities by committing crime at all levels," Decker said.
New York Governor Andrew Cuomo's office did not respond to a request for comment.
This article has been updated with a statement from the New York City Mayor's Office of Immigrant Affairs.