Law enforcement agencies across the U.S. saw a major drop in the number of criminal cases they referred to federal prosecutors in March following the coronavirus outbreak, new data shows.
According to data published by the Syracuse University's Transactional Records Clearinghouse (TRAC), referrals for federal criminal prosecution dropped to their lowest point this fiscal year at the end of March, with referrals declining from 1,000 a week in the first half of the month to around 400 a week by the end of March.
The drop was noticed across federal law enforcement agencies, with both the Customs and Border Protection (CBP) and Immigration and Customs Enforcement (ICE) agencies seeing a significant decline in the number of criminal cases they referred to federal prosecutors in the wake of the COVID-19 outbreak.
At CBP, referrals appeared to decrease as the U.S. came to grips with the nationwide threat that the coronavirus outbreak posed.
In the week of March 10, the agency had seen a spike, referring more than 600 criminal cases, but by the end of the month, the numbers dropped significantly, with CBP referring just over 100 cases in the week of March 23 and around 50 cases in the week of March 31.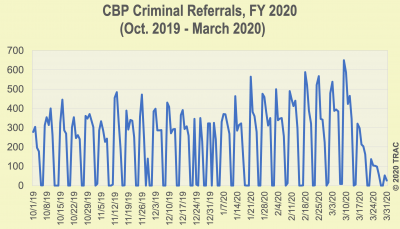 ICE saw a similar drop, with the agency's criminal case referrals seeing a gradual decline from around 90 referrals a week at the start of the month to less than 40 by the end of March, with a slight uptick in the week of March 31.
According to TRAC, in the first six months of fiscal year 2020, immigration-related referrals accounted for the majority of all federal criminal referrals.
While all federal law enforcement agencies, including the Federal Bureau of Investigation (FBI), the Bureau of Alcohol, Tobacco, Firearms and Explosives (ATF), and the Drug Enforcement Administration (DEA) saw a drop off in March, the number of referrals from CBP and ICE appeared to decline more sharply than the overall trends across federal law enforcement agencies.
While a reported drop in illegal border crossings could explain the decrease in CBP referrals, TRAC researchers said "it would not appear to account for the drop for ICE," which had only announced plans to halt most interior arrests amid the pandemic on March 18.
An ICE spokesperson confirmed to Newsweek that generally speaking, prosecutions for illegal entries and re-entry into the U.S. have gone down.
The coronavirus pandemic, they said, has been a factor in that.
However, even before the outbreak arrests had already been down, bringing prosecutions down as a result, they said. Much of the decline in arrests, they said, had to do with a lack of cooperation from local authorities and particularly from those in cities with sanctuary policies preventing local law enforcement from working with federal immigration authorities.
Newsweek has contacted CBP for comment.
This article has been updated with statements from ICE.