ICE Praises Retiring Chief Matthew Albence for 'Record-Breaking' Arrests
Immigration and Customs Enforcement chief Matthew Albence is set to retire, after serving as the acting director of ICE for just over a year.
On Friday, Homeland Security Acting Secretary Chad Wolf thanked Albence for his 25 years of service to the federal government — and praised the outgoing ICE chief for overseeing "record-breaking" numbers of "criminal arrests" of immigrants in the U.S.
"As the senior law enforcement official for U.S. Immigration and Customs Enforcement, he successfully led ICE to record-breaking criminal arrests and seizures in furtherance of ICE's critical national security and public safety missions, and helped restore integrity to this country's immigration system," Wolf said in a statement published online.
"I personally want to thank him for his integrity and steadfast commitment—a legacy he will leave behind with the men and women who perform admirably under the most dangerous and complex of circumstances every day," Wolf said.
In his own statement, Albence said retiring was "an exceptionally hard decision to make, a decision prolonged due to the uncertainty of a global pandemic and the essential role ICE continues to play in our nation's response."
"I am grateful for the opportunity to serve my country and to help protect it from those who would do it harm," he said.
The acting ICE head said he would be working with DHS and ICE leadership to ensure a smooth transition.
It is unclear who will replace him. However, Albence said he would "continue to be an advocate" for ICE once he has left the agency.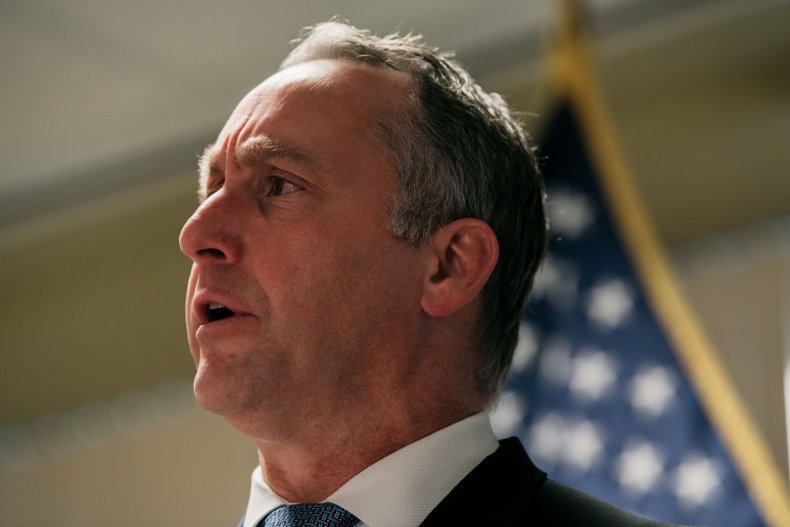 "Every day, against incredible odds, constant politicization, and misperceptions of the incredibly critical and complex mission they perform, ICE employees carry on with professionalism and integrity," he said. "I will continue to be an advocate for the important work they do every day."
Albence began acting in the director's capacity in April 2019, with the exception of a brief period in which Mark Morgan took on the role. Prior that, Albence had served as the agency's deputy director after being promoted from leading ICE's Enforcement and Removal Operations unit, which oversees arrests and deportations.
Over the past year, as ICE chief, Albence has overseen a widespread crackdown on undocumented immigrants in the U.S., with the acting ICE chief leading the agency in the controversial Mississippi workplace raids last summer that saw nearly 700 people arrested.
The workplace raids carried out under his watch, as well as the ramping up of arrests of undocumented immigrants across the country, have seen widespread backlash from immigration advocates, who have called for ICE to be abolished.