Did ICE's 'Citizens Academy' Start With the Obama Administration?
The U.S. Immigration and Customs Enforcement agency is facing backlash after plans to launch a "Citizens Academy" pilot program in Chicago focused on the agency's Enforcement and Removal Operations unit came to light.
In a letter inviting stakeholders to participate in the program, ICE Chicago Field Office Director Robert Guadian said the six-week course, which is expected to launch in September, would be the "first of its kind" and would serve as a "pilot for nationwide implementation."
Included in the program's training, he said, would be "scenario-based training and exercises" on "defensive tactics, firearms familiarization and targeted arrests."
While the course focused on ERO might be the "first of its kind," according to ICE's website, the agency's first Citizens Academy was piloted in 2012 under the Obama administration.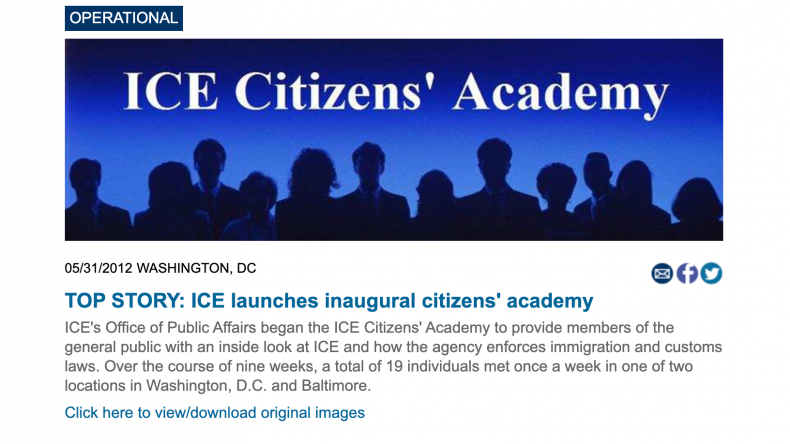 A press release published on ICE's website and dated to May 31, 2012, describes the "Citizens' Academy," which used an apostrophe in its title at the time.
"They visited York County Detention Facility, perused the Forensic Document Lab and spent time at a firing range, honing their marksmanship skills," the press release said of the inaugural class of ICE's Citizens' Academy. "They also hit the books, learning firsthand about [ICE] from some of the agency's leaders," it said.
In addition to learning about ICE and its enforcement tactics, participants also "learned a significant amount about Homeland Security Investigations (HSI), ICE's investigative arm," the press release said, noting that "ICE's special agents conduct a variety of investigations ranging from drug trafficking to human smuggling to child exploitation."
According to the press release, the program was first rolled out in Baltimore and Washington, D.C. One of the program's early participants was Blaine Young the then-president of Frederick County Commissioners in Frederick, Maryland.
"I wanted to see if I could learn anything about ICE's immigration and enforcement program," Young said at the time, in a statement provided by ICE. "I learned that ICE has a budget to deport 400,000 people per year, and they try to deport the ones that are the biggest threat to us, the citizens, and national security," he said.
In a statement sent to Newsweek, ICE spokesperson Nicole Alberico said that while it is correct that ICE's HSI "has been running academies for some time now...this is the first ICE Enforcement and Removal Operations (ERO) citizen's academy."
"The goal of all academies, including this upcoming ERO academy, is to demonstrate to the public what sworn federal law enforcement officers do on a daily basis," the ICE spokesperson said.
"For example, the HSI academy used a fictional human smuggling investigation to showcase the work special agents do in that line of work. That academy also included briefings on how agents investigate online child exploitation, narcotics, evidence inventory, etc. With the ERO academy, the public will learn how deportation officers work immigration arrests and cases," Alberico said.
Upon hearing about ICE's plans to launch a Citizens Academy focused on Enforcement and Removal Operations, many have questioned what the impacts of such a program might be.
Questioning why citizens would need such training from ICE, the American Civil Liberties Union (ACLU) has condemned the program and called on Congress to investigate.
"ICE has shown a callous disregard for human life," the ACLU said in a tweet. "A 'civilian training' program will lead to further militarization of our streets and dangerous racial profiling. Congress must investigate and end the program," the civil liberties union said.
Speaking with Newsweek on Monday, Madhuri Grewal, who serves as federal immigration policy counsel for the ACLU, said that the ACLU would oppose ICE's "Citizens Academy" under any administration.
If the ACLU was aware of its rollout in 2012, the organization would have opposed the program then, Grewal said.
"We spoke out against family detention carried out by the Obama administration and there are certainly things that ICE did under the Obama administration that advocates were critical of," Grewal said. "But, what we have seen by this administration is so far beyond what we could have imagined ICE would do."
However, rolling out an academy focused on immigration enforcement and removals, particularly during a pandemic and in the midst of a growing conversation around racial injustice is particularly "tone deaf," the ACLU counsel said.
"Looking at the bigger context here, why on earth is this happening right now? Why on earth is it that ICE has decided they need to do some PR right now?" Grewal asked.
Not only does the program raise questions around "resources when the pandemic is already straining the budget," but, Grewal said, in the midst of the growing conversation around racial injustice and defunding law enforcement, "everyone is rightly worried about the effects of a civilian training program."
Such a program, Grewal warned, could further promote the "militarization of our streets and dangerous racial profiling that we know is being enabled by a racist in the White House."
Some Democratic lawmakers have also struck out against the program, with Sen. Jeff Merkley (D-OR) calling on ICE to cancel the Citizens Academy.
"A six-week course to 'train' citizens on ICE tactics sounds like a program to encourage profiling and vigilantism, increasing racism and hate in America," Merkley said in a tweet sharing a Newsweek article on the program. "This is the last thing we need, now or ever. ICE should cancel this course immediately."
Meanwhile, Rep. Jesús 'Chuy' García (D-IL) told Newsweek on Thursday that he had been disturbed not only to learn about the program, but also to have learned about it on social media, rather than from ICE.
"The first thing I thought was, 'is this a prank or fake news or what is this?' because it's appearing on social media and neither I or any of my staff had been alerted or reached out to by ICE," he said.
As a member of Congress, García said he had thought he and other lawmakers in Chicago would have been notified about plans for such a program prior to its rollout. However, he said he never was.
Like Merkley, García said he was concerned that ICE was effectively "inviting people to become an extension of ICE... to possibly surveil their neighbors who might be undocumented."
He also said he feared the program might appeal to "right-wing individuals who might like the vigilante lifestyle," which could lead to potential violence.
In the midst of ongoing protests in the wake of George Floyd's death, García said he felt that the rollout of such a program could be counterproductive to efforts to address systemic racism.
As it stands, the ERO Citizens Academy appears set to go ahead, with the first day of the course set to begin on September 15, according to a press release published by ICE on Monday.
Following completion of the program, a graduation ceremony is expected to be held on Friday, October 23, with graduates being awarded a certificate and a commemorative coin.