"Tzedek, tzedek tirdof. Justice, justice you shall pursue," commands the Bible.
In 2022, we learn that sometimes the long fight for justice flows through a cup of an iconic ice cream.
On Wednesday morning, Rabbi Marvin Hier, the founder, and CEO of the Simon Wiesenthal Center, received a call. On the other end was Alan Jope, the CEO of Unilever, who personally told Hier that Unilever is standing against antisemitism. Not only would Unilever denounce antisemitism, but Jope told Hier that Unilever was taking action to end the boycott of parts of the West Bank by one of its companies — Ben & Jerry's.
Ice cream lovers in Jerusalem, the West Bank and beyond — Jews and Arabs — will continue to enjoy their favorite ice cream and even decipher the Hebrew and Arabic containers to confirm how many calories they are ingesting.
Beyond the culinary delight, the Unilever announcement strikes a blow against global efforts by the BDS movement to divest from the Jewish state, a movement seemingly dear to the hearts and corporate checkbooks of key board members of Ben & Jerry's in the United States. (The company itself denies BDS ties). If these extremists in business suits thought they were helping Palestinians, they were dead wrong. The boycott was labeled anti-Palestinian by Bassem Eid, a well-known activist.
In its formal statement released shortly after the phone call between Jope and Hier, the corporate giant declared, "Unilever rejects completely and repudiates unequivocally any form of discrimination or intolerance... Antisemitism has no place in any society. We have never expressed any support for the Boycott Divestment Sanctions (BDS) movement and have no intention of changing that position."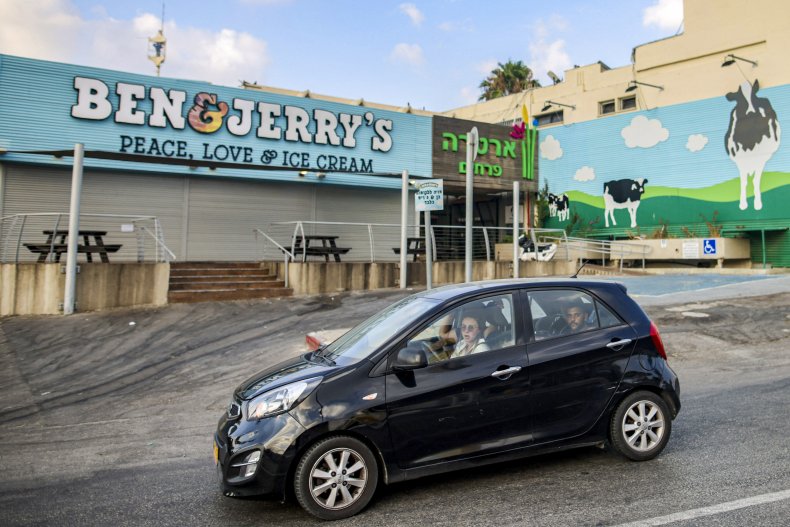 To issue such a powerful repudiation of BDS, it is clear that the CEO understands that Ben & Jerry's decision to discriminate against Israel contributes to the already record numbers of anti-Jewish hate incidents in the U.S.
Embracing BDS could inspire other food industry companies and inspire more discrimination against Israel and her supporters. Jope laid down the law, countering the Ben & Jerry's board, whose escalating animus against the Jewish state continued. That hate was exposed by requiring new employees to watch lectures on the Israeli-Palestinian conflict.
Unilever's principled decision this week sent a major signal to other large consumer brands. Hate does not belong in their marketplaces especially when Jews feel increasingly vulnerable to burgeoning threats on the streets of major cities and on social media where BDS-allied activists published a map of Jewish Boston, a move endorsed by the pro-terrorist PFLP Palestinian group.
Unilever's anti-BDS announcement is the result of the outstanding work by Jewish groups worldwide, as well as legal efforts that sought to put teeth behind growing charges of discrimination.
Nelson Peltz, who recently joined Unilever's board, is the Simon Wiesenthal Center's Chairman of the Board of Governors and did an exceptional job at fighting against the Ben & Jerry's debacle and working with Mr. Jope to find a way forward. We hope others will follow Jope and Peltz's example.
Ben & Jerry's did not advance peace, but mainstreamed hate. Unilever has made clear its priorities: Yes to selling ice cream to everyone and no to politics or propaganda.
There are countless NGOs devoted to alleviating hunger and suffering throughout the Middle East and beyond. Corporations should weigh in in times of crisis. Today they have a chance to help the 15 million-plus Ukrainians displaced by the war there, for example. But leave anti-Israel campaigns out of it.
Individual business leaders can and do make a difference.
As for Ben & Jerry's in Vermont, if they continue to plow profits from the ice cream cups into buttressing enemies of peace in the Holy Land, we will be joining thousands of other irate Americans to stand in line for Häagen-Dazs or Good Humor.
Rabbi Abraham Cooper is the Associate Dean and Director of Global Social Action for the Simon Wiesenthal Center. He is a co-chair of the United States Commission on International Religious Freedom.