L.A. Ice Cream Truck Charging 'Influencers' Double if They Ask For Free Cone
CVT Soft Serve just shared their 'influencer' policy: Asking for free ice cream in exchange for a mention means paying double
CVT Soft Serve in Los Angeles is tired of getting hit up by so-called "influencers" for free ice cream in exchange for a mention on social media. So it's announced a new policy: Ask for a free cone and you have to pay double.
On Sunday, CVT posted a picture on Facebook of an employee holding a sign reading "Influencers pay double."
"We've decided to make this thing official with signage," ready the caption. "We truly don't care if you're an Influencer, or how many followers you have. We will never give you a free ice cream in exchange for a post on your social media page. It's literally a $4 item...well now it's $8 for you. #InfluencersAreGross"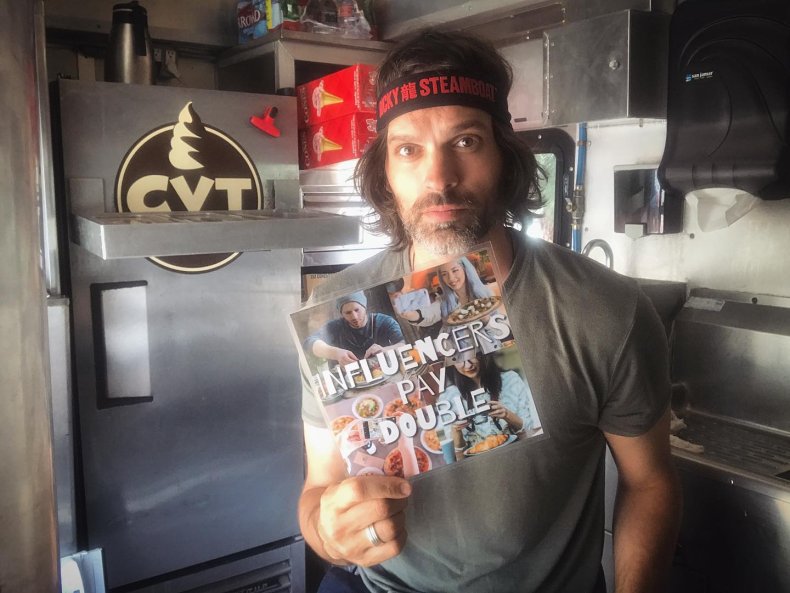 A second post from the company added, "We couldn't care less about how many followers you have, and we're super embarrassed for you when you tell us."
CVT co-founder Joe Nicchi told Newsweek, "I came up with the policy after being burned out on people trying to get free ice cream in exchange for their posts. L.A. is full of so-called 'influencers' with large followings that are actually fake because they most likely paid for likes and follows. Anyone can have a following if they want to pay for it. Google 'social media bots.'"
Nicchi added, "The 2019 version of 'Do you know who I am?' is 'I'm
an influencer,' but without the talent."
Reaction to the new policy has been largely positive online.
"How do you expect to achieve any degree of success without kowtowing to wannabe powerbrokers?" one commenter joked. "Don't you care about turning your business into a multi-level conglomerate with its paws in every little aspect of life? You'll never become the next Donald Trump that way. Tisk. Tisk. Tisk."
CVT—which stands for "Chocolate Vanilla Twist"—was founded in 2012 by Nicchi and his wife, Tyler, in order to bring East Coast-style soft serve ice cream to Los Angeles. As the name suggests, the menu is simple: chocolate ice cream, vanilla, or a combination of the two flavors. No toppings other than sprinkles are offered.
Despite the no-freebies-for-influencers policy, CVT has given free ice cream away in the past: In 2014, the ice cream truck went viral after offering free soft serve to actor Bill Murray as part of a special event. (Murray accepted the offer.)
But Nicchi says Murray was the exception, not the rule.
"We cater for some pretty big A-list talent in Hollywood, and I have no interest in giving them free product. I have a family and plenty of bills to pay! My kids' school doesn't take celebrity photos as a form of tuition payment."
CVT Soft Serve isn't alone: Last April, an Australian restaurant identified a reality TV star and influencer who asked for a free meal in exchange for an Instagram post. My Kitchen Rules contestant Andy Vignatti asked chef Duncan Welgemoed of Adelaide's Africola for the comped dinner.
"Having photos of your dishes reaching over 10,000 potentially new customers in exchange for a couple of meals is extremely good value," Vignatti emailed.
Unconvinced, Welgemoed replied, "How about you do the right thing and pay for your meal, like everyone else?"
And in January 2018, the White Moose Café, a luxury hotel in Dublin, made headlines after refusing Elle Darby, an influencer with 87,000 YouTube subscribers and 76,000 Instagram followers, a free five-night stay.
After Darby posted a video complaining she had been denied a free room, the hotel banned all social media influencers.