At a time when eating trends like veganism and diets like gluten-free, keto and intermittent fasting are all the rage, one ice cream shop in Wisconsin is still dedicating its menu to all things cream and sugar.
The Chocolate Shoppe Ice Cream company went viral on Reddit on Tuesday night after one user shared an image of the creamery's nutritional information statement listed on the side of a truck. The message was clear: "You want nutrition, eat carrots."
"Don't even ask," the statement read. "This is the best ice cream made in Wisconsin, and it tastes so good because it has gobs of rich Wisconsin cream, tons of real ingredients for boat-loads of luscious flavors. That means it's not low-fat, low-calorie or low-anything, and that's why everyone loves it."
The nutritional message printed on Chocolate Shoppe Ice Cream's truck is all in good humor. In fact, it's one customers have loved for more than 20 years, according to Sarah Deadman, the company's vice president of business development.
"Our company has been around since 1962 and has had our nutritional slogan since the mid-1990s. It has always gathered a lot of attention for us!" Deadman said in a statement to Newsweek. "Our slogan is meant in absolute fun. We make delicious, 14 percent butterfat ice cream that will satisfy any treat cravings! We offer all of our nutritional information for every flavor we make on our website as we understand the importance of the accessibility of information."
People on social media were appreciative of the shop's honesty. Many of them agreed that the company's ice cream was a fan favorite in Wisconsin thanks to the veritable treasure trove of unique flavors available at the store.
"This s**t is soooo good. They have one flavor that is called "Exhausted Parent". It has chocolate, espresso, and is spiked with bourbon," one Redditor wrote.
"The Shop in Madison Wisconsin used to have Pretzel Cones, combined with their ice cream it was just knock out good," another person added.
Of course, there was some push back from some people who didn't find the shop's statement all that amusing, especially for people who need to know nutritional information so they can enjoy the ice cream while also being mindful of their health ailments.
"D**n this is funny and all, but I need to see the nutrition facts to count my carbs so I can calculate how much insulin I should take. Still funny though, but d**n," one user wrote.
"I don't like this attitude. Maybe I just want to know if we're talking about 300 cal vs 1000 cal in a scoop. Maybe that information would be helpful in deciding whether I should order one scoop versus two," one Redditor wrote. "If I'm ordering ice cream, I know it will have a lot of empty calories. But I would still like to know how many calories there are so I can adjust how much I eat accordingly."
With a slew of locations across the state of Wisconsin, Chocolate Ice Cream Shoppe provides dozens of interesting ice cream flavors like Caramel Apple Pie, Black Licorice, Bourbon Pecan Pie, Brownie Casserole and Cotton Candy Twist. Of course, the classic ice cream flavors like Chocolate, Strawberry and Vanilla are on the menu as well.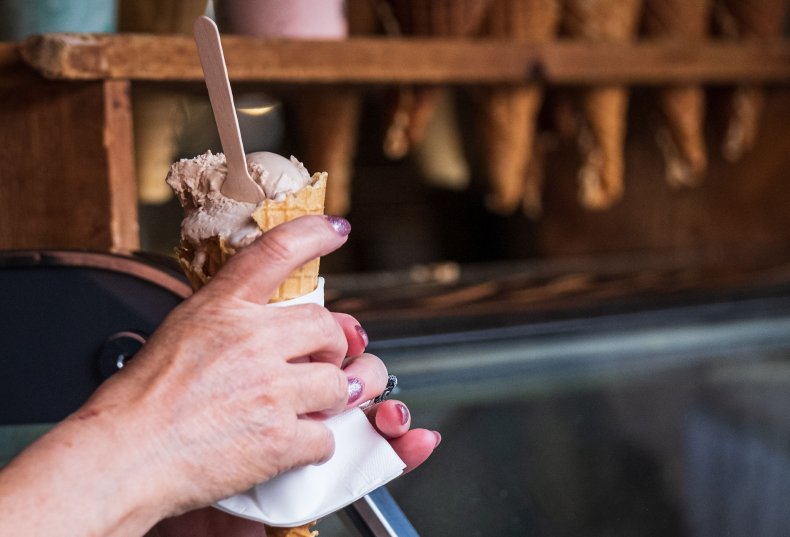 The ice cream shop's website does include the list of ingredients for each flavor on the menu along with other varieties of ice cream like non-dairy soy, sherbert and Italian ice.