Ice Cube Clarifies Political Position, Says 'I'm Not on Nobody's Team'
Rapper Ice Cube appeared on the CNN program Cuomo Prime Time on Friday to explain why he worked with President Donald Trump's re-election campaign on its policies for addressing racial inequality.
Cube released the Contract With Black America (CWBA), a document outlining recommendations for promoting racial equality and closing the wealth gap between Black and white Americans, in July. When it was revealed in October that Cube had been working with the Trump administration on its own policies on the subject, known as the Platinum Plan, critics attacked Cube for not working with Democrats. Cube told host Chris Cuomo that he was "willing to work with whoever is willing to work with me."
"I'm not on nobody's team," Cube said. "I'm not on team blue or team red."
Cube said he believed that racial inequity was a "bi-partisan problem, when it comes to the issues, when it comes to Blacks in America and what's going on. It's not a Democrat problem, it's not for them to solve. It's not for the Republicans to solve. It's for both of them to solve."
Newsweek reached out to the Biden campaign for comment.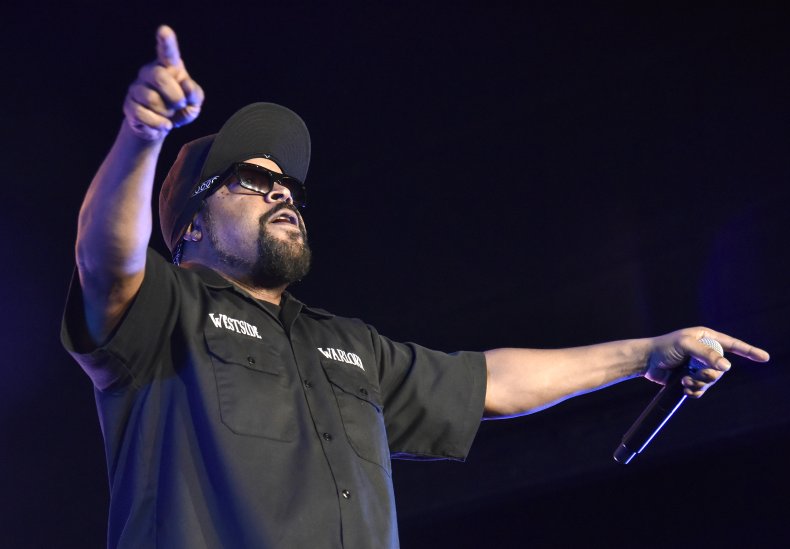 According to a Wednesday tweet, representatives from the Democratic Party and the GOP reached out to Cube after he released the CWBA.
"Facts: I put out the CWBA," Cube tweeted. "Both parties contacted me. Dems said we'll address the CWBA after the election. Trump campaign made some adjustments to their plan after talking to us about the CWBA."
In a Sunday video, Cube said that the Democrats had been "cordial, so to speak," to him but that he didn't "really see them pushing their policies in any different direction." Trump's campaign, according to Cube, had "put $500 billion on the table" to help Black America.
Trump's Platinum Plan does purport to "increase access to capital to Black communities by almost $500 billion." If enacted, Trump's plan promises to create 500,000 new businesses owned by Black people along with 3 million new jobs within the Black community.
The Platinum Plan shares some points with the CWBA, such as making Juneteenth a federal holiday and declaring lynching a national hate crime.
However, the CWBA addresses a wider spectrum of issues. While the Platinum Plan promises to improve the justice system by implementing actions such as increased use of drug rehabilitation programs as opposed to imprisonment, the CWBA calls for a ban of all privately funded prisons.
Cube's contract also requires a "formal admission and apology to Black Americans for past wrongs." Elementary schools would also be required to teach anti-racism and civil rights classes using textbooks written by Black scholars.
Confederate statues would be taken down and placed in museums, such as the National Archives. "This is not sanitizing our past," the CWBA reads, "there is no need to display monuments of these types."
In response to attacks on Confederate and other historical monuments during U.S. protests against racism, Trump signed an executive order in June that would imprison people that attempt to destroy such monuments for then years.
"They're tearing down statues, desecrating monuments, and purging dissenters," Trump wrote in a June statement. "It's not the behavior of a peaceful political movement; it's the behavior of totalitarians and tyrants and people that don't love our country."