Ice Cube Retweets Video That Compares Joe Biden to Hitler
Ice Cube just shared a video that seemed to claim the Democratic party is ignoring the needs of Black people, including former Vice President Joe Biden. The YouTube video by Boyce Watkins also celebrates Ice Cube's alleged similar way of thinking.
"We both have the same concerns," Watkins said. "The concern that many of us have is that Black people are not getting the attention that we deserve, that the Black community is being ignored, that the Democratic party has been pretty much engaged in what's called 'benign neglect.'"
Watkins then singled in on the claim that Biden formerly referred to Black Americans as "superpredators." (This has apparently been debunked, though, as the term originated with Hillary Clinton, not Biden.)
"With Biden, it made me think about Hitler because the way the Germans did the Jews, they killed like thousands of them at once," Watkins said. "And it was really terrible to see just all of those dead bodies piled on top of each other. Well, Biden kind of had the same idea. Biden's whole process was 'We need to exterminate a certain group of people. We need to make sure there's 100,000 of these 'superpredators.' We need to eliminate them from society."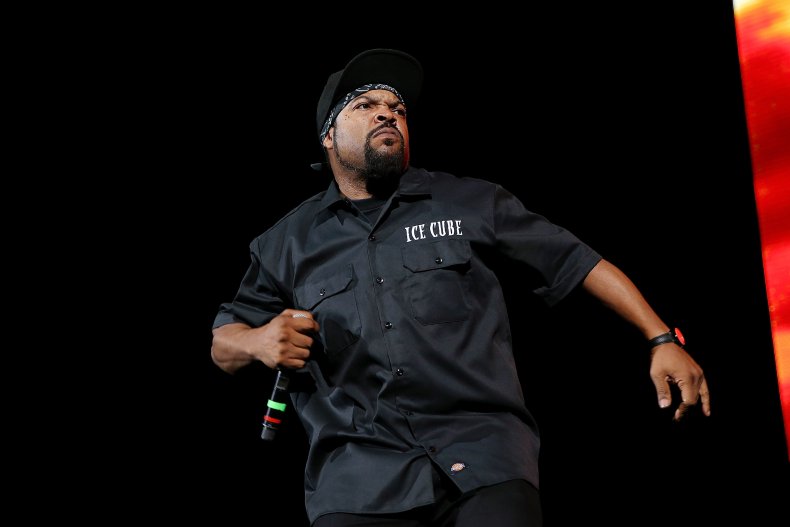 "He wasn't a typical quiet white supremacist, he was the loudest one in the group" Watkins said of Biden's political history. "If he's a member of the Klan, he would have been the grand wizard. So, as the grand wizard of the biggest white supremacist organization in history, which is the United States government, he was literally going out of his way to say 'I don't care if you grew up in an impoverished background. I don't care that you had a hard time. These people need to be removed from society.'"
Watkins also alleged in the video that CNN Financial Contributor Clyde Anderson feels the same, quoting that Anderson claimed: "the democratic party has been pissing on Black people for 50 years."
In his tweet, Ice Cube didn't mention any actual quotes from the video. He simply shared with the message "Want to share this video from Boyce Watkins, too."
It all comes in the midst of Ice Cube's backlash for contributing to President Donald Trump's "Platinum Plan."
After the Trump administration revealed Ice Cube's communication with them, he was slammed by the public. But the rapper explained he'd gone to chat with the Democratic party, too. Ice Cube alleged that their response apparently wasn't as welcoming as Trump's.
"Facts: I put out the CWBA. Both parties contacted me," he wrote on Twitter Wednesday. "Dems said we'll address the CWBA after the election. Trump campaign made some adjustments to their plan after talking to us about the CWBA."
Some accused Ice Cube of joining the Republican "darkside," to which he responded: "Every side is the Darkside for us here in America. They're all the same until something changes for us," he tweeted. "They all lie and they all cheat but we can't afford not to negotiate with whoever is in power or our condition in this country will never change. Our justice is bipartisan."
Ice Cube has not endorsed either Biden or Trump for president.