Ice Cube Says All Black People Should Be Independents After Trump Controversy
Performer Ice Cube said during a Thursday interview with TMZ that he wished Black Americans would become independent voters in order to achieve racial economic justice.
Cube released his Contract With Black America (CWBA) in July, detailing his plans for fighting U.S. racial inequality. President Donald Trump's administration revealed its Platinum Plan, designed to help close the wealth gap between Blacks and whites. Cube confirmed that he had been speaking with the Trump campaign about racial issues in a Wednesday tweet, causing some critics to complain that Cube had switched political allegiance. However, Cube said he had spoken to both Trump's camp and Democratic presidential candidate Joe Biden's campaign.
"At the end of the day," Cube said Thursday, "us as Black people have dealt with presidents on both sides of the aisle and our results are the same, so we have to do something different and we have to approach it in a different way. You know, I would love if all Black people just became independents and at some point made deals and figure out who's going to the most for the community and then they get our support. That, to me, would be the way to move the needle."
"But we've just been promised so much and the results are so little that we have to think about doing things differently," Cube added.
Cube said that he had not personally met Biden or Trump and had never visited the White House. On Wednesday, Cube tweeted that both political parties got in touch with him about the CWBA.
"Facts: I put out the CWBA," Cube wrote. "Both parties contacted me. Dems said we'll address the CWBA after the election. Trump campaign made some adjustments to their plan after talking to us about the CWBA."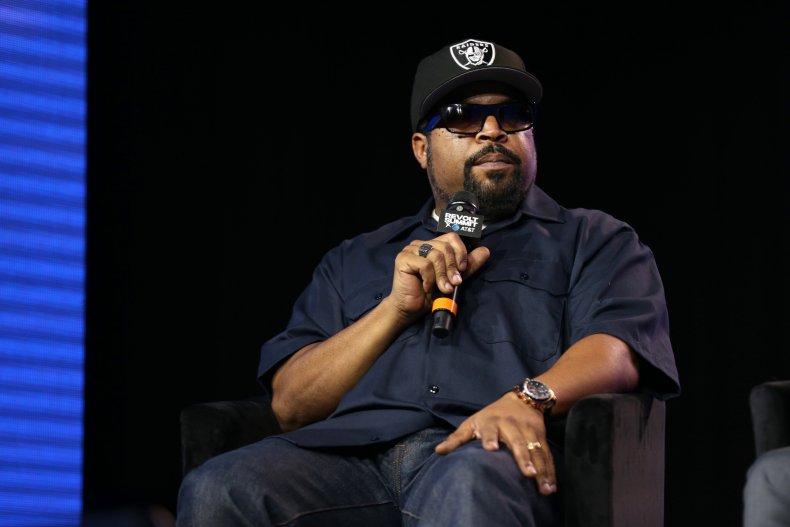 According to the CWBA, the contract calls for an agenda that would "empower African Americans economically and educationally, as well as provide justice and equal protection under the law."
Cube defended working with the Trump campaign in a video posted Sunday by saying that the campaign has "put $500 billion on the table."
Reforms of the banking, education and justice systems are recommended, including the banning of privately run prisons and the official declaration of the Ku Klux Klan as a terrorist organization.
Cube defended working with the Trump campaign in a video posted Sunday by saying that Democrats weren't interested in changing their policies. "Straight up, I believe the Democrats have—they've been nice," Cube said. "They've been cordial, so to speak. I don't really see them pushing their policies in any different direction."
Cube also said that the Republicans had "put $500 billion on the table," although Cube could not say for sure how things would pan out with the Trump campaign.
Trump's Platinum Plan promises to "increase access to capital in Black communities by almost $500 billion." Under the Platinum Plan, 500,000 new Black owned businesses would be created along with 3 million new jobs.
Newsweek reached out to the Trump campaign for comment.