Ice Cube won't be flying American anytime soon. The Friday actor tweeted on June 19 that the airline needs to "fix their attitude" before he flies with them again. Cube claimed that he isn't alone, saying that other black people are having trouble with American Airlines, too.
The rapper appeared to allude to a recent lawsuit involving American Airlines and racial discrimination. On June 18, KTLA reported that six passengers were suing American Airlines after they were removed from a flight last month.
Five passengers said they spoke up when the airlines staff appeared to single out Elgin Banks, a Black man, for unequal treatment after they got on an airplane going from Los Angeles to Phoenix on May 31.
Before takeoff, the passengers aboard the flight were told they were able to swap their seats. Even though everyone was encouraged to move around the cabin, Banks was the only one told to sit down.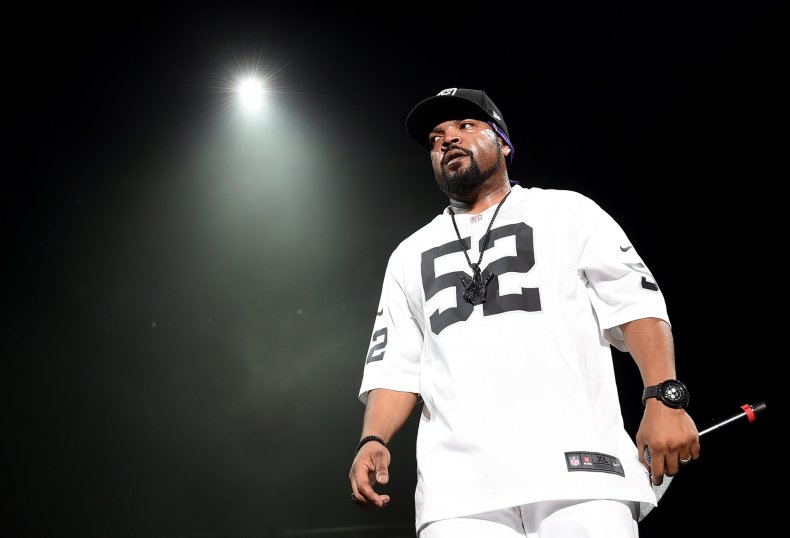 According to KTLA, Banks was told not to raise his voice though witnesses report he was calm throughout, and the staff still told him he had to get off the plane. Five other passengers were shocked and complained about booting Banks, and told him that he did nothing wrong. They, too, were subsequently kicked off the flight.
"They had me thinking that I really did something," Banks said. "I was actually going to get off the plane, but the people that stood by me said, 'No sir. You did not do anything wrong. Do not go anywhere.'" Although American Airlines had since called Banks to apologize, legal action is still underway.
When asked about Ice Cube's recent tweet, American Airlines told Newsweek that "American is committed to ensuring all of our customers are treated with respect. Anything less is unacceptable and would be addressed appropriately."
American Airlines also clarified what happened during the incident with Banks. "After boarding American Airlines flight 1931 with service from Los Angeles to Phoenix on May 31, Mr. Banks requested to be seated in the first class cabin. He was informed that he was not eligible for an upgrade and would have to remain in his assigned seat. During the boarding process, he attempted to relocate to the first class cabin prior to leaving the gate. One of the seats he attempted to sit in was assigned to another passenger."
The airline continued: "The disruption on board required deplaning passengers with the flight departing the next day. Discrimination of any kind is not acceptable and does not align with our values, which is why we launched an investigation when were made aware of the allegations. We are continuing to review this incident, but we believe that the allegations are not a full or accurate portrayal of the incident. All affected customers were provided with a hotel voucher unless they lived locally, as is our policy."
American Airlines added that "None of the passengers were ever banned. We offered to rebook everyone, and those who chose not to fly were provided a full refund. We want to reiterate that all affected customers who didn't reside locally were provided with a hotel voucher, including Mr. Banks."
The airline also said, "There are reports that Mr. Banks attempted to upgrade himself on two occasions, even after being told he was not eligible for an upgrade."
This incident isn't the first time that American Airlines has been accused of racist actions. In September 2018, according to The Daily Beast, Rapper Wale alleged that the airlines staff told him he didn't belong in first class. Wale said that an airline employee called the police on him after he boarded a flight.
He shared a picture of his first-class boarding pass, adding "Y'all racist and I wanna know what happens now."
Three days after the incident, American Airlines apologized. "We just want to apologize to Wale for what really occurred here," the spokesperson said. "We understand his frustration...He's a good customer of ours. He flies with us regularly. We really just want to apologize profusely," the spokesperson added.
Additionally, in June 2019, rapper Boosie blasted American Airlines and claimed they were racist for refusing to let him and his family board a flight from Charlotte to Grand Rapids Michigan. "DO NOT RIDE AMERICAN AIRLINES Because u will not get to your destination on time n the people that work for this ... company have horrible attitudes," the rapper, whose real name is Torrence Hatch, wrote in an NSFW Instagram post.
TMZ reported that American Airlines said Boosie was late boarding the flight and arrived at the gate after the airplane's door had been closed, and that was why he wasn't allowed on the plane.
American Airlines noted that they conducted an investigation regarding Boosie's experience: "We conducted an investigation into Torrence Hatch's recent travel experience. Airport video footage and multiple interviews revealed unacceptable behavior toward our team members and other customers. While we understand disruptions to travel can be frustrating, under no circumstance we will not tolerate our team members or passengers being subject to verbally abusive language or threats of violence," the airline told Newsweek.
Updated 6/19/20, 6:14 p.m. ET: This article has been updated with statements and further details from American Airlines to clarify what happened with Banks and Torrence Hatch.