ICE Set to Deport Wife of Marine, an Iraq War Veteran, in August
The wife of a retired U.S. Marine and Iraq war combat veteran is set to be deported by U.S. Immigration and Customs Enforcement early next month.
Alejandra Juarez, 38, was told by ICE officials that she has nine days left in the U.S. before she is deported back to Mexico, the Military Times reported. Her immigration status was first questioned at a traffic stop in 2013, the Orlando Sentinel reported.
Juarez is accused of illegally crossing the border to come to the U.S. in 1998. She married her husband, Marine Sergeant Cuauhtemoc "Temo" Juarez in 2000, the Military Times said. Temo was an infantryman who served in the Marines from 1995 to 1999, the newspaper said. He was deployed in South America and Africa before he moved to Orlando, Florida, to join the Army National Guard.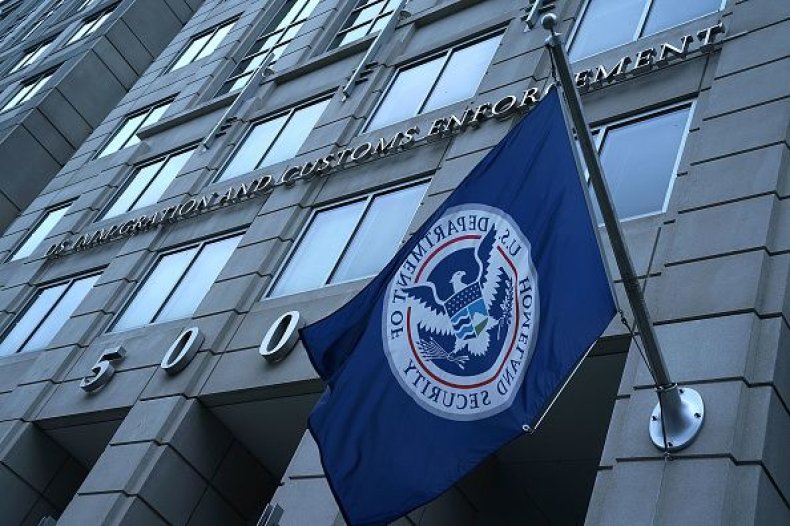 The couple has two daughters together, Estela, 8, and Pamela, 16, who face the prospect of a split family life. The family's attorney, Chelsea Nowel, told the publication that Juarez does not have a criminal record despite the accusation that she entered the country illegally 20 years ago.
"The United States has a lot of policies in place to protect veterans and active duty and their families, and it is absolutely, incredibly, frustrating that these are not being made available to the wife of a decorated veteran who has served overseas multiple times," Nowel told the publication. "We are very hopeful we will be able to work with the Department of Homeland Security and with ICE to afford her an ability to stay."
Democratic Representative Darren Soto, of Florida, told the Military Times that he filed a bill, called the "Patriot Spouses Act," which would protect Juarez and allow her to stay in the U.S., but the bill has not been looked at yet by a House committee.
"Alejandra deserves to stay in the country she has called home for over 20 years, the country her husband patriotically served as a Marine and Florida National Guardsman. The only country her two American-born daughters have known," Soto said.
In a statement to Newsweek, an ICE spokesperson said that Juarez was caught attempting to illegally enter the U.S. in 1998 and removed, but illegally entered the U.S. after removal.
"ICE arrested her in August 2013 and notified her the agency would reinstate her prior removal order," the statement read. "ICE subsequently exercised temporary discretion by releasing her on an Order of Supervision and granted her temporary stays of removal in August 2015 and August 2016. At this time, Juarez must comply with her removal order and depart the U.S."
President Donald Trump has targeted immigrants since taking office—both in his rhetoric, in which he often describes them as animals or criminals, and in several controversial policies.
There was a national outcry over a determined effort to prosecute those caught crossing the border illegally, and to separate any small children from their parents while their cases are handled. The policy means that about 2,300 children have been held in separate detention centers.
On Tuesday, ICE officials were ordered by a federal judge to release an Ecuadorian immigrant being held for deportation after ICE agents arrested him for delivering pizza to an army base in Brooklyn, New York.
This has been updated to include a comment from the U.S. Immigration and Customs Enforcement (ICE).