ICE Kept 92 Immigrants Shackled On A Plane For Two Days In 'Slave Ship' Conditions, Advocates Say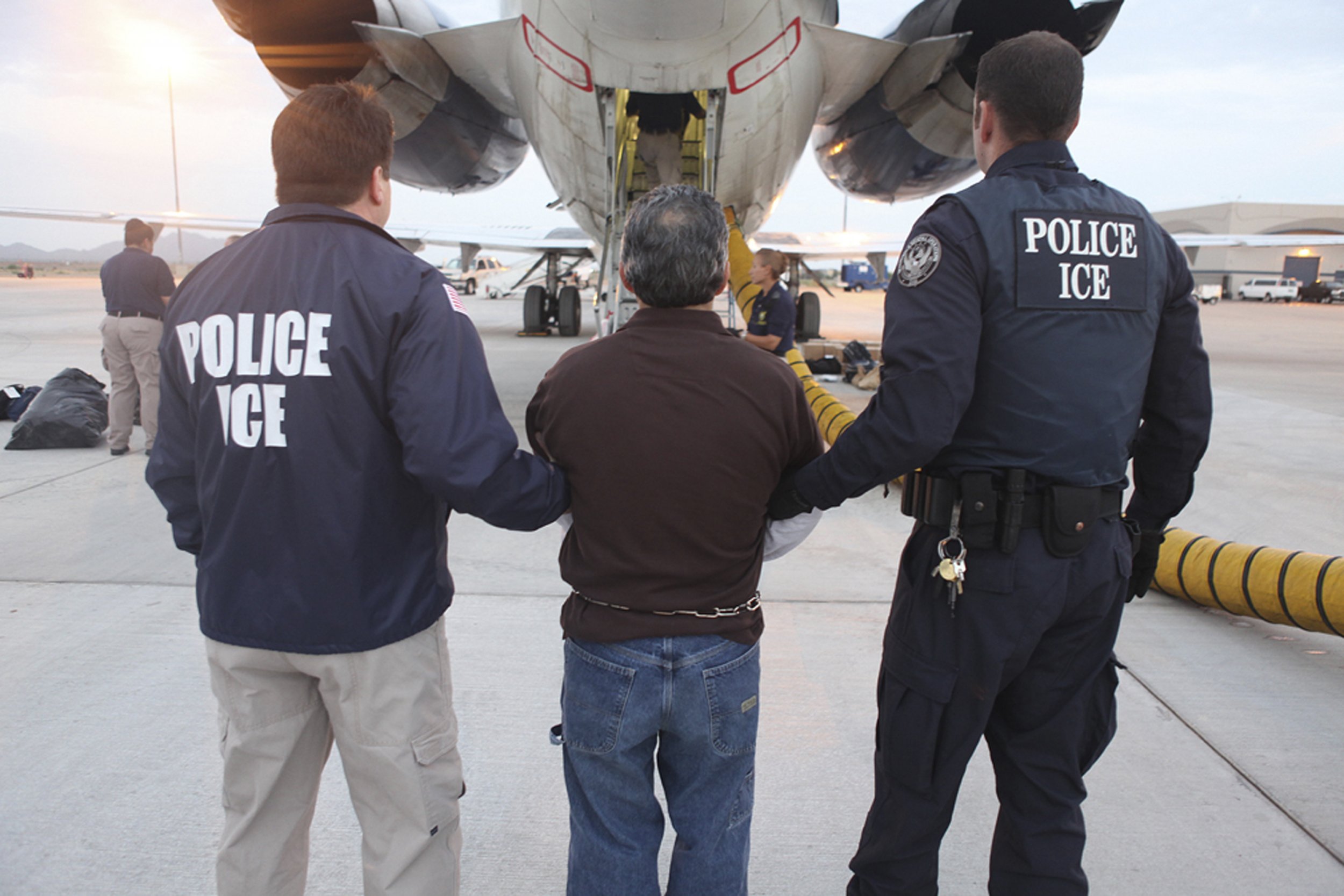 Immigration and Customs Enforcement (ICE) kept 92 Somali immigrants chained on an airplane for 46 hours in "slave ship" conditions during a botched attempt to deport them back to Somalia earlier this month, detainees and advocates say.
The plane carrying the Somalis—chartered by the ICE Air Operations division—made a pit stop in Dakar, Senegal, 10 hours after taking off from Louisiana on December 7. But the plane never made it to Mogadishu. Instead, after parking the plane on the tarmac for nearly a day, ICE turned it around and made the 4,600-mile flight back to the United States on December 9.
Interviewed by Newsweek, one of the men on the plane and an attorney for two others said ICE deprived the Somalis of adequate food and water, and access to a working bathroom, during their two-day detention on board, forcing them to urinate in empty water bottles or, when they ran out of the bottles, on themselves.
The Somalis also claim that the plane's air-conditioning system was dysfunctional, making it hard to breathe in the crowded cabin. One of the immigrants also says he and another Somali were hit in the face by ICE agents on board.
"We were treated like slaves," Rahim Mohamed, 32, told Newsweek. A diabetic truck driver and father of two, he has lived in the U.S. since 2002.
"We were shackled for nearly two days," he continued. "We weren't allowed to use the bathroom or get out of the plane. I was not given the medication I need. I peed into a bottle, and then I peed on myself. It was a horrible thing, man. I thought my life was pretty much over."
For Rebecca Sharpless, an immigration law professor at the University of Miami who has been following the situation, it was a gross violation of basic decency.
"If you shackle someone to a chair for almost 46 hours with very little food and very little water with no access to a bathroom, it's a violation of their human rights. It's reminiscent of a slave ship experience," she said.
In an emailed statement, ICE denied the complaints were valid.
Upon landing for a refueling and pilot exchange at Dakar, Senegal, ICE was notified that the relief crew was unable to get sufficient crew rest due to issues with their hotel in Dakar. The aircraft, including the detainees and crew on board, remained parked at the airport to allow the relief crew time to rest. During this time, the aircraft maintained power and air conditioning, and was stocked with sufficient food and water. Detainees were fed at regular intervals to include the providing of extra snacks and drinks. Lavatories were functional and serviced the entire duration of the trip. The allegations of ICE mistreatment onboard the Somali flight are categorically false. No one was injured during the flight, and there were no incidents or altercations that would have caused any injuries on the flight.
The agency did not dispute the claims that passengers were shackled during the 46 hours on board.
According to ICE, 61 of the 92 Somalis had criminal convictions, including "homicide, rape and aggravated assault." The rest were picked up for being in the U.S. without proper authorization. Like Mohamed, most of them have U.S. citizen spouses and children. (His immigration lawyer, Mirella Ceja-Orozco, told Newsweek in an email that Mohamed has "one misdemeanor from 2005," which she declined to discuss.)
ICE did not give an exact reason why the plane could not make it to Somalia.
The 92 Somalis are currently being held in two detention centers in Florida. Their lawyers, along with the American-Arab Anti-Discrimination Committee, a civil rights group, are calling on the government to delay their clients' deportation for a month so they can receive legal counsel.
ICE refused to say when it expected to deport the 92 Somalis, citing agency policy and operational security. But Mohamed said an ICE agent informed him on Wednesday that the agency planned to fly them out to Somalia sometime early next week.
It's been decades since ICE issued deportation orders on most of the 92 Somalis. Almost all of them came to the U.S. at the height of Somalia's multiple civil wars in the 1990s and early 2000s. They were allowed to stay in the U.S. under ICE supervision because the government of Somalia either refused or was unable to issue proper travel documents.
But in 2014, two years after the Somali federal government was fully established, ICE began to quickly deport more Somalis than ever before. Since then, over 900 have been deported, more than half during President Donald Trump's first year in office, according to The New York Times.
Human rights advocates and experts in the region warn that the situation in Somalia is volatile and precarious, especially for Westernized expatriates without strong economic or political ties.
In October, militants with Al-Shabab, a separatist Islamist group in Somalia, killed 300 people and injured hundreds more in one of the deadliest attacks in the history of sub-Saharan Africa.
For Laetitia Bader, a senior researcher for Human Rights Watch, the attack best illustrates the dangers facing Somalis. "What we're seeing is the return of tensions and conflict around the underlying problems that led to the civil war in the first place," she told Newsweek by phone from Nairobi, Kenya.
Mohamed says that Al-Shabab has also threatened to kill Somalis coming back from the U.S.
"My mom's family in Somalia told her that Al-Shabab wants to behead Somalis coming back from the United States," Mohamed said. "I'm terrified of going back."
Furthermore, the Somali government's ability to protect civilians remains very limited. According to a United Nations report released earlier this month, over 4,500 civilians have been killed by terrorism or internal warfare since 2016. "State and non-state actors also carried out extrajudicial executions, sexual and gender-based violence, arbitrary arrests and detention, and abductions," the report adds.
Many of the lawyers for the 92 Somalis claim that these are reasons enough to hold off on deportations to Somalia, but the government has so far disagreed.
Still, Mohamed's lawyer, Ceja-Orozco, says that they will take advantage of ICE's failure to deport her client and will submit another emergency application to reopen his file.
"This doesn't happen, ever," she said. "This is our second chance."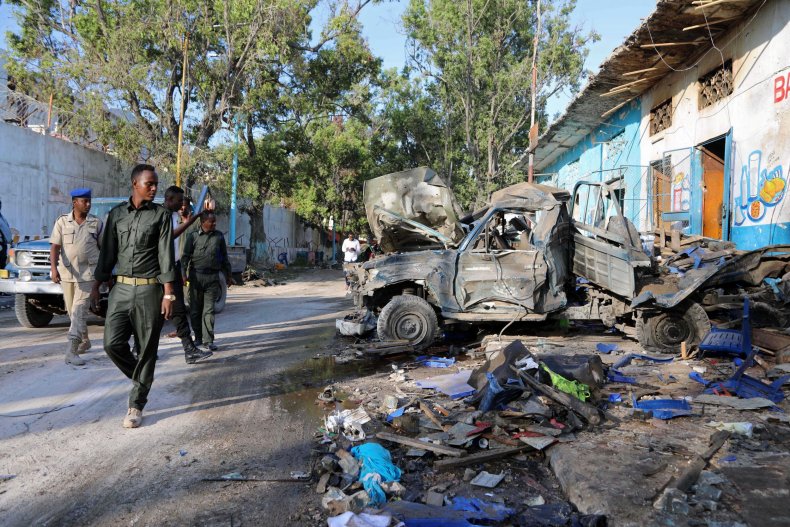 For years, human rights organizations have raised red flags on ICE's treatment of detained immigrants.
Most recently, Human Rights Watch cited "serious lapses in health care that have led to severe suffering and at times the preventable or premature death of individuals held in immigration detention facilities in the United States." It concluded there is a pattern of "systemic indifference" to immigrants' health and well-being while detained by ICE.
At the time, ICE said it always wants to make sure detainees are well cared for.
"Staffing for detainees includes registered nurses and licensed practical nurses, licensed mental health providers, mid-level providers that include a physician's assistant and nurse practitioner, a physician, dental care, and access to 24-hour emergency care," an agency spokeswoman told The Guardian.
Advocates remain concerned that the torturous conditions the 92 Somalis were reportedly subjected don't represent a stand-alone case.
"People who are deported basically disappear to U.S. human rights activists. The Somalis were able to make a complaint because the plane turned back around. I don't think that'd be the case if they were successfully taken back to Somalia," said Clara Long, a senior immigration researcher for Human Rights Watch.
As his lawyer rushes to file reams of paperwork, Mohamed is behind bars, waiting to be deported—again—while his wife is back in Atlanta raising their two infant children.
"I don't think any of them deserve for us to be treated like this," Mohamed's wife, Maryam Maye, told Newsweek. "I have a newborn daughter. I worry she will never remember her father. My son is 22 months old. He cries out for his father every day. What do I tell him?"