Carlos Ernesto Escobar Mejia, the first detainee to die of coronavirus while under the U.S. Immigration and Customs Enforcement agency's custody, was "still well" when a judge refused to release him from detention last month, his family has said.
Speaking with The San Diego Union-Tribune, Escobar Mejia's sister, Rosa Escobar, described how her family had been concerned for her brother's safety in ICE custody as someone considered medically vulnerable to suffering serious health consequences if he were to contract COVID-19.
Escobar Mejia had been living with diabetes and had undergone multiple surgeries before being detained, including operations resulting in the loss of his right foot due to complications associated with the disease.
Despite those concerns, Rosa said, her brother was denied bond by Judge Lee O'Connor on April 15, weeks before his death, over a past domestic violence charge on his record that she says had been a case of mistaken identity.
The judge in the criminal case, she said, had dismissed the charge when he realized police had arrested the wrong person, Rosa said, while her brother's former attorney, Joan Del Valle, told the newspaper that Escobar Mejia had been acquitted. Newsweek has contacted Del Valle for further comment.
"All of this anguish because of the judge," Rosa said, blaming O'Connor for he family's loss. "Because on April 15, my brother was still well."
In the weeks after the judge's decision, Escobar Mejia continued to be held at the Otay Mesa Detention Center in San Diego, California, which currently has the highest number of confirmed coronavirus cases among ICE detention facilities.
As of Thursday morning, ICE had seen 132 confirmed cases of coronavirus among detainees held at the detention center, according to data published online. Meanwhile, 10 workers at the facility had also tested positive for the virus.
Recently, Escobar Mejia's name was added to a list of medically vulnerable detainees that ICE was ordered by a federal judge to consider for release in response to a lawsuit filed by the American Civil Liberties Union.
By the time ICE could consider his release, however, it was already too late, with an attorney for the immigration agency telling a courtroom on Monday that Escobar Mejia was in hospital in serious condition, according to the Union-Tribune. The attorney then suggested praying for the detainee's life.
in the early hours of Wednesday morning, Escobar Mejia, who would have turned 58 later this month, died, becoming the first detainee to pass away under ICE's watch after contracting COVID-19.
In the wake of his death, immigration and human rights advocates have condemned the Trump administration, asserting that Escobar Mejia's death could have been easily prevented.
"This heartbreaking tragedy could have been prevented had U.S. immigration officials heeded the recommendations of medical experts and acted in time," Dr. Ranit Mishori, a senior medical advisor at Physicians for Human Rights and a professor of family medicine at Georgetown University, said in a statement shared with Newsweek.
"Thousands of doctors, advocates, and even the former acting head of ICE have been sounding the alarm for months about the grave risks of immigration detention amid the COVID-19 pandemic. The government cannot say it did not know this would happen," Mishori said.
Meanwhile, Mishori said, "more than 30,000 people are still being held in immigration detention centers, with no meaningful ability to practice social distancing or meticulous hygiene."
"If ICE wants this tragic COVID-19 death to be an outlier rather than the new normal, it must act now to release detainees on humanitarian and public health grounds," the doctor said. "All people deserve to shelter in place with their families rather than be confined to the potential death traps of ICE detention facilities."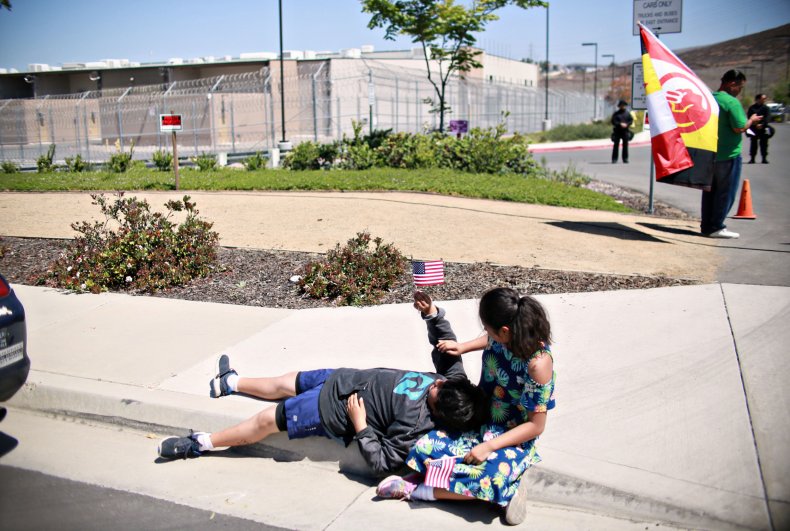 In a separate statement shared with Newsweek, Paola Luisi, the co-director of immigration advocacy group Families Belong Together, agreed, saying: "Despite unwavering calls to prevent this, Trump's immigration system took another life."
"In the past three years, six children and dozens of adults have died in US immigration custody, and that was before the arrival of COVID-19," Luisi noted.
"Doctors, public health experts, activists, and elected officials have been very clear about the risk COVID-19 poses to jailed families and to broader public health," the Families Belong together co-director said. "You cannot cage a virus, and it is impossible to safely physically distance behind bars."
"We fear this tragic death will be the first of many if immigration officials continue to wilfully ignore public health experts. Compassion and public health come first: ICE must immediately release and reunite families."
Newsweek has contacted ICE for comment.