ICE Detainee With Schizophrenia Killed Himself After 21 Days of Solitary Confinement: Report
On Thursday July 12, the U.S. Immigration and Customs Enforcement agency announced that a detainee in its care had died two days earlier at a Georgia hospital.
What ICE didn't say in its advisory was that the detainee, Efraín De La Rosa, a 40-year-old Mexican national diagnosed with schizophrenia and bipolar disorder, had taken his own life after spending 21 days in solitary confinement.
In a statement published online, ICE said De La Rosa died late on Tuesday, July 10, at a hospital in Cuthbert, Georgia, after being found unresponsive in his cell at the Stewart Detention Facility in Lumpkin at around 10:40 p.m.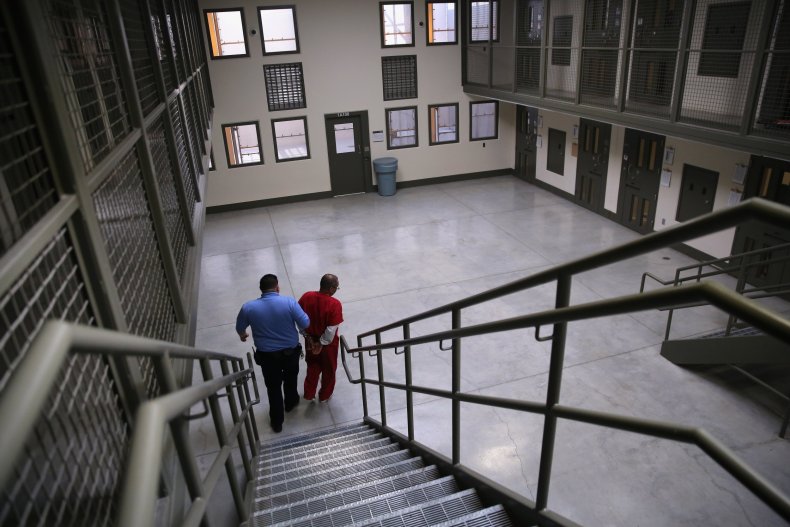 The agency said the preliminary cause of death appeared to be "self-inflicted strangulation," adding that the case was still "under investigation."
A report by The Intercept has revealed, however, that De La Rosa's death came at the end of 21 days in solitary confinement, despite the fact the 40-year-old was suffering from schizophrenia and bipolar disorder.
It is unclear if ICE was aware of De La Rosa's diagnoses, which were reportedly made at a treatment center run by the Virginia Department of Corrections in June 2017.
Immigration attorney Andrew Free, who represents De La Rosa's family, however, said that it was the agency's responsibility to maintain an awareness of detainees' medical conditions.
"Just because you're locked up doesn't mean you should get substandard medical care," Free told The Intercept.
"And the standard of care is to understand what treatment has been provided in the past and what treatment is necessary—and that requires getting the records."
ICE said De La Rosa had been in immigration removal proceedings at the time of his death.
He was arrested by ICE agents on March 11 in Wake County, North Carolina, after he was released by local law enforcement following a conviction for larceny, or theft of personal property.
Alerta Migratoria NC, a local organization that provides support to those facing deportation, said on its Facebook page that ICE had been notified of De La Rosa's release by local law enforcement as part of the Wake County Sheriff's Office participation in the 287 (g) Delegation of Immigration Authority program, which aims to enlist local law enforcement departments in helping deport undocumented immigrants.
The federal immigration agency said De La Rosa's family had been made aware of his death by Mexican consular representatives. But it wasn't clear whether the family was immediately made aware that the 40-year-old had died after being held in solitary confinement.
In its statement, ICE maintained that it is "firmly committed to the health and welfare of all those in its custody and is undertaking a comprehensive agency-wide review of this incident, as it does in all such cases."
A December 2017 Inspector General's Investigation of three ICE facilities, including the one where De La Rosa was held, however, found that the center had demonstrated a "potential misuse of segregation," with the facility staff locking detainees in solitary confinement without providing a reason for the punishment.
"Facility staff may separate detainees from the general population and place them in either disciplinary segregation or administration segregation for a number of reasons, including violations of facility rules, risk of violence or to protect them from other detainees," investigators noted.
They said, however, that while "most cases" reviewed at the Stewart Detention Center, Otero County Processing Center and the Santa Ana City Jail were "violating" clear rules in the "administration, justification and documentation of segregation and lockdown of detainees."
"Staff did not always tell detainees why they were being segregated, nor did they always communicate detainees' rights in writing or provide appeal forms for those put in punitive lockdown or placed in segregation," investigators said.
It added that in multiple instances, detainees were disciplined, including being segregated or locked down in their cells, "without adequate documentation in the detainee's file to justify the disciplinary action."
In one such case, a detainee reported being locked down for multiple days after sharing coffee with another detainee.
The investigation also found that some detainees had been held in administrative segregation for "extended periods of time" without any "documented, periodic reviews," which it said were "required to justify continued segregation.
"Some detainees were locked down in their cells for violations of minor rules, without required written notification of reasons for lockdown and appeal options."
The investigation found that documentation of daily medical visits and meal records for detainees being held in segregation was also "missing or incomplete."
Investigators said that some of the issues they found could "simply be a matter of inadequate documentation" but warned that they "could also indicate more serious problems with potential misuse of segregation."
In its list of recommendations, investigators suggested that ICE review its "use of segregation and disciplinary actions."
ICE agreed, writing in its response that the agency's leadership would advise compliance personnel in the ICE facilities flagged by investigators to "integrate special assessments" of the use of segregation.
The federal immigration agency has not responded to a request for comment from Newsweek for this article, including a question on whether the agency has undergone such an assessment since the December 2017 report.
If you have thoughts of suicide, confidential help is available for free at the National Suicide Prevention Lifeline. Call 1-800-273-8255. The line is available 24 hours, every day.