ICE Detainees in California Launch Hunger Strike Over Coronavirus Fears, Lawyers Say
A group of medically vulnerable detainees at an immigration detention center in Adelanto, California, have launched a hunger strike to protest what they say is a failure to protect them from coronavirus.
A number of detainees at the Adelanto ICE Processing Center began their hunger strike last Tuesday, according to immigration legal services group Al Otro Lado, after the U.S. Immigration and Customs Enforcement (ICE) agency sought to overturn the ruling of a Los Angeles judge, who ordered the agency to reduce the population at the facility to allow for social distancing.
In audio shared with Newsweek, detainees held at Adelanto said they felt unsafe at the facility and expressed fears that they would not be released.
One detainee, who has Type 2 Diabetes, said she was scared her life could be in danger if she contracted coronavirus.
"I'm on hunger strike because of the struggling conditions that I'm under here. I'm Type 2 Diabetic...which makes me more susceptible to infection," the woman, who has been held at the detention center for eight months, said.
"I'm concerned about the medical situation," she continued. "For example, instead of taking me to a lab for my blood work, they actually took my blood at the table here in the dorm that we actually eat on that hasn't been sanitized so that kind of bothered me."
"We literally sleep 12 inches apart from each other. Half the staff doesn't wear masks. We have no access to antibacterial soap and I'm just really worried every day about what goes on," the woman said.
In a recent statement to Newsweek, an ICE spokesperson said the agency is providing soap and adequate access to sanitation amid the coronavirus pandemic. The agency has also said it is working to promote social distancing at its facilities across the U.S.
However another detainee, who has been in ICE custody for nine months, said in a separate audio message that, as someone with the autoimmune disease systemic lupus erythematosus (SLE), she also feels that not enough is being done to protect her as a vulnerable detainee.
"it's been really tough for me to get the medication that I need," the 29-year-old said, adding that her medication has been switched and delivered inconsistently.
Speaking on behalf of the group, another detainee said: "The reason we're doing this is because some of us are diabetic, we have hypertension, chronic diseases, asthma and basically a lot of emotion distress."
Some of the detainees, she said "have kids at home...and we're afraid because we don't have the social distancing and basically, the hygiene here is not that good."
In a statement sent to Newsweek on Tuesday, ICE spokesperson Alexx Pons rebutted the claim that multiple detainees at Adelanto were participating in the hunger strike.
"There is currently one detainee on a hunger strike at Adelanto," Pons said. "Any claim to the contrary is simply not true."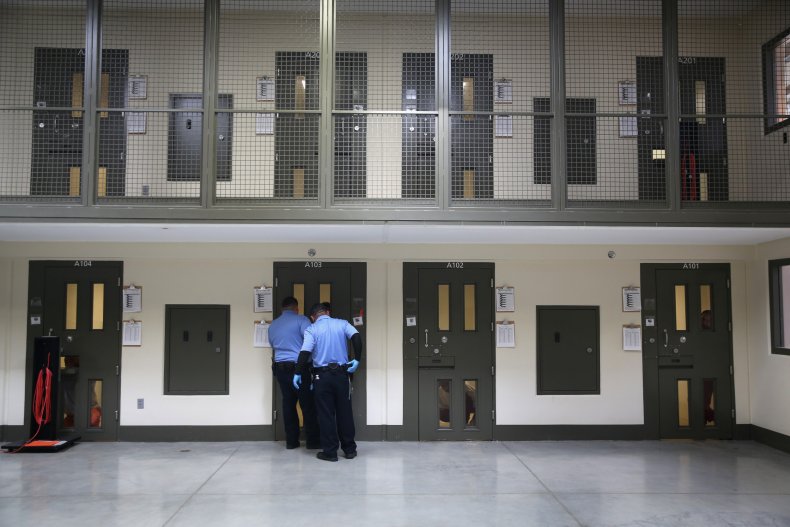 ICE considers any detainee observed to have not eaten for 72 hours to be on a formal hunger strike. Asked whether that is why only one detainee is considered to be participating in the hunger strike, Pons said: "With regard to 'hunger strikes,' a detainee must be observed to have not eaten for a 72-hour window, and referred to the [clinical medical authority] for evaluation and management to classify it as such."
"Failure to eat facility provided meals is not a stand-alone factor in the determination of a suspected or announced (claimed) hunger strike," Pons said. "Consider that commissary food items remain available for purchase by detainees; that is one potential food source that could technically be used throughout an entire alleged hunger strike."
"In general, ICE fully respects the rights of all people to voice their opinion without interference. ICE does not retaliate in any way against hunger strikers," Pons said in the provided statement. "ICE explains the negative health effects of not eating to our detainees. For their health and safety, ICE closely monitors the food and water intake of those detainees identified as being on a hunger strike," the spokesperson added.
Karlyn Kurichety, a supervisory attorney at Al Otro Lado, told Newsweek that she was aware of multiple detainees at Adelanto participating in the hunger strike. Some, she said, had even started their protests before last Tuesday, refusing to eat the week before.
"I don't know a total, but I know there are hunger strikers in both the east and west dorms," she said.
Kurichety said many detainees were feeling anxious for their safety, with "a really important point that everyone has been raising" being that "the guards come in from the facility and do not consistently use PPE (personal protective equipment)."
Guards, she said, "are going outside, they're going home, living their lives and then coming back in and detainees are really concerned about this."
Further, she said, detainees are also concerned about not having adequate cleaning supplies. They are expected to clean their living quarters, she said, but "they don't have adequate cleaning products."
"Some are using shampoo to clean their dormitory because they don't have cleaning products," Kurichety said.
Many detainees participating in the hunger strike, she said, began taking action after ICE sought to challenge the order made by Judge Terry Hatter, demanding that the agency reduce the number of detainees at its Adelanto facility to prevent the spread of coronavirus.
In his ruling, Judge Hatter said the facility would need to reduce the number of detainees there in order to create space for those remaining to keep six feet apart.
ICE had been told to release at least 100 detainees by April 27, with another 150 detainees expected to be released by April 30.
However, due to a stay of the order, the agency has not had to meet the release quotas.
So far, ICE has already released nearly 700 detainees nationwide "pursuant to an agency-wide review for specific conditions that potentially make an individual more susceptible to serious illness due to COVID-19 infection."
Overall, since the beginning of March, the agency has seen its detainee population decline by 20 percent, with ICE releasing detainees and also reducing its interior enforcement operations in the U.S.