ICE Detaining 'Alarming' Number of Infants as Young as Five Months, Immigration Groups Claim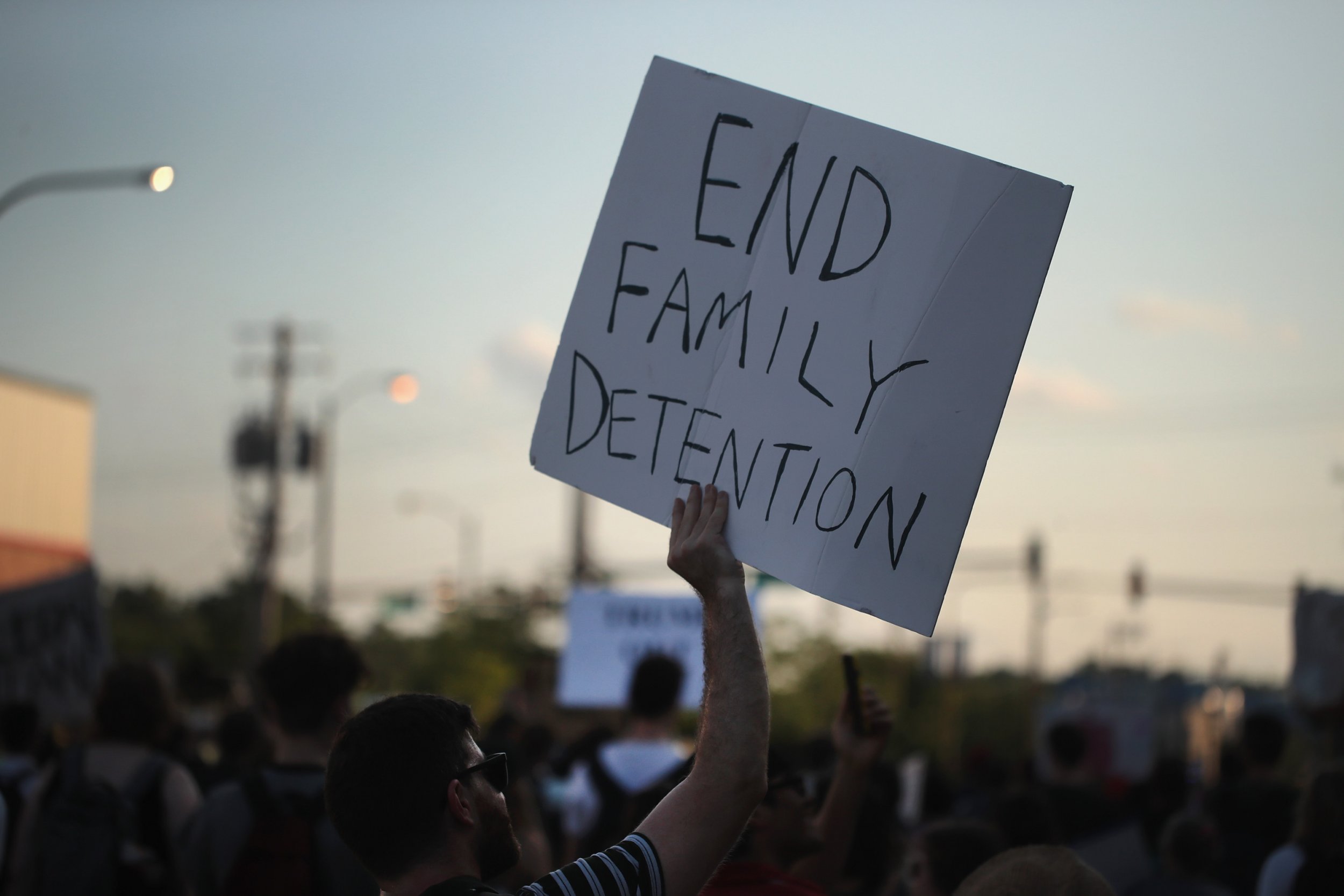 The U.S. Immigration and Customs Enforcement agency has been accused of detaining an "alarming" number of infants at a rural Texas detention center without providing the level of care that is legally required.
In a letter sent to the Department of Homeland Security's Inspector General and Officer for Civil Rights and Civil Liberties on Thursday, three high-profile immigration advocacy groups claimed that at least nine infants younger than a year old, including one infant who was five months old, were being held in ICE's custody at the South Texas Family Residential Center in Dilley, Texas. One of those infants is alleged to have been detained for more than 20 days.
Accusing ICE of overseeing an "alarming increase" in the number of infants held in federal custody, the letter, put together by the American Immigration Council, American Immigration Lawyers Association and Catholic Legal Immigration Network, urged officials to "intervene immediately on behalf of this uniquely vulnerable population" and to demand the release of families being held in federal custody so they could continue to fight their cases outside of detention.
In their letter, advocates said they had "grave concerns" about the lack of specialized medical care available to families at the Dilley facility.
"ICE is required to meet basic standards of care for minor noncitizens in its custody," the letter stated. "It repeatedly has demonstrated an inability to do so."
"Advocacy groups have long documented the limited access to adequate medical care in family detention centers," including at the South Texas Family Residential Center, it continued. "Concerns include lengthy delays in receiving medical attention and lack of appropriate follow-up treatment."
The advocacy groups also pointed out that medical and mental health experts, including the Department of Homeland Security-ICE's Advisory Committee on Family Residential Centers, had "admonished the detention of young children, even for brief periods of time."
It also referred to repeated warnings from the Physicians for Human Rights group, which has maintained that "child detention is harmful and fundamentally against the best interests of the child."
In September, the rights group hit back at the Trump administration over an announcement declaring its intentions to "seek to evade its legal obligations under the Flores settlement," which limited the length of time that children could be detained and set minimum standards for their housing and care.
"Instead of pursuing noncustodial alternatives, to minimize harm and trauma, the administration would rather continue to exploit children to advance inhumane and harmful immigration policy objectives," the Physicians for Human Rights group said at the time.
It emphasized that the medical evidence made it clear that "stripping protections from children and adolescents—particularly those who are fleeing persecution in their country of origin and have endured traumatic experiences in transit before arriving in the United States—causes irreparable harm."
In their letter, immigration groups also expressed their specific concerns over the Dilley facility's location, more than an hour's drive from San Antonio, which advocates said was "the nearest major metropolitan center with facilities equipped to provide specialized medical services.
"Some of the mothers report that their babies have lost weight since arriving at the detention center. Other mothers report that their infants are sick or have exhibited behavioral and sleep challenges during their detention in the South Texas Family Residential Center," advocates stated.
"Some mothers report to their legal service providers in Dilley that their babies are not feeding well due to sudden changes in formula. Child health advocates recommend that to safely switch to a different formula, the process should be gradual and monitored by a pediatrician in order to avoid interruptions to the baby's feeding and digestion," they said. "This is virtually impossible from detention."
ICE spokesperson Danielle Bennett told Newsweek the agency was looking into the matter.
"U.S. Immigration and Customs Enforcement takes the health, safety and welfare of those in our care very seriously," she said. "ICE is committed to ensuring the welfare of all those in the agency's custody, including providing access to necessary and appropriate medical care."
"Comprehensive medical care is provided to all individuals in ICE custody," she continued, adding: "Staffing includes registered nurses and licensed practical nurses, licensed mental health providers, mid-level providers that include a physician's assistant and nurse practitioner, a physician, dental care, and access to 24-hour emergency care. Pursuant to our commitment to the welfare of those in the agency's custody, ICE spends more than $250m annually on the spectrum of healthcare services provided to those in our care."
Bennett maintained that "as detailed in the June 2017 DHS Inspector General's report, the family residential centers are "clean, well-organized, and efficiently run" and the agency was found to be "addressing the inherent challenges of providing medical care and language services and ensuring the safety of families in detention."