ICE Director Says Agency Doesn't 'Arrest Innocent People' Despite Surge in Noncriminal Arrests
U.S. Immigration and Customs Enforcement acting Director Thomas Homan lashed out at Democrat lawmakers on Monday after House Minority Leader Nancy Pelosi, a Democrat from California, accused the agency of using its powers to "terrorize innocent families."
"How dare she say we are terrorizing communities?" Homan said, insisting that ICE does not arrest "innocent people," The Hill reported.
Homan made the comments during a press call with reporters after the agency received widespread criticism over a targeted operation in Northern California that saw 232 people arrested.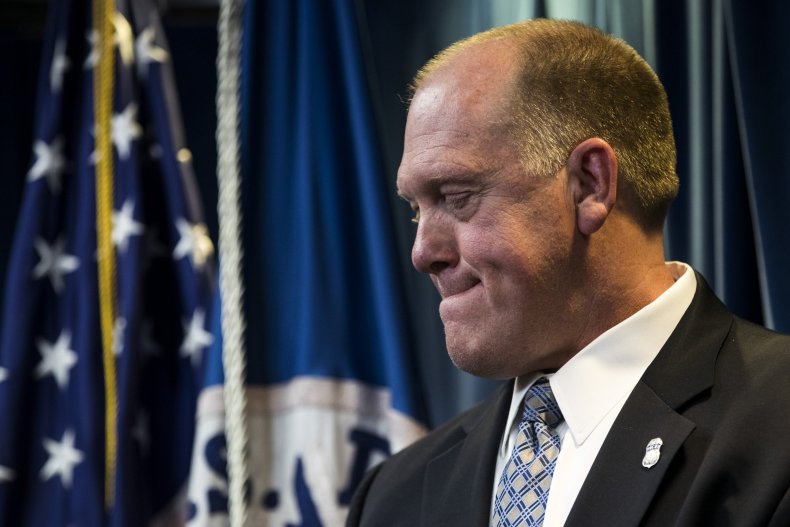 "Just last week, President Trump decided to terrorize innocent immigrant families in the Bay Area with his unjust and cruel raids," Pelosi had said on Wednesday, referencing the ICE operation.
Homan said the minority house leader's comments were "beyond the pale," asserting that 88 percent of the people arrested in the Northern California raids were convicted criminals.
While most immigrants arrested by ICE in fiscal year 2017 were found to have criminal convictions, the most common criminal conviction among ICE arrestees was for driving under the influence of alcohol, with possession or distribution of "dangerous drugs" and other traffic offenses as the second and third most common convictions.
Data from ICE has also shown that the agency saw a significantly higher rate of arrest for immigrants without a criminal background under the Trump administration, with a 171 percent spike in the share of noncriminals arrested in 2017 compared with the year before.
In contrast, the share of people with criminal convictions arrested by ICE went up by only 17 percent within the same amount of time.
Read more: ICE spokesman resigns, accusing Trump administration of making false claims about California sweep
In his press briefing, Homan said ICE agents were simply enforcing immigration laws passed down by Congress.
"If people don't like it, people like Nancy Pelosi and Dianne Feinstein can certainly change the law," Homan said, adding that "they are legislators."
Homan also lashed out at Feinstein, the California Democratic senator who had said the Trump administration was targeting California in a bid to appeal to the president's base.
The ICE acting director suggested it was hypocritical of Feinstein to criticize ICE, despite voting in favor of the Immigration Control and Financial Responsibility Act of 1996 that gave the agency its authority to carry out operations like the one in Northern California.
The row has unfolded amid the resignation of a San Francisco spokesman for ICE, who said he could no longer represent the agency after Trump administration officials repeatedly made false public statements about the Northern California raids.
James Schwab said he "quit because I didn't want to perpetuate misleading facts" after government officials continued to insist that as many as 800 undocumented immigrants had escaped arrest because a California mayor warned the public about plans for targeted ICE raids even though he told them the number was inaccurate.
"I asked them to change the information. I told them that the information was wrong, they asked me to deflect, and I didn't agree with that. Then I took some time, and I quit," Schwab said.
An ICE spokesperson told Newsweek on Tuesday that while the agency "can't put a number on how many targets avoided arrest due to the mayor's warning, it clearly had an impact," adding that "while we disagree with Mr. Schwab on this issue, we appreciate his service and wish him well."