ICE Operation That Arrested Hundreds of Foreign Students At Fake University May Not Be Legal, Immigration Attorney Says
Immigration and Customs Enforcement's latest immigration sting operation — a fake university set up to lure in foreign students — may not be totally legal, an immigration attorney said.
The Detroit Free Press reported Wednesday that 90 more students were arrested in the immigration bust. As the news outlet first reported in January, hundreds of foreign students were arrested after enrolling in the University of Farmington, a sham college in Michigan created by the Department of Homeland Security.
"I'm not surprised at this," Bill Hing, general counsel at the Immigrant Legal Resource Center and professor of law and migration studies at the University of San Francisco, told Newsweek about the operation. "The one thing that [President Donald] Trump did when he came in is that he pretty much unleashed local ICE directors to do whatever they want."
When asked if the operation rises to the level of entrapment, Hing said he believed the government may be in trouble. Entrapment is when people are not normally inclined to do something criminal but do so when they're presented with something that's not legally proper by law enforcement.
"I do think [the students] have a good argument that they would never have done this if they knew that what they were about to enter into was something fraudulent. I think that's going to be a problem for the government," Hing said.
The students, many of whom were from India, lost their visas upon the revelation that the university was a sham, and were arrested on charges of immigration and visa fraud. ICE told the Detroit Free Press that about 80 percent of those arrested were "granted voluntary departure and departed the United States."
Of the other 20 percent arrested, half of them have received a final order of removal and the other half have filed for relief or are contesting their removal orders.
The report of the sting operation quickly prompted a backlash against the immigration agency, which has been under fire for its aggressive approach to illegal immigration in recent years. The hashtag #AbolishICE began trending on Twitter Wednesday afternoon.
Jeremy McKinney, a Charlotte-based immigration lawyer and second vice president at the American Immigration Lawyer Association, told Newsweek that the Michigan sting operation is the latest example of the Trump administration's "hostility towards international students."
Federal officials first set up Farmington University as part of the Department of Homeland Security's "Operation Paper Chase" in 2015. The operation was part of a broader crackdown on illegal immigration and visa fraud.
Lawyers for the students arrested argue that they were unfairly duped by the government because the Department of Homeland Security listed the university as legitimate on its website. But ICE has maintained that the students were aware they wouldn't be attending a real school
"Their intent was to fraudulently maintain their student visa status and to obtain work authorization," authorities wrote in an indictment. The indictment was unsealed in January 2016.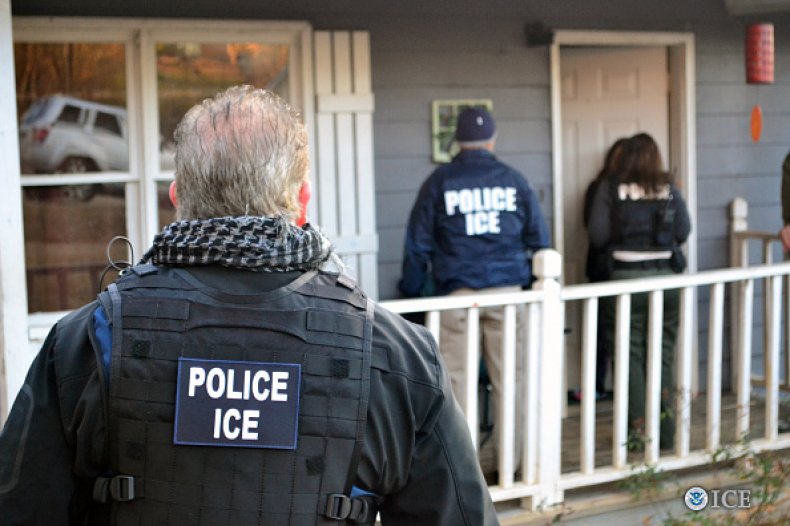 The federal government also raked in millions of dollars in tuition. Financial records obtained by the Detroit Free Press showed that students paid an average of $12,000 per year in tuition and other fees to attend the fake school.
Hing said that the immigration agency collecting money from students could even amount to fraud.
"That's what the attorneys for these individuals are going to argue, that they are victims of fraud. That their clients, in good faith, paid tuition in order to go to a university that held itself out as being a legitimate university," Hing said.
"This is kind of like Trump University," he quipped.
In 2005, long before his presidential run, Trump founded Trump University to share the secrets of his real estate investing success—except the school wasn't a licensed university. Instead, it was a for-profit seminar series and former students waged a years-long legal battle to get their money back. The program was officially shuttered in 2010 and last year Trump was forced to pay $25 million settlement. Some elderly plaintiffs who paid $20,000-plus in tuition died waiting to receive their settlement checks.
McKinney slammed ICE for essentially doing the same thing to foreign students.
"Our government should not be in the business of setting up fake universities. Based on what's out there in the public sphere, the students were recruited to study in the United States. Setting up these so-called stings does nothing to strengthen our national security but does harm to our colleges and universities trying to legitimately attract international students," he said.