ICE Has Lost Sight of Its Mission and Needs Reform, Not Abolition, Former Senior Official Says
President Donald Trump has launched a campaign to "save" the embattled Immigration and Customs Enforcement (ICE) agency amid calls from Democrats and the public to see it abolished.
"Abolishing ICE would mean open borders because it would eliminate the agency responsible for removing people who enter or remain in our country illegally, including drug dealers, gang members and child molesters, rapists and other sex offenders," the White House said in a "fact sheet" released on Thursday.
However, a former senior ICE official who spoke to Newsweek on the condition of anonymity as they are not authorized to address the issue publicly, said that under the Trump administration, ICE has lost sight of its mission, putting the agency's most valuable work at risk when it comes to keeping Americans safe.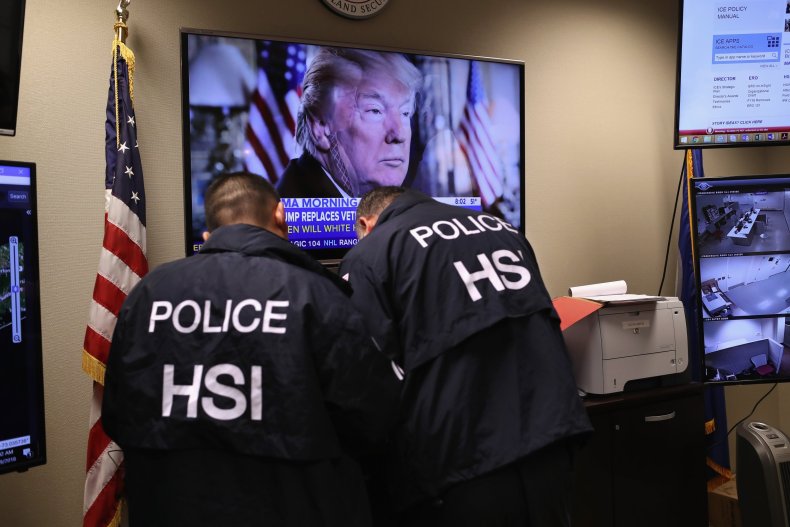 "This administration has apparently decided that enforcing the noncriminal side of immigration is more important than the criminal side, and I think they have it backwards," said the former official, who served under the Obama administration.
By casting a wide net and focusing its efforts on the "removal" of all undocumented immigrants living in or arriving in the U.S., the former official said ICE has lost its focus on combating major crime, "which in my book—and in the book of the Obama administration—was the most important focus of the agency, including focusing on gangs, transnational criminal organizations and smuggling," they said.
To Abolish or Reform?
The former official pointed to a recent letter signed by 19 senior ICE investigators from the agency's Homeland Security Investigations (HSI) team, demanding to be made separate from ICE's Enforcement and Removal Operations (ERO) unit, which has overseen widespread raids and arrests of undocumented immigrants across the country.
In the letter, HSI investigators warned that their work was being threatened by ERO's widespread crackdowns, changing the public's perception of ICE into an agency solely focused on "targeting undocumented aliens, instead of the transnational criminal organizations that facilitate cross-border crimes impacting our communities and national security."
"I think it's very clear that this administration's heavy-handed focus on immigration enforcement has caused those who enforce the criminal side, who actually do what I would call law enforcement work, to come out and say it's hurting our ability to enforce criminal laws," the former ICE official said.
Related: Is ICE forcing separated parents to choose between deportation or reunifying with children?
While the former official said they believe ICE needs reform, they slammed calls for the agency's abolition as "ridiculous."
They said those who have called for ICE to be abolished "are people who don't know anything about ICE. Let's get that straight. ICE doesn't need to be abolished, it needs to be reformed."
The former official said that those who are calling to abolish ICE "should really take a close look at the work the HSI actually does. The vast work HSI does is noncontroversial and exemplary. For example, take the work it does for missing and exploited children and child pornography. It's truly exemplary work. And it's not work that anyone would advocate for abolishing."
What Does HSI Do?
HSI is ICE's investigative arm focused on combating criminal organizations "illegally exploiting America's travel, trade, financial and immigration systems."
The unit is tasked with combating everything from human smuggling and trafficking, transnational gang activity, immigration, document and benefit fraud, cybercrimes and human rights violations to weapons and narcotics smuggling and trafficking, export enforcement and international art and antiquity theft.
HSI's International Operations Division is also the DHS's largest investigative presence overseas, with division personnel serving as liaisons to governments and law enforcement agencies around the world.
Related: U.S. Army accused of discharging immigrant recruits after promises of path to citizenship
Trump's Focus on MS-13 a Way to "Stoke Racist Fears"
Under the Trump administration, the senior official said HSI's work has taken a backseat to ERO's.
And while Trump has vowed to eliminate the notorious MS-13 gang's presence in the U.S., the former official said he believed the crackdown has more to do with stoking "racist fears" in America than combating crime.
"That's what the president wants. He wants to stoke racist fears in America, and the MS-13 are the perfect tool to do that," the former official said.
HSI "is who actually keeps America safe," the former official said, adding that if the Trump administration wanted to focus on organized crime, it should be pushing HSI's efforts to combat Mexican cartels."
"Mexican cartels are far more dangerous than MS-13, exponentially more dangerous than MS-13," the former official said.
"MS-13, they are actually a relatively small gang compared to other major American gangs, and they are mostly unsophisticated in the kind of work that they do. The Mexican cartels, however, are highly sophisticated, have a lot of money and are incredibly well-armed and they will stop at nothing to keep their business going."
In a report released in May, HSI outlined how Mexican cartels have also played a significant role in the U.S. opioid crisis, which the Trump administration has long vowed to take on.
The report outlined how cartels have "seized upon the profit of potential synthetic opioids" and have "invested in growing their share of this illicit market," describing how cartels have imported fentanyl into the U.S. for distribution and consumption, with the "final product" in some cases being "advertised as heroin," with users "not aware of the presence of fentanyl."
How to Reform ICE?
Asked how they believed ICE could be reformed, the former official said that one of the first places to start would be separating the agency's HSI unit from its ERO unit, as the 19 HSI investigators requested in their recent letter.
In the letter, investigators argued that "the two sub-agencies have become so specialized and independent that ICE's mission can no longer be described as a singular synergistic mission" and proposed that ICE be restructured "into two separate, independent entities of HSI and ERO."
The senior official said splitting up the two would be a smart strategy, adding that "moving HSI to the Department of Justice" would be another option.
Ultimately, he said he hoped to see HSI's work set apart from that of ERO, warning that it has already seen its reputation "marred by this administration's immigration policy."