Fake ICE Agent Who Performed 'Fugitive Apprehension' Said He Wanted to 'Show Everyone That He Was Somebody'
A California man duped his closest friends, family and even a former spouse into believing he worked as an Immigration and Customs Enforcement (ICE) agent performing "fugitive apprehension" duties. But Monday, the charade finally came to its conclusion after he was sentenced to two years in federal prison.
Matthew Ryan Johnston, 26, of Fontana, California, was revealed as a fraud and arrested last October after his girlfriend accidentally turned on his store-bought emergency lights and was pulled over by police. The San Bernardino deputy who pulled over Johnston's girlfriend dug deeper into her claim and found out he'd never worked for the Department of Homeland security in any way. Johnston had successfully impersonated an ICE federal agent for several months, using fake badges and uniforms and even attempted to chase down a car using unauthorized red-and-blue lights on his vehicle.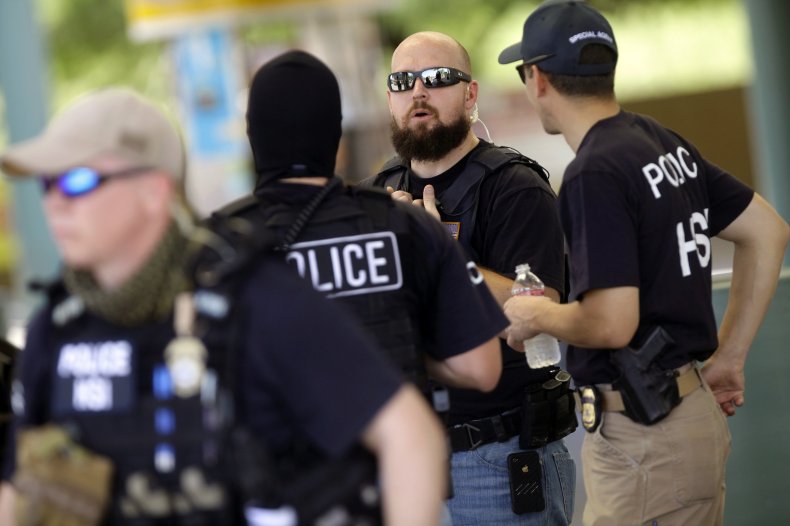 Johnston was sentenced to 24 months in prison for an explosive device found among a massive cache of weapons he'd stored. Federal and local authorities served a search warrant on Johnston's residence on October 23. The San Bernardino Sheriff's Department recovered 32 firearms, around 10,000 rounds of ammunition, cannon fuses, homemade rocket launchers and several other explosive devices, according to court documents obtained by The Fresno Bee.
Authorities tapped into Johnston's cellphone for access to its built-in tracking features. They then explored an area in the open California desert where he'd driven in the weeks prior to his arrest. Several explosive devices, including pipe bombs and smoke grenades, were discovered, and Johnston pled guilty to possessing an unregistered destructive device.
Johnston told officers on October 23 that he'd pretended to be an ICE agent to friends and family "because his ex-wife had insulted him in front of his daughter that he had done nothing with his life," reads the publicly available arrest record. Johnston said he wanted to "show everyone that he was 'somebody' and had done something with this life."
He told sheriff's deputies that he pretended to be a federal ICE employee because he feared local agencies would figure out his scam. The U.S. District Attorney's Office Central District of California released a statement Monday that said "Johnston further impersonated an ICE agent when he took a report from an individual about a potential undocumented person, and he falsely identified himself as an ICE agent to various employees and patrons at the Déjà Vu Showgirls club in Industry, California."