ICE Is Building A 'State-Of-The-Art' 'Urban Warfare' Training Facility That Will Include 'Hyper-Realistic' Simulations Of Homes In Chicago And Arizona
The U.S. Immigration and Customs Enforcement agency is looking to build a "state-of-the-art" "urban warfare" training facility that will include "hyper-realistic" simulations of homes, hotels and commercial buildings in Chicago and Arizona.
In an acquisition form for the procurement of "hyper-realistic training devices" for a new training facility for its expanding Special Response Team (SRT) program, ICE outlined the details of plans for its new training center in a document published on the U.S. Federal Business Opportunities website.
While ICE sought to redact the location of the new training facility in the document, it was not successful in doing so.
After copying and pasting the document's contents into a separate document, Newsweek was able to establish that the facility will be built at the Office of Firearms and Tactical Programs' (OFTP) Tactical Operations Complex (TOC) at Fort Benning, Georgia.
Independent journalist Darwin Bond Graham initially pointed out that plans for the facility had been published on the Federal Business Opportunities website on Tuesday, pointing out key lines in the document on Twitter.
The new training center is expected to be part of an expansion at Fort Benning, a U.S. Army post straddling the Alabama-Georgia border next to Columbus, Georgia, which is expected to see as many as 50 additional buildings added to the site.
"At a minimum, the TOC will contain a multitude of basic, intermediate and hyper-realistic training devices, a tactical training warehouse, classroom facilities, and vehicle assault training area," ICE said.
'Details like the number of dishes left on the table, toys in the yard...all provide clues'
With the initiative expected to cost an estimated total of $961,347.75, ICE states that it is specifically interested in creating a "Chicago" style replica and an "Arizona" style replica, in addition to a "fishbowl" set-up, where instructors can view classes from above.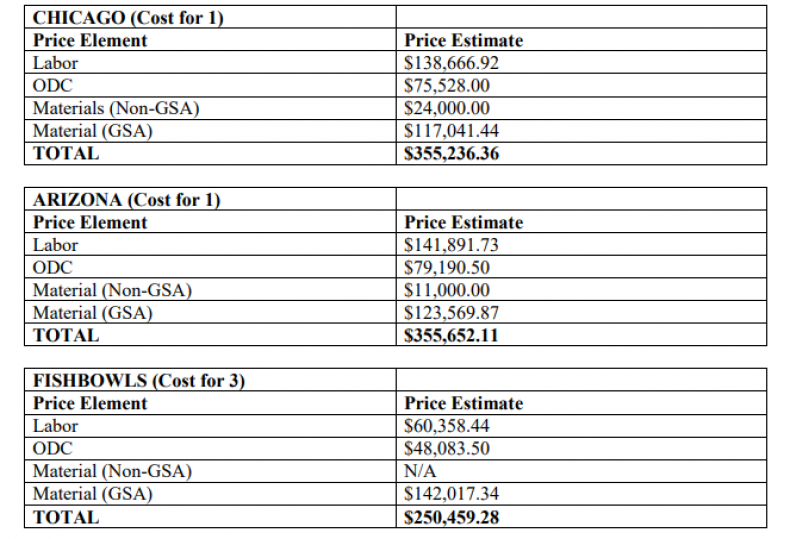 Among the training devices expected to be included at the new training site are "hyper-realistic props/design" that simulate "residential houses, apartments, hotels, government facilities and commercial buildings," along with other training configurations.
The "devices" are defined as "scalable, portable, modular" training structures that would be "made from portable shipping containers or other appropriate modular materials that can be relocated to alternate sites as needed."
"Hyper-realistic is defined as 'such a high degree of fidelity in the replication of battlefield conditions in the training environment that participants so willingly suspend disbelief that they become totally immersed and eventually stress inoculated'," ICE says.
Hyper-realism, the agency states, is "a critical component to this acquisition as the details provide essential information that must be acknowledged, processed and acted upon to minimize risk to our Special Agents, Deportation Officers and SRT operators during high-risk search and arrest warrants, fugitive operations, undercover operations, hostage rescue, gang operations, etc."
"For example, details like the number of dishes left on the table, toys in the yard, lighting, furniture, etc. all provide clues that allow our agents and officers to infer vital information that directly affects their safety and the potential resolution or outcome in the scenario," it continues. "Learning to process this information quickly to identify whether there are children present, or how many people are currently in the structure is a necessary skill developed in training."
"A Defense Science Board task force found that the probability of being a causualty (sic) decreases significantly after the first few 'decisive combats'," it adds. "These hyper-realistic devices will allow the teams to have those experiences in real-world conditions without the real-world casualties."
According to the document, ICE is in the process of expanding its Special Response Teams stationed throughout the U.S. and Puerto Rico.
New ICE employees had already been expected to receive training at the Maneuver Center of Excellence in Fort Benning, where ICE's Office of Training and Tactical Programs (OTTP) Firearms and Tactics Division "makes its home," according to a May 2017 news release published online by ICE.
Breaking down "what takes place" at Benning, ICE Division Chief Bert Medina said in a statement included in the release that ICE trains "experienced law enforcement personnel in the use of force and existing weapons in application of force."
"In addition, we provide law enforcement instructors [with] the skills and abilities to teach use of force and defensive techniques with and without weapons so they can prepare ICE officers on the front lines of federal law enforcement to perform their duties safely and in accordance with standards," Medina said.
The new training facility at Fort Benning would support those teams with training that allows them to "experience combat conditions in a training environment that truly reflects real-world conditions, but in a controlled, duplicatable, and dynamic setting."
Newsweek has contacted ICE for comment for this article and for more information on plans for the training facility.