Americans Think ICE Is the Worst Federal Agency, Poll Shows
Over the past two years, the U.S. Immigration and Customs Enforcement agency has sparked widespread outrage over its role in enforcing the Trump administration's hardline immigration policies—and it appears that anger has stuck, with a new study finding ICE to be the least favorable federal agency in America.
Published by the Pew Research Center on Thursday, the new poll asked people in the U.S. for their opinions on the country's federal agencies.
"Of the 16 agencies asked about in a national survey by Pew Research Center, conducted Sept. 5-16 among 2,004 U.S. adults, 14 are viewed more favorably than unfavorably by the public," Pew said in a summary of its findings.
ICE, however, was not one of them. In fact, the immigration agency was identified as the "sole agency asked about in the survey" that was "viewed more negatively…than positively," with 54 percent of those polled saying they held an unfavorable view of the agency, compared with 42 percent who felt favorably.
Unsurprisingly, attitudes towards the immigration agency fell largely along partisan lines, with 70 percent of Republicans and Republican-leaning independents having a favorable view of ICE, while just 19 percent of Democrats and Democratic-leaning independents felt the same way.
Which agencies did Americans like? The U.S. Postal Service for one.
The Postal Service was deemed the most likeable agency, with 90 percent of those polled in favor of its efforts, compared with just 8 percent who appeared unsatisfied.
In addition to the Postal Service, Americans also appeared to favor the National Park Service (86 percent compared to 7 percent), NASA (81 percent compared to 10 percent) and the Centers for Disease Control and Prevention (80 percent compared to 12 percent).
The FBI also had relatively favorable reviews, with 70 percent of those polled in favor of the agency, compared with 22 percent.
Interestingly, majorities of both Republicans and Democrats expressed favorable views of the FBI, "reflecting a rebound in GOP perceptions after a decline in recent years," Pew noted.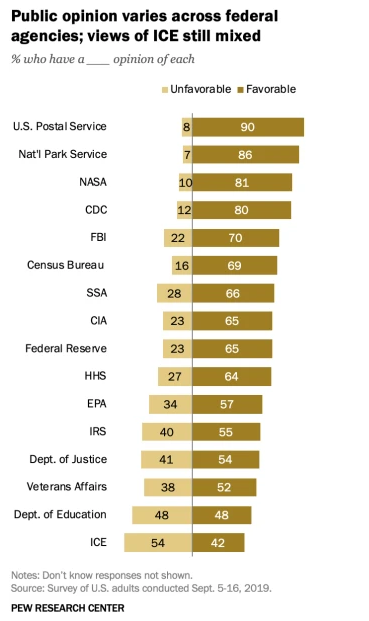 Pew Research Center
Following the FBI came the Census Bureau, Social Security Administration, Central Intelligence Agency, Federal Reserve, Health and Human Services Department, Environmental Protection Agency, Internal Revenue Service and Department of Justice, which saw more favorable reviews from Republicans than Democrats.
"About half of Democrats now express a favorable view (49%) of the DOJ, an 11 percentage point decline since last year and down from the nearly three-quarters of Democrats who viewed the department positively in January 2017," when President Donald Trump took office, Pew states.
Meanwhile, "Republicans' views of the Justice Department have become more positive over this time period: 61% of Republicans now say they view the DOJ favorably, up from 47% in January 2017."
The Pew Research Center also found Americans to be split in their preferences for the "size and scope" of government, with 48 percent of adults saying they would prefer to have a smaller government with fewer services provided, compared with 46 percent who said they would rather a bigger government with more services.
That balance of opinion, researchers found, has changed little since 2017.