ICE Workers Offered Career Support Service If They Leave Agency, Activists Say One Agent Has Already Come Forward
An immigration advocacy group has launched a new website offering U.S. Immigration and Customs Enforcement workers seeking to leave the embattled agency free and anonymous career support.
According to Never Again Action, the immigration advocacy group that launched the service, at least one ICE agent has already come forward to ask for help quitting their job and finding a new one.
"We've already had one ICE agent reach out to us," the group, which was organized by Jewish community members in the U.S. determined to "never let anything like the Holocaust happen again," said in a tweet on Monday.
The Never Again Action group's Atlanta branch launched the website, saying it wanted to put out the call for a "mass exodus and atonement" for ICE workers "as we approach Yom Kippur."
With the Day of Atonement, the holiest day of the year in Judaism, taking place on Tuesday, the group said it was the perfect time for ICE workers to "quit your jobs."
The organization also appears to be making good on its word to help agents do just that, setting up a career support website that will match ICE workers with a "qualified career adviser."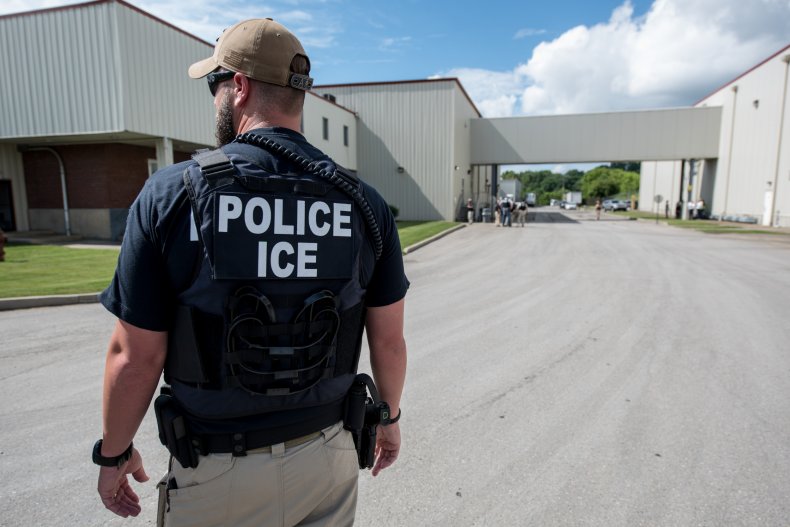 Branding the U.S.'s treatment of immigrants, asylum seekers and refugees an "atrocity," the website tells ICE workers: "You don't have to work for ICE. We will help you find a better job."
"You don't have to be complicit in the atrocities happening at our nation's border and within our immigration system," it states.
"We know quitting your job isn't always easy, so we're offering FREE and CONFIDENTIAL job search support so you can find a better job," the website continues, before outlining how it will help ICE workers change their career paths.
"We will match you with a qualified career adviser who can help with your resume, cover letter, interview, or other aspects of job hunting and applying," it states.
The chart below, provided by Statista, shows the states where ICE detains the most migrants.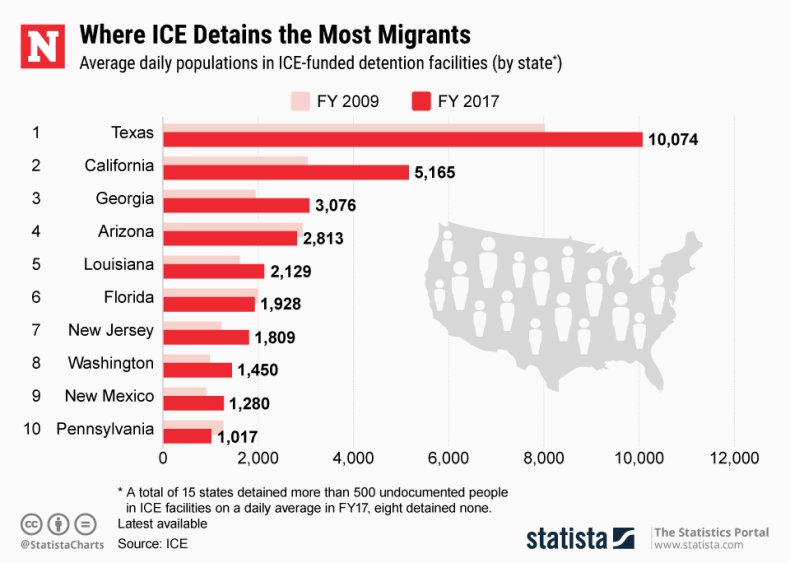 While it makes clear that organizers cannot guarantee ICE workers a new job, their volunteer career advisers are "dedicated to supporting you through the job hunting process so you can quit your ICE job quickly."
"Our qualified career advisers have MBAs, professional career counseling, or professional recruiting experience," the website states. "Every adviser is dedicated to giving you the support you need to find a new, better job quickly."
"We know it's easy for protesters to chant 'quit your job,' but that it's a lot easier said than done," the website states. "We know you have bills to pay, and might have family members relying on your salary or health benefits. That's why we're providing this free and confidential service: to help you find a new and better job, so you can quit your ICE job as quickly as possible."
It is unclear whether any more ICE workers have come forward to ask Never Again Action for support in leaving the embattled agency.
In a statement sent to Newsweek, ICE Acting Press Secretary Bryan Cox struck out at the initiative, calling any attempt at "demonizing career law enforcement officials...disgraceful."
"The men and women of ICE are public servants who faithfully execute federal law as passed by Congress," Cox said. "Demonizing career law enforcement officials with lies and misinformation is disgraceful.
"ICE holds its personnel to the highest standards of professional and ethical behavior, and ICE employees will continue to carry out their duties professionally regardless of irresponsible rhetoric that needlessly spreads fear and misinformation that does a disservice to the communities these groups claim to represent," Cox said.
Over the past two years, ICE has come under international scrutiny over its role in enforcing the Trump administration's hardline immigration policies.
The agency has repeatedly defended its work, however, refusing to call its targeted enforcement operations, which have seen hundreds of immigrant workers arrested at a time, "raids." It claims that its focus is on arresting and detaining immigrants with criminal histories, despite having set a record earlier this year for the highest number of undocumented immigrants without a criminal record arrested in a month since ICE began categorizing arrests in 2012.
Newsweek has contacted Never Again Action for comment for this article.
Updated 08/10/2019 at 10am E.T.: This article has been updated with a statement from ICE.