'Nooses in Detainee Cells': Damning Report Sparks Demand to Rethink ICE Using Private Prisons
Congressmembers "need to take a hard look" at the U.S. Immigration and Customs Enforcement agency's use of private prisons, a Democratic representative has said, after the release of a report detailing "egregious" conditions at detention facilities.
On Thursday, a Homeland Security Inspector General report detailed how ICE had failed to meet government standards for housing migrant detainees at a number of facilities last year.
The DHS watchdog conducted announced inspections at four facilities in the U.S., including the Adelanto ICE Processing Center in California, the LaSalle ICE Processing Center in Louisiana, the Essex County Correctional Facility in New Jersey and the Aurora ICE Processing Center in Colorado, all of which are privately operated.
"Overall, our inspections of four detention facilities revealed violations of ICE's 2011 Performance-Based National Detention Standards, which set requirements for facilities housing detainees," the report said.
At two of the facilities, Adelanto and the Essex County Correctional Facility, the report said investigators found "immediate risks or egregious violations of detention standards," including "nooses in detainee cells" and "inadequate medical care."
"All four facilities had issues with expired food, which puts detainees at risk for food-borne illnesses," it said.
While "the issues at the LaSalle and Aurora facilities were minor and easily fixed during our visits...those at the Adelanto and Essex facilities were egregious," the agency said.
"At Essex, the food handling in general was so substandard that ICE and facility leadership had the kitchen manager replaced during our inspection," it added. "Overall, the issues we identified represent health and food safety risks."
Bathrooms in at least two of the facilities, Essex and were also found to be "dilapidated and moldy," while at one facility, detainees were not given appropriate clothing and hygiene items necessary for them to "properly care for themselves."
Meanwhile, at three of the facilities, investigators found that "segregation practices violated standards and infringed on detainee rights," while two of the facilities failed to provide recreation outside detainee housing units.
At the Aurora detention center, detainees were only allowed to have "non-contact visits," despite being able to accommodate in-person visitation.
"ICE encourages facilities to provide opportunities for both contact and non-contact visitation with approved visitors," the report said. "However, the Aurora facility allowed detainees only non-contact visits," which it warned risked diminishing "detainee morale and social ties."
In a statement released in response to the report, U.S. Democratic Representative Diana DeGette of Colorado said the findings confirm what people in her state had "been hearing for quite some time" about the Aurora detention center: "That detainees at ICE's Aurora facility are not being properly cared for."
"ICE says that it has taken steps to correct the issues raised in this report, but I believe more needs to be done," she said.
"We need to take a hard look at ICE's use of these private prisons and, at the very least, make clear to the agency that outsourcing its responsibility to physically hold these detainees does not absolve it of its obligation to properly care for them."
In its report, the Inspector General's office said its unannounced inspections had been carried out in response to concerns raised by immigrant rights groups and complaints made to its hotline about conditions for detainees held in ICE custody.
The OIG offered one recommendation to ICE in its report: that the agency address the issues outlined "and ensure facility compliance with 2011 Performance and National Detention Standards.
ICE agreed with the watchdog's recommendations and vowed to take "corrective action" to address shortcomings at the four facilities.
The agency said it had completed inspections at Adelanto and LaSalle, had already scheduled an inspection at the Essex facility this summer and would be looking to schedule an inspection at the Aurora center this summer.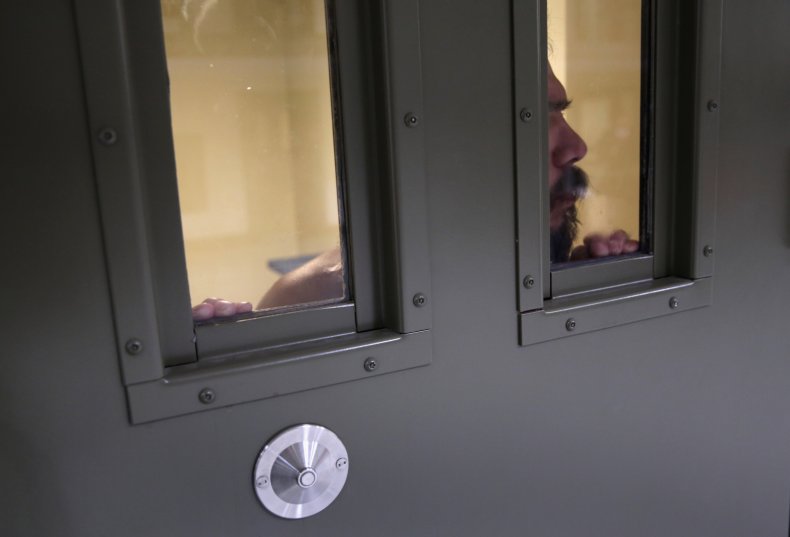 'Nooses in Detainee Cells': Damning Report Sparks Demand to Rethink ICE Using Private Prisons | U.S.