Former ICE Director Says Arresting Undocumented Immigrants More Important Than White Collar Crime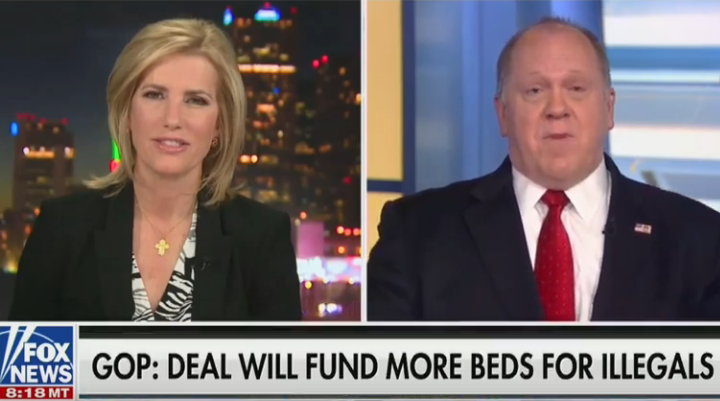 Former U.S. Immigration and Customs Enforcement Director Thomas Homan told Fox News Tuesday he'd rather put illegal aliens in jail for a DUI than pursue white collar criminals.
Speaking on Laura Ingraham's The Ingraham Angle Tuesday evening, former ICE director Homan conflated issues of white collar bank fraud similar to what decimated the U.S. economy in 2008 against any prosecution of undocumented immigrants participating in smaller crimes. Homan and Ingraham referenced a Democratic senator's recent comments on President Donald Trump's intention to deport anyone involved in minor crimes, while also ignoring commentary about white collar executives hiring those same undocumented illegal workers.
"Ten thousand people a year die from DUIs, twenty eight people a day die from DUIs," said Homan. "I'd rather put an illegal alien in jail for DUI than white-collar bank fraud. It isn't about if it's a felony or misdemeanor, it's about, is it a public safety threat and is it threatening American citizens? DUIs, are you kidding me? That's a public safety issue."
Homan's statistical reference about 10,000 DUIs each year in the United States in no way differentiated that number from how many of those incidents involved U.S. citizens.
New Jersey Democratic Sen. Bob Menedez told CNN Tuesday earlier in the day that Trump has a "zero tolerance policy that has turned everyone, regardless of their record, into a criminal."
Menendez said the president is making a DUI a severe enough criminal first offense that can subject one to being deported on a moment's notice, rather than seeking out the prosecution of more major crimes or relying on the court system to allow more strikes.
Homan disagreed with a statement from Senate Majority Leader Mitch McConnell this week about Trump using "whatever tools he can legally use to enhance his efforts to secure the border." The former ICE director said the president shouldn't have to find a "workaround" because congressional Republicans "failed at their job."
Ingraham chimed in to laugh at McConnell's "cute" statement, noting Republicans failed to pass legislation on immigration when they controlled both the House and the Senate at the beginning of Trump's term. She went on to say the GOP congressional leaders "lied" to Trump and the president should have never signed the omnibus bill.