How Immigration Scammers Pose as ICE to Steal From Terrified Victims, as Revealed by Twitch Streamer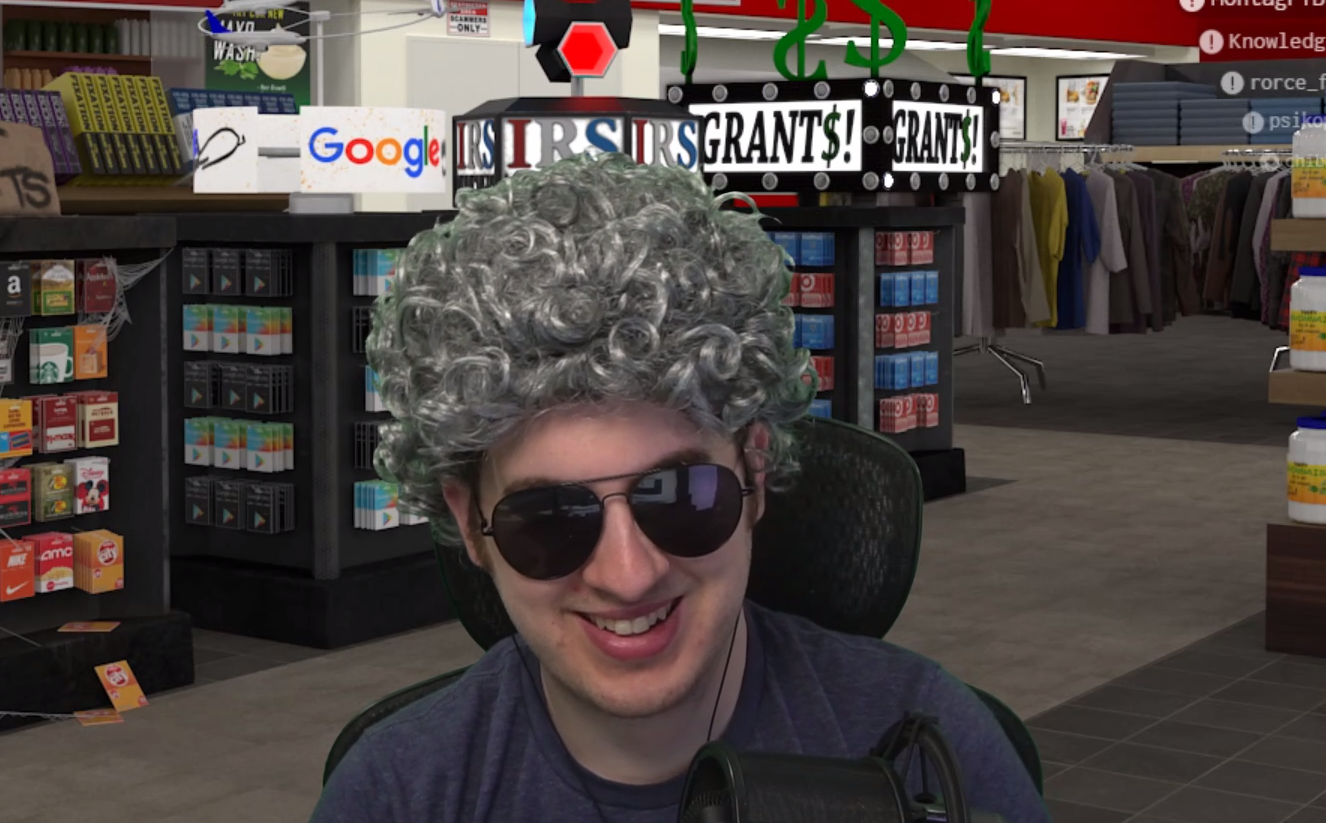 In an attempt to defraud U.S. residents, scammers are posing as the Immigration and Customs Enforcement (ICE) agency and threatening arrest, deportation—or both.
The scheme, likely designed to take advantage of fears surrounding the agency's crackdown on undocumented immigrants and family separations, is multifaceted and coordinated. Via a phone call, fake ICE officers bark threats, an individual poses as a local police officer to warn of imminent detention, and a series of technological tricks are used to falsely establish legitimacy.
Like most tech support fraud, the scam happens online and over the phone. In this case, the culprits appear to be using robocalls, a method of sending automated messages to a list of phone numbers, and waiting to see who replies.
It's not a targeted campaign. Instead, the scammers are hoping to prey on those who are either afraid of being deported or have had trouble with immigration authorities in the past.
Predictably, the purpose is financial gain: Scaring a victim into paying thousands of dollars to stop the hounding. Fraudsters use the official ICE website and the documents published there while also spoofing an official number to dupe victims into thinking the government is calling.
On Monday, popular Twitch streamer Kitboga (who keeps his real name a secret to avoid retaliation) got an unexpected glimpse into how the scam works. Footage provided fresh insight into how the fraud operates, and why.
The content creator specializes in wasting the time of criminals behind tech-support scams and has built a cult following in recent years, due in part to his use of fake personas. Every night, thousands of Twitch viewers tune in to watch him work. He also posts to YouTube.
As such, it takes a lot for one scam to stand out. But this one did, he told Newsweek.
"The police sirens and the lengths they went to were unlike anything I've seen in the past two years," Kitboga said. "Someone obviously wanted to come up with a convincing scam."
This week's stream provided evidence of how the crooks behind the fraud—who had been posing as a refund scam only a week prior—use aggression and intimidation to squeeze money from their victims. "If the call gets disconnected the police will be there, I won't be able to help you," came one remark from the scammer, who was using the name Officer Michel.
Kitboga's number was not on the list the foreign call center had been targeting, but he made it work by posing as a vulnerable 87-year-old Eastern European granny called Vikki Leeke (yes, say it out loud) and pretending to cry. Officer Michel took the bait.
After a series of vague threats—with the caller claiming to have found a problem with an alien registration number, the digits assigned to a person when immigrating—the fake female ICE officer suggested Kitboga's Leeke was linked to money laundering and even terrorism.
Watch Calling Scammers from Kitboga on www.twitch.tv
Next, the scammer sends the victim to the real ICE website and makes them read the agency's contact details, a point that comes into play later in the prewritten script.
Despite signs the recipient of the call was in distress, the caller was relentless. "Will you stop crying like a baby! Crying will not help you. Crying is not a solution," the woman shouted.
But Kitboga assured viewers there was good reason for the tears. "You might think it's cheesy, but she is buying it—that's the only reason she is scamming us right now," he said.
'Big trouble'
Under the guise of "verification," the scammer demanded personal details, asking if Kitboga had assets in the U.S., what banks he used and information about credit cards and a home address. "If you say anything false, it can bring you big trouble," he was informed.
At this stage, the scheme uses a trick not often seen, even in scam-baiting circles. The victim gets a second call from a person claiming to be law enforcement. As that fraudster role-plays as a cop, they also play a recording of sirens to make it seem like they are in a patrol car.
"Hold on, let me pull my car over," the fake officer said. He believed he was talking to an elderly lady with a sketchy grasp of technology and the English language. He didn't care.
In a tough tone, he shouted, "Do you know there is an arrest warrant issued under your name from the Santa Monica, California, police department? Why were you not answering my calls?
"I was on my way to arrest you. I am giving you 10 minutes… speak to immigration, they are the only ones who can save you right now, do you understand? If I do not get an email from immigration that they are helping you I will be forced to arrest you. You will be detained."
As the fake deputy hung up, the fake ICE officer then popped back into action.
"It's sad," Kitboga told his outraged viewers. "The way they treat people. It's almost like you have to have no heart to do something like that. To just not care at all."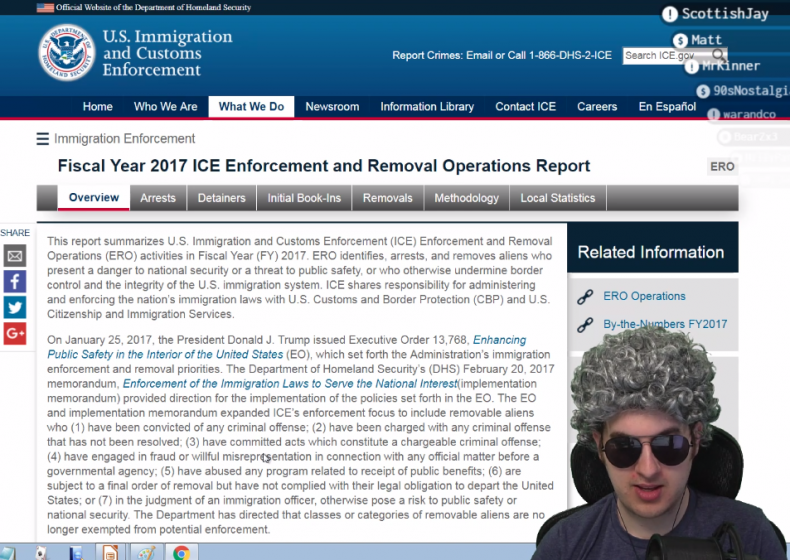 By this stage, approximately two hours had passed. Kitboga was directed back to the ICE website. It was there that the pressure for money really started.
In short, the scammer led the streamer to read an Immigration Bond form, commonly used to help release someone who has been detained for immigration reasons from custody. In this instance, the tricksters demanded payment of $2,999 to stop their investigation. As a bonus, they claimed Kitboga's Leeke would get compensation of $80,000 if proven innocent.
'A new low'
"It's similar to the folks claiming to be with the Social Security Administration I've run into a handful of times," Kitboga told Newsweek when asked about the scam.
"Once they've scared you into believing they're real officers, they want all your bank, credit card and personal information as well as paying some kind of fee to 'stop the investigation' or 'safeguard your funds on a government approved card' until it's over. Using the .gov websites and forms, spoofing the local police numbers, using multiple voices… if someone was afraid of being deported or had issues in the past, it may be very convincing. I called it a new low."
In 2017, the then–New York attorney general issued an alert warning immigrant communities about people posing as ICE agents and demanding money to avoid deportation. The office said it had received a number of reports about unsolicited calls posing as agency officials.
"The United States Citizenship and Immigration Services (USCIS) and the Immigration and Customs Enforcement (ICE) will never request payment over the phone, so immigrants should be wary of scammers that ask for any sensitive or personal information, demand payment and threaten deportation if you do not comply," the AG's department said at the time.
It remains unclear how much money has been lost to such scams or how many victims have been ensnared to date. ICE did not immediately respond to a request for comment.
A scam falls apart
Two and a half hours had passed by the time the crooks attempted to connect to Kitboga's PC, a virtual machine that is coded to appear real. That's when things started to fall apart.
As time went on, they became more desperate, changing their story to say Leeke was no longer wanted by the police but still had to cough up for the bond. The script stalled as attempts to enter a fake bank account created by the streamer failed multiple times. Three hours and five minutes had passed when Officer Michel uttered, "F*** yourself, b****" and gave up, empty-handed.
In the end, Kitboga never got his promised $80,000 compensation from the fake government agent. But from the streamer's perspective, when every second with him is not spent with a real victim, it was time well wasted.
This article has been updated with more detail, background.
"