ICE Knocked, But Most Did Not Answer As Nationwide Raids Began
President Donald Trump said Monday that nationwide raids by the Immigration and Customs Enforcement (ICE) agency had been successful on Sunday and early Monday morning. Though some arrests did happen around the country, many simply didn't open their doors when ICE came knocking.
An immigration rights group called FIEL Houston said arrests had taken place Monday morning in the El Paraiso Apartments west Houston, but that "few people answered the door."
The number of arrests haven't been confirmed, according to KHOU, who obtained this message from ICE.
"Due to law-enforcement sensitivities and the safety and security of U.S. Immigration and Customs Enforcement personnel, the agency will not offer specific details related to enforcement operations," an official from ICE wrote.
Sunday's ICE raids had been widely publicized ahead of time, so residents in places that have a large Hispanic population, like the El Paraiso, have been on high alert — particularly undocumented immigrants.
Kaylin Garcia was sitting in her car when she witnessed ICE agents walking around the El Paraiso complex and knocking on doors. The 19-year-old told the New York Times that she grabbed her phone and snapped a photo of the agents and posted it to Facebook, hoping her friends and neighbors would see it.
According to the Times, Garcia said she saw the agents knock on a door at 7 a.m. where an undocumented Honduran couple lived with their American-born children, and the door never opened as they sat inside.
"I wasn't scared," Garcia said."I was scared for my neighbors. Nobody opened the door."
The New York Times also reported on a teenage girl in Passaic, New Jersey, who was awoken by a knock on the door at 1 a.m.
"They said, 'We need to talk to you, can you come outside, can you open the door?' I said, 'Do you have permission to come inside my house, do you have a paper?'" the girl recalled. "They said, 'We're not trying to come inside your house, we just want to speak with you.' And I said, 'No I'm not coming outside."
The girl said the people left, and then she heard more knocking on the door at 5 a.m. This time they were also banging on windows and she noticed there were flashlights. The girl said she ran upstairs to be with her parents and that they turned off all lights and hid, too afraid to even look out of the window.
Outside of Atlanta, there was a report of a vehicle pursuit, with ICE allegedly tracking two people who eventually got out of their car and took off running, according to immigration rights advocates.
An Hispanic neighborhood in Chicago that's typically bustling with activity during daylight hours was peculiarly quiet on Monday. Krisandra Ruvalcaba is a store owner at Discount Mall in the city's Latino Little Village neighborhood said quiet days are starting to become the norm.
"There's hardly people here no more," Ruvalcaba said.
In Phoenix, the Arizona Republic reported there were no raids on Monday.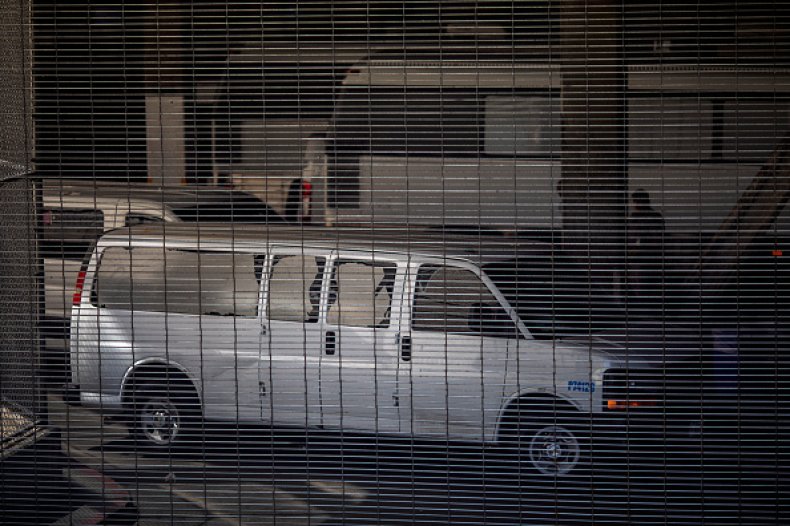 Back in Houston, the raids in the El Paraiso Apartments Monday became the hot topic in town. The Honduran couple that sat quietly in their apartment until ICE left, was still shaken up Monday afternoon.
The person who heard the knock is a 21-year-old cousin of the family who lives there. Speaking without giving his name — in fear it would be published — he said there were several knocks on the door.
"Please open the door. This is ICE," the man recalled. "I didn't say anything. I was silent. Everyone else was silent, too."
After a couple of minutes, the knocking stopped, and the agents left.
Odilia Leija, who manages the El Paraiso Apartments, said she is worried about her tenants, who she says are good residents who go through criminal background checks.
"I knew it was going to happen, but I didn't think it was going to happen here," Leija said. "I started making out a letter for my residents, letting them know they don't have to open their doors, making sure they look out their windows before they open doors. They're all working people. We do criminal background checks. We got good residents."
Trump, speaking to reporters outside the White House on Monday, said the raids had been a success.
"It was a very successful deal," Trump said. "You just didn't know about it."