ICE Makes Mass Arrest In Family Business Raid: 'We're Watching And We're Coming'
A family business in North Texas hit out at the U.S. Immigration and Customs Enforcement agency after agents raided its work site and arrested more than 150 undocumented immigrants in what the agency touted as one of its largest workplace raids in the last 10 years.
In a statement published online, ICE said agents "arrested more than 100 company employees on federal immigration violations who were unlawfully working in the United States" on Tuesday at Load Trail, a trailer-manufacturing company based in Sumner, which is about 100 miles northeast of Dallas.
ICE said its investigation began when its Homeland Security Investigations unit "received information that the company may have knowingly hired illegal aliens," adding that it also received information that many of the people employed at Load Trail were "using fraudulent identification documents."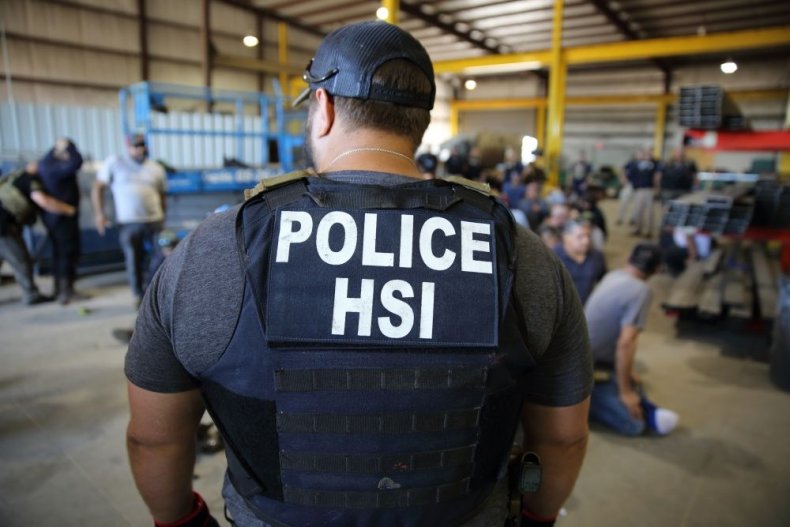 "Businesses that knowingly hire illegal aliens create an unfair advantage over their competing businesses," Katrina Berger, special agent in charge of HSI Dallas, which oversees 128 counties in North Texas and the state of Oklahoma, said in a statement.
"In addition, they take jobs away from U.S. citizens and legal residents, and they create an atmosphere poised for exploiting their illegal workforce."
Speaking to reporters during a news conference, Berger said ICE had arrested more than 150 people, calling the raid a "big deal" and one of the agency's "larger single work site operations in the last 10 years."
She said the crackdown should serve as a warning to other employers hiring undocumented workers, adding: "You may have gotten away with it, but we're watching and we're coming."
Load Trail has rejected ICE's claims, however, asserting in a statement that the company, which it said employs 700 people, "works diligently to abide by all laws."
"Load Trail is a family-owned business, which has been a pillar of the northeast Texas community for over 20 years," said the owners of the trailer-manufacturing company, which won two awards in 2015 for "green manufacturing" and for being the "fastest growing trailer brand."
The company, which said it has "supported our community through a broad range of charitable causes," called ICE's decision to raid the business "disappointing." Load Trail said that while it was "surprised" by the raid, it intended to "fully cooperate with the government's investigation."
It also accused news outlets of reporting "inaccuracies," adding that it would be working "to make sure the full and accurate Load Trail story is made known."
Read more: Abolish ICE? Most Americans want to keep U.S. immigration agency, poll shows
ICE said its raids were carried out in coordination with federal, state and local counterparts, including the U.S. Attorney's Office for the Eastern District of Texas; ICE Enforcement and Removal Operations; U.S. Customs and Border Protection's Border Patrol and Customs and Border Protection's Air and Marine Operations. The agency said that officers from the Texas Department of Public Safety had also provided traffic support.
The federal immigration agency said that everyone arrested on August 28 would be interviewed by ICE staff and the Department of Health and Human Services's Division of Immigration Health Services "to record any medical, sole-caregiver or other humanitarian situations. Based on these interviews, ICE will determine if those arrested remain in custody or are considered for humanitarian release," the agency said.
It said that "in all cases" all undocumented immigrants found to be in the U.S. illegally "will be fingerprinted and processed for removal" from the U.S.