ICE Mississippi Raid That Saw 680 Workers Arrested Took Place On First Day Of School, Causing Chaos For Children
As Immigration and Customs Enforcement agents swept through a series of worksites across Mississippi on Wednesday, arresting hundreds of unsuspecting workers in what is believed to be the largest single-state immigration enforcement operation in modern U.S. history, the children of many of those workers would have been starting their first day of school.
In fact, many parents detained by ICE in Wednesday's raids, which saw 680 workers arrested across seven food processing plants in six cities, would have likely had a busy morning dropping their children off for the fresh start of a new school year before showing up to work, unaware that they would be leaving in the hands of ICE.
With parents no longer able to pick their children up from school, students in towns like Jackson, where children had their first day of school, according to school board calendars, were left distraught as they learned that their moms and dads had been detained.
Photos captured by local media and shared on social media show children crying into their hands, while others appear to sit quietly, waiting to find out what their families' fates will be.
"It was their first day of school," wrote Natalie Montelongo, the national political director for 2020 presidential candidate Julián Castro, in a tweet. "There are no words for this intentional cruelty."
While some students in schools affected by the raids in Jackson, Bay Springs, Carthage, Canton, Morton, Pelahatchie and Sebastapol, would have started school on Tuesday, according to school district calendars, others, including those in Jackson and Canton, would have started on the day of the raids.
Some parents were reported to have already been released from ICE custody as of Wednesday evening, with ICE asserting in a press release put out earlier in the day that the agency would be releasing a number of detainees from custody on a "case-by-case basis" depending largely on their past immigration history and any criminal history.
It is not yet known how many children have been affected by the raids.
The states most frequently targeted by ICE are revealed below in a graph from Statista.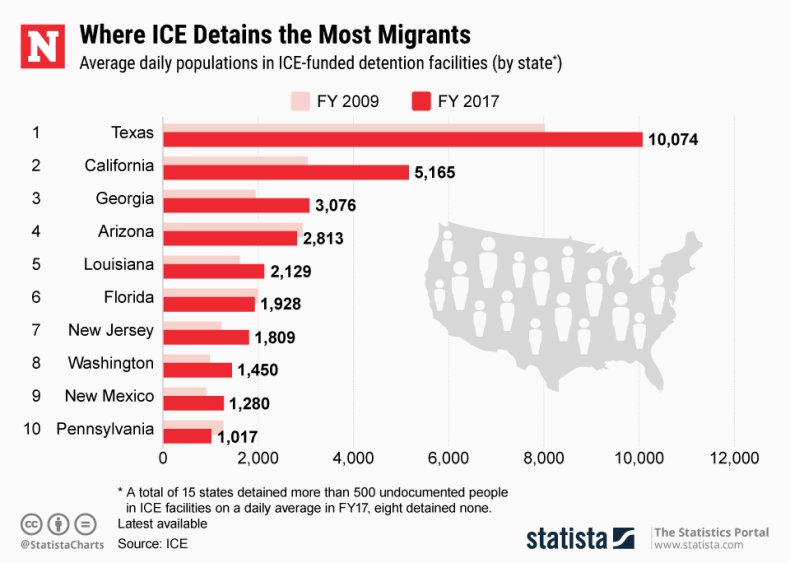 In a statement to The Clarion Ledger, ICE spokesperson Bryan Cox said that he did not immediately know how many of the workers detained had children at home.
In the meantime, schools were left to ensure that children were not sent to empty homes or left waiting without a guardian to pick them up.
In Scott County, where children started school on Tuesday, Superintendent Tony McGee told the Ledger that he knew of at least six families with children that would be affected by the raids, with the students ranging from kindergarten to high school age.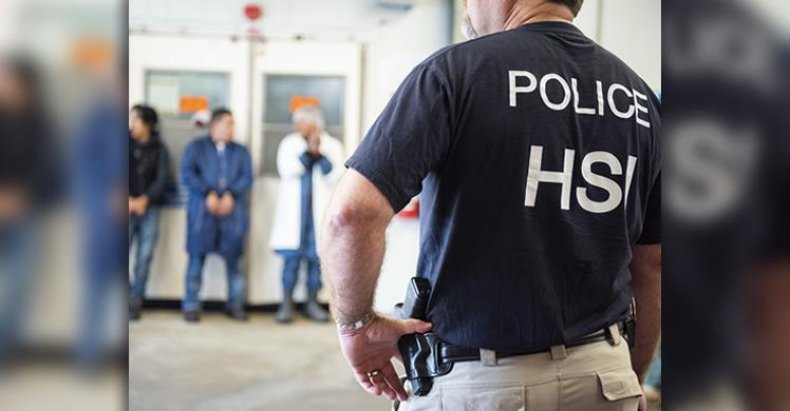 McGee said that district officials would be remaining at the school "until we make sure that every child is home safe or has a safe place to go."
"We're going to make sure our kids are taken care of first," he said.
Of course, the superintendent recognized that despite having just started a new academic year, it will be difficult for students and their families to prioritize schoolwork after Wednesday's raids.
"We'll worry about the school part of it after we get all this sorted out," he said. "You can't expect a child to stay focused on the schoolwork when he's trying to focus on where Mom and Dad are.
"We all know there is a bigger picture in all this. We're not here to navigate those waters, we're here to try to help families get together as best they can," he said.
ICE has made clear in its press release that anyone found to be in the country illegally, parents or not, will be either placed into removal proceedings before federal immigration courts or be processed for removal from the U.S. if they have "already received due process and have been ordered removed."
The agency noted that a 24-hour toll-free hotline, which operates in both English and Spanish, is available for the family members of those arrested in the operation at 1-855-479-0502.
Newsweek has contacted ICE for updated information on the raids and their aftermath.