ICE is Working With Daniel Ortega's Government to Speed Up Deportation of Nicaraguans Despite Violence: Report
A week prior to the beginning of intense unrest in Nicaragua, the Immigration and Customs Enforcement has partnered with the Daniel Ortega administration in order to expedite the deportation of Nicaraguan nationals.
According to an exclusive report by The Guardian, ICE is quietly working with the Ortega government to swiftly send Nicaraguans back to their country, despite the Trump administration's seemingly harsh stance on the Central American nation's government, which has witnessed massive protests sparked by reforms in the social security system.
Washington and Managua have blamed each other for the months-old turmoil. This week, the White House said in a statement: "The United States strongly condemns the ongoing violence in Nicaragua and human rights abuses committed by the Ortega regime in response to protests." It also added that "after years of fraudulent elections and the regime's manipulation of Nicaraguan law—as well as the suppression of civil society, opposition parties, and independent media—the Nicaraguan people have taken to the streets to call for democratic reforms."
In addition, the Trump administration slapped sanctions on three Nicaraguan officials under the Global Magnitsky Act for human rights violations and corruption. "The United States stands with the people of Nicaragua, including members of the Sandinista party, who are calling for democratic reforms and an end to the violence," the statement read.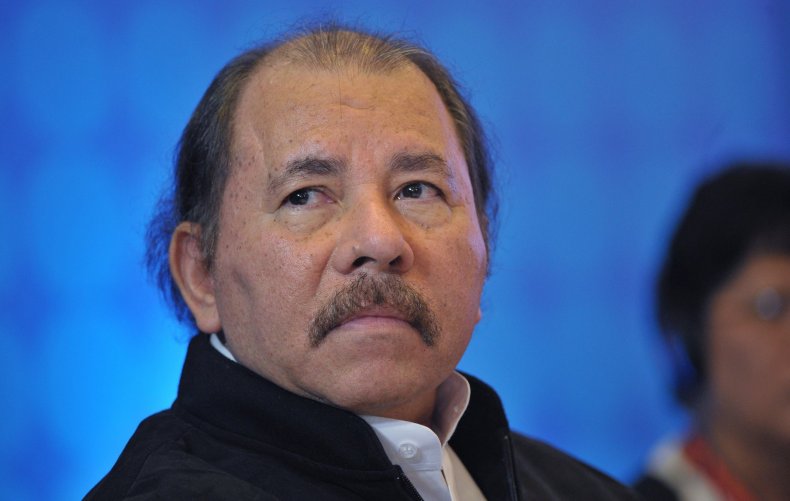 Meanwhile, the Ortega administration has said the U.S. government is financially helping opposition groups to destabilize the country. "These groups of mobilized students don't even know which party is inciting all this," Ortega said, according to Costa Rican newspaper El Periodico CR. "With a good social media manipulation, it reverberates the feelings of one boy after one boy. It is understandable how they can be manipulated and how social media networks are manipulated across the world."
The Guardian revealed that ICE signed a memorandum of understanding with Nicaragua's Vice Minister of the Interior Luis Cañas in April to move forward with deportations, at a time when the Trump administration decided that almost 2,500 Nicaraguans would lose their Temporary Protective Status, or TPS, by early 2019.
"Enhancing cooperation with our foreign partners to streamline and improve the removal process is a key part of enforcing our immigration laws and protecting our homeland," ICE Assistant Director Marlen Piñeiro said in a statement. "Today, we appreciate the government of Nicaragua's willingness to sign the eTD MOU [electronic travel document system memorandum of understanding] which will result in an effective removal process, and Nicaragua meeting its international obligation to accept the return of their nationals ordered removed from the U.S."
The electronic travel document is a system that allows participating countries to confirm the citizenship of their nationals by way of interviews and document reviews. ICE said they are expected to accept their physical return to the country of origin, and added that Nicaragua was one of the first countries to join the partnership.
Despite heated public exchanges between Washington and Managua, the cooperation continues ever since, The Guardian added. Meanwhile, thousands of Nicaraguans are fleeing to other countries. Most of them have moved to Costa Rica, where nearly 23,000 have requested asylum, and countries like Sweden have also received those who fear for their lives. According to the Organization of American States, 317 people have died, including 21 police officers and 23 minors, while Nicaragua's Pro-Human Rights Commission said 450 have been killed thus far. Conversely, the Ortega administration has acknowledged 195 casualties, ABC News reported.
In the wake of widespread violence, a bipartisan group of U.S. lawmakers has requested President Donald Trump to "reconsider" his position "to terminate the Temporary Protected Status designation for Nicaragua, which is set to expire on January 5, 2019." They also added that Washington "has the responsibility to protect the fundamental freedoms of all individuals, safety being one of them, and we believe it would be irresponsible for the U.S. to send these individuals to Nicaragua to face violence, chaos and oppression."
Ortega spearheaded the 1979 revolution that ousted then-dictator Anastasio Somoza and served as president between 1985 and 1990. Ever since he was re-elected in 2007, Ortega has upended term limits and concentrated power from the judicial and legislative branches. Even in the midst of violence and public calls for his resignation, Ortega has expressed no intentions of stepping down, insisting that if he did, "the crisis would worsen."