Oakland Mayor Faces Obstruction of Justice Investigation for Warning Immigrants About ICE Raid, Agency Head Warns
The Department of Justice is investigating whether Oakland Mayor Libby Schaaf obstructed justice by warning her constituents of impending raids by U.S. Immigration and Customs Enforcement (ICE), the agency's acting director, Thomas Homan, said Wednesday.
During a segment on Fox News's Fox & Friends, Homan said the Justice Department is "reviewing" Schaaf's comments for possible obstruction of justice. The warning came four days after Schaaf tweeted that "multiple credible sources" told her ICE was "preparing to conduct an operation in the Bay Area, including Oakland, starting as soon as [Sunday]."
ICE directed Newsweek to the Justice Department regarding Homan's comments. In an emailed statement, a department spokesperson said it "does not confirm or deny the existence or nonexistence of investigations."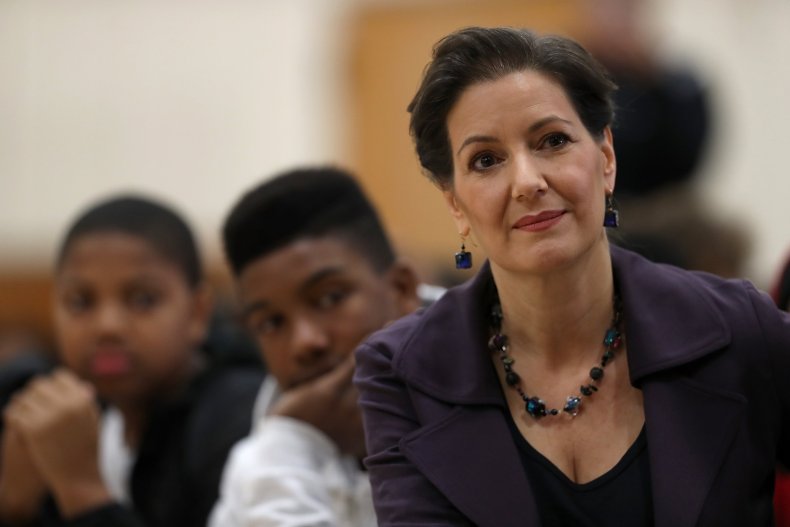 Schaaf, a first-term mayor elected in 2015, has been a vocal champion of Oakland's so-called sanctuary policies since coming into office. On Wednesday, she said she does not regret warning Bay Area residents about the raids, adding that "Oakland is a city of law-abiding immigrants and families who deserve to live free from the constant threat of arrest and deportation."
Homan decried Schaaf's tweet as a "reckless decision...based on her political agenda in opposition to the very federal laws that ICE is sworn to uphold." Homan also suggested that the mayor could be to blame for "public safety threats" who "remain at large" after the crackdown.
ICE confirmed on Tuesday that it had arrested more than 150 people "in violation of federal U.S. immigration laws" since Sunday as part of "targeted immigration enforcement operations" across Northern California.
In January, a day after the San Francisco Chronicle reported plans by ICE to launch a series of raids across the Bay Area to arrest up to 1,500 undocumented immigrants, the Oakland City Council voted unanimously to bar any branch of city government from cooperating with ICE. The resolution mandates that city employees not aid immigration agents in any capacity before, during or after planned ICE raids within city limits.